Companies can't schedule disasters. When disasters occur, they often impact a high ratio of organizations in the same geography. These two points are perhaps so obvious they don't bear repeating - fundamental laws core to the concept of a disaster, to an extent to which it's almost awkward to spell them out. The traditional model of data recovery, however, ignores these fundamentals.
In traditional DR, companies lease or buy a backup data center, then replicate data between their production data center and backup. Those data centers tend to be regionally-focused, meaning most key enterprises in a given area will keep their backups in that same geography. When they are needed, because of an unexpected and regionally-specific disaster, each company will seek to access their data at the same time.
This leads to an overload of organizations seeking to pull immense amounts of data - all at one time - through infrastructure likely compromised by the same crisis causing the need for recovery. This "run on the banks" issue is further compounded for companies working with DR service providers renting compute, network, and storage.
To put it simply, traditional DR doesn't work reliably when it's needed most.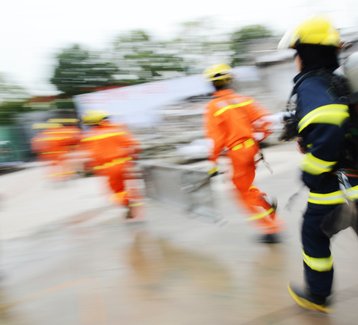 Avoiding a run on the bank
In addition, traditional DR is immensely inefficient. Recovery hardware goes completely unused until a disaster is declared. While not actively engaged, those servers and arrays stay on, consuming significant quantities of power every day. This wasteful pattern presents a bad look in an economy where customers, shareholders and employees pay real attention to a company's carbon footprint – and capital efficiency.
While hazardous and wasteful in traditional backup servers, DR is the perfect workload for the cloud.
The cloud is: ready to go at a moment's notice; provides only the amount of compute and storage needed to restore backed up data; and offers significant network capacity, avoiding a "run on the bank" scenario. Equally as significant, the cloud enables companies to immediately scale a near unlimited amount of VMs to replace onsite servers or VMs compromised during a crisis.
A large public cloud provider is the only way to meet these requirements. Public cloud data centers are dispersed enough that demand from a regional disaster is not an issue and, even if there is an issue in one region, regional support easily solves this problem. Unlike the traditional DR service providers, there is no need to collocate the DR resources with the company declaring a disaster. Everything is completely automatable and does not need any physical hands to make it happen.
Best of all, companies only pay for what they use, when they use it - meaning no rooms full of servers sitting dormant for years on end, sucking up the pounds and emitting CO2.
There are a number of Disaster Recovery as-a-Service (DRaaS) service providers that use the cloud as their core resource. Many of them are old guard vendors that have been in the DRaaS space for a long time. Where they previously leased equipment during a disaster, they now automate the use of cloud for that function. Their value is in simplifying DR for those who don't need the complexity of the DIY approach.
Service providers use a variety of tools to get data ready for a disaster. Sometimes they have their own software, and other times they are leveraging someone else's product, and simply obfuscating the complexities away from the customer.
The DIY approach may look inexpensive at first, which is why many organizations consider it. However, the costs are still much higher than they need to be, including 24x7 resources, replication software, VMs, and storage, on top of resources for the actual disaster. A cloud-based DR system can pay for itself as it reduces the use of these expensive resources.
In addition, any orchestration in a DIY system will be provided by user-managed scripts - with all the risks that come with them. Commercial DRaaS solutions include multiple levels of orchestration, allowing customers to specify multiple recovery groups and recovery orders within those groups. This ensures that core services needed by other systems are restored first, such as Active Directory or Domain Controllers. It also makes sure any recovery starts with systems that have a higher priority to the business. A commercial system can also provide more support for different types of workloads, including cloud workloads, on-premises workloads, or a hybrid of both.
Immediately scalable - near infinite access to VMs - capital and, yes, carbon efficient, when it comes to the core requirements of DR, only the cloud will do. While companies can't know when disasters will come, then can know they will be able to access critical data when it's needed most. And they needn't burn a hole in their pockets, or the ice caps, in the process.