Everyone knows that users connect to data centers and clouds over the public internet. But data centers, cloud providers, colocation facilities, and even edge infrastructure sites, need more than simple connections to deliver seamless, predictable responsiveness. They need an overlapping mesh of connections. Or, to put it simply, interconnection.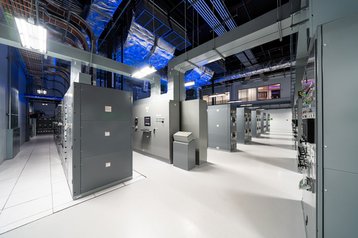 Today, most organizations have more than one data center, most use more than one cloud, and many are evolving toward hybrid, multi-cloud infrastructures that span many sites across many countries.
Data suggests that around 40 percent of organizations' workloads run in a combination of private and hybrid cloud, while the remaining 60 percent is split evenly between public cloud and internal infrastructures. That means there is a significant amount of network traffic criss-crossing between data centers, cloud providers, cloud customers and, ultimately, users.
Therein lies the challenge for organizations operating these hybrid infrastructures. More often than not, the public internet isn't fast, responsive or reliable enough to keep up with the traffic.
That's why having the right interconnection strategy is critical. If your organization operates on a hybrid model, a viable interconnection strategy ensures that you can distribute workloads across your entire infrastructure. So, instead of disparate nodes, you get an integrated, resilient mesh. Those are the broad strokes of why interconnection still matters and will only continue to grow in importance for businesses. Here are five use cases to consider:
Cloud Connectivity
When surveyed for Flexera's 2021 State of the Cloud report, 92 percent of respondents reported having a multi-cloud strategy, while 82 percent said they are taking a hybrid approach, using a mix of public and private clouds. This figure underscores the scale of network traffic moving in and out of the cloud. If your organization needs to leverage private, secure connections from the data center to major cloud service providers for compute, storage, network, and other services without going over the public internet, you need to ensure that the connection is absolutely reliable.
Multi-cloud connectivity
As you can see from the statistics above, most organizations use multiple clouds in their infrastructure. While 49 percent of respondents to the Flexera survey reported that they silo workloads in different clouds, many (around one-third) are using more advanced architectures that require workload mobility that span public and private clouds.
Cloud redundancy
In the event of a major disaster (natural or otherwise), individual connections may go offline. Interconnection enables business continuity by creating redundant connections from the data center to a single cloud service provider across different geographic regions.
Data center interconnection
Flexible pricing models, interconnected, high-speed connectivity, and the ability for users to connect to their own distributed infrastructure make colocation data centers attractive for a wide range of applications, such as backups, disaster recovery, workload distribution, and more. That's why many organizations opt for data centers for latency-sensitive applications that require processing to be as close to the point of delivery as possible, like edge computing and IoT environments.
B2B private connectivity
Organizations often need to connect from their colocation data center to partners or vendors over a private and secure connection. Interconnection enables the fastest data exchange between two or more entities by combining high-performance networks with physical proximity. Using direct connections also bypasses the unpredictable, and potentially insecure, public internet.
What does that mean for you?
These are not, in fact, discrete use cases. Any given modern IT infrastructure will likely need to account for at least a few, if not all, of these use cases. Chances are that as the pace of digital transformation ramps up, so too will the need to modernize and re-architect technology stacks.
These updated tech stacks will need to include intelligent infrastructure (i.e. a shift from traditional WAN to SD-WAN), globally interconnected data centers (i.e. exiting legacy data centers with no interconnection or cloud connectivity strategy), and adopting cloud and hybrid, multi-cloud strategies. This means that interconnection will need to be front-and-center in any IT strategy.
Our approach: carrier-neutral, expanding interconnection
We use multiple network strategies to help clients calibrate the right mix of interconnection capabilities.
We begin, naturally, inside the data center. We build them with the latest connection technologies in order to enable our clients to strike a balance between performance, reliability, and cost.
Our data centers are also carrier-neutral. That provides clients with more flexibility of choice when it comes to connecting directly to public clouds or other data centers. We also utilize diverse cloud on-ramps and cloud exchanges to give clients the best performance possible when linking to public cloud providers and other Tier 1 network service providers, including NTT's own Global Tier 1 IP backbone.
Clients can also take advantage of dedicated, fully redundant, point-to-point campus connections between all of our locations. These secure connections make critical disaster recovery, load balancing, backup, and replication easy and secure.
Finally, as we grow, we're continuing to extend our dedicated connectivity to global data centers around the world. We recently launched Global Data Center Interconnect (GDCI), an integrated network fabric service that delivers private and secure connections between our 160+ global data centers and major cloud service providers with a single physical port supporting multiple virtual network services. With GDCI, clients can connect to dense ecosystems of cloud service providers in different geographic regions, addressing hybrid and multi-cloud interconnection challenges while bypassing the public internet.
Hopefully exploring why connectivity matters helps you better understand what you need to do as you think about adding data center connectivity to serve current and upcoming services. Optimizing connectivity to the cloud (balancing performance, resilience, and cost) while sidestepping network congestion is the key to providing a high-quality experience to your end-users.
Click here to learn more Global Data Center Interconnect.
To check-out the inside of a REAL hyperscale data center, sign-up for the NTT Dallas TX1 Data Center Virtual Tour on Wednesday 28th July