As we near the end of 2016, enterprises, colocation providers, and hyperscale cloud providers are evaluating their performance for the year and planning for next. Should they build or buy? Expand or outsource? Add a new region or expand an existing?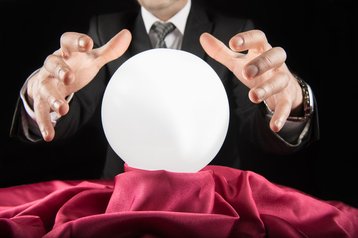 Yet the 2016 Presidential election has reminded us of the gap between data predictions and real-world performance.
Prediction remains an imperfect science. So it's time to take my bows and beatings for my Ten Data Center Predictions for 2016.
Was 2016 the Year of Modular? Did renewable energy adoption catch fire? Did ghetto colocation become a thing? Read on and find out how I did in predicting the data center market trends for 2016.
1. 2016 – The Year of Modular
Grade: C
Edge Computing is an unfortunate reaction to the poor Internet bandwidth infrastructure to consumers in the US. This causes greater quantities of smaller data centers to be built, accelerating the adoption of modular.

Robert McClary, COO, FORTRUST
Despite predictions that the modular data center market will triple by 2020, I would not consider 2016 "The Year of Modular." Although progress has been made toward changing the perception of modular being synonymous with shipping containers, work remains in mobilizing this change in perception into actual implementation.
Enterprises are starting to think smaller in terms of the size of their deployments, which is a big step in the modular maturity continuum, but FUD (fear, uncertainty, and doubt) is still a big influence. Other forms of modular, such as skidded mechanical and electrical solutions, have gained much wider acceptance and are becoming commonplace. Here is one colocation provider's opinion on the future of modular.
2. Retail and wholesale colocation merge
Grade: A
The line between retail and wholesale colocation continued to blur during 2016.
Some retail providers are limited by their existing infrastructure, but those with the space and power are chasing larger deals while using their vast array of managed services as a differentiator.
Many traditional wholesale providers continue to offer space at smaller increments than ever with some willing to lease a single cabinet. One rationale I've heard is that they want to enable these smaller companies to become wholesale customers as they mature and grow.
3. The race to the edge will continue
Grade: B
Users demand digital content from wherever they are, on their chosen device. As businesses migrate from monolithic back office  platforms to cloud services, we are seeing the challenges associated with network latency.

Phill Lawson-Shanks, chief architect, EdgeConneX
While edge data center pioneers like EdgeConneX and vXchnge continue to expand at breakneck speed, there have not been as many new entrants into the market as I expected.
Without a drastic improvement in bandwidth to the consumers of content, more data centers will be necessary at the edge to satisfy their increasing appetite for streaming video. Edge data center providers agree on the issues surrounding latency and performance.
4. DCIM adoption will continue slow and steady
Grade: A
We see many companies deferring capital that was originally slated for DCIM into other mission critical projects. The market seems to be waiting to understand how DCIM can be messaged to the C-suite as a 'must have'.

Matt Lane, President, DCIM Division of Geist
As predicted, DCIM adoption did continue at a slow and steady pace in 2016. There are still far more players than the market can support, but there are also more success stories out there to help build confidence for those considering DCIM.
Many data center operators are not ready to tackle the all of the data that comes with a full implementation. Instead, many are interested in individual features like power management or environmental trending. DCIM vendors would caution that understanding the value of DCIM and committing the necessary resources are key to success.
5. Renewable energy adoption will accelerate
Grade: A+
The adoption of renewable energy by data center operators did indeed accelerate in 2016, and at an even faster pace than I expected. Here are just a few examples:
In another strategic development, Google, Amazon, Facebook and Microsoft all joined the Renewable Energy Buyers Alliance promoting the development of 60GW of renewable energy by 2025.
Colocation providers also jumped into the deep end of the renewable energy pool with Digital Realty, Equinix, and Switch all purchasing sufficient renewable energy to power 100 percent of their data center operations. These commitments go far beyond the impact of the annual 'name and shame' campaign conducted by Greenpeace.
Regardless of what the next administration does to the Department of Energy and the EPA, the technology sector is poised to continue their leadership and set an example for the rest of corporate America.
6. TCO loses ground
Grade: A-
Unfortunately, I was spot on with this prediction. Time after time I witnessed projects being awarded based upon day one cost alone. If other factors were considered, they required a two year payback period, which is unreasonably short.
The main causes appear to be that this is the way they've always done it and/or FUD. I have seen recent glimmers of hope that this will change, but only time will tell.
7. Water usage rises in Importance
Grade: B
Quietly, water usage did rise in importance in the design of data centers. This was enabled by the introduction of new or enhanced cooling solutions that reduced or eliminated the use of water while maintaining high energy efficiency. In certain markets, the cost of water is on the rise as well giving a financial reason to give water usage higher consideration.
8. Ghetto colo becomes a product offering
Grade: D
Although most data center providers will accommodate customers asking for less redundancy, I didn't see as much of a move toward productizing this as I thought I would. Perhaps it was the slowdown in bitcoin mining eliminating some of the demand, but whatever the cause, it's worth watching moving forward.
9. Rise of data center density
Grade: A
 2016 will be remembered as the year that hyperscale cloud providers drove the majority of demand for power and floor space. The systems architectures for these cloud providers typically require higher power densities per rack. We expect that trend to continue in 2017.

James Leach, vice president marketing, RagingWire Data Centers
The trend we saw at the end of 2015 continued in 2016 with densities rising across all sectors. The average density in our design concepts this year was around 10 kW/cabinet with some non-HPC reaching closer to 20 kW/cabinet. There were still a few down at 5 kW/cabinet, but those were more telecommunications focused.
The current equipment being implemented in new data centers is inherently more dense and cloud implementation (public, private, and hybrid) is allowing for higher utilization, so this trend should continue.
10. Hybrid IT rules the day
Grade: C
Although hybrid IT is gaining steam, I did not see public cloud adoption gain as much traction as I thought it would in the circles I work in. Those more highly regulated industries like healthcare and financial services are still driven by FUD and are hesitant to jump aboard the public cloud train. With that said, public cloud was in consideration during every evaluation I had visibility into and see it winning more in the future.
Overall, my predictions for 2016 were solid. There were no significant errors and I was at least more accurate than the political pundits. So, keep an eye out for my fearless prognostications for 2017!
Ron Vokoun DBIA, LEED AP BD+C, is director of mission critical design at RK Mission Critical