Despite ongoing consolidation, the range of global colocation players continues to grow. In the 2021 IDC MarketScape vendor assessment of worldwide data center colocation and interconnection services nine 'market leaders and major players' were named, all of which have the scale and capability to support enterprises with the need for global reach.
The list of market leaders comprises a mix of longer established players, alongside newer fast-growing global companies like Iron Mountain Data Centers.
All of the firms in the IDC leadership quadrant are extremely capable, but the selection process is never straightforward and there are many pitfalls.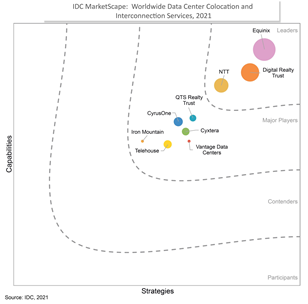 If you are looking for a global service provider, plan and design wisely for a robust hybrid architecture of owned infrastructure plus neutral network and cloud access. And choose your partner carefully to avoid being locked in, frustrated, overcharged or held back when growth opportunities arise. Also, as you are building for the long-term, look for a strong match in terms of ethics and working style.
Here are a few of the most important considerations:
1. Hub selection
Look for providers whose platform maps to your needs worldwide. For data control and market reach, that normally means a good selection of metro hubs in both North America and Europe, but also consider where best to locate in the mix of advanced and emerging markets in and around Asia Pacific and elsewhere.
Apply the same rigorous assessment for each new continental hub and bespoke framework that you did for your first regional hub. Then add a little extra research to compensate for the unfamiliarity of the new location.
Generally, this means making a full economic and political risk assessment, as well as looking at seismic risks and flood zone assessments, erring on the side of caution as the impact of climate change begins to make itself felt. If the most robust physical and environmental security is required, consider an underground facility.
Latency to end-users is also a key consideration, as more and more apps run across geo-diverse clouds, but this can be trumped by political and economic stability. A nearby country with good backbone access and more stable economic and data policies will provide a better long-term base for growth.
2. Current and future power
Power availability, redundancy and pricing are key concerns from both a continuity and cost perspective. As energy is the most significant operating cost, pay attention to the cost of power and its long-term impact.
Energy costs vary very widely from one market to another, based as they are on either local or purchased (generally renewable) power generation costs. National/state and local taxes and incentives can also make a significant difference.
Energy efficiency – specifically the ratio of overall load to effective output or Power Usage Effectiveness/PUE – must also be considered.
PUE varies significantly from market to market, as this study by the Uptime Institute shows. Look for a combination of low design PUE and modern facilities with the latest cooling designs and water use. Providers should also have a culture of continuous improvement based on international environmental standards like ISO 50001.
Then there is the power generation question. Most digital leaders these days want 100 percent renewable power – from solar and wind sources. The more customers that ask for this, the more pressure to improve the environmental impact of your data center infrastructure – and the greener the global grid becomes.
Everyone can talk about their targets, but look for businesses that have already gone a step further. Check if, for instance, the provider has joined the RE100 or is a member of the Renewable Energy Buyers Alliance (REBA). Have they signed the United Nations Global Compact? And if renewable energy is in place, are the benefits shared with customers?
Products like Iron Mountains' innovative Green Power Pass deliver carbon credits direct to the customer in a rigorously audited process which fits directly into ISO 50001 and will support your corporate emission-reduction targets.
3. Networks, providers and partners
Make sure your favourite NSPs have a presence across the global platform, but also look for internet exchanges and SDN services to improve routes, enhance redundancy and save costs.
The best providers offer a wide range of network providers, internet exchange (IX) facilities, and simplified and secure access to major cloud providers. WAN services offered as part of the colocation package also make it easier to interconnect across markets.
All of the leading providers have thousands of customers – take the time to get to know the in-house ecosystem as this will create opportunities and streamline innovation.
You should expect your colocation provider to facilitate access to software and hardware vendors for new virtual services, security, and on-demand overlays, as well as putting you next to consultancy or cloud migration services.
4. Services and standards
If there is a failure to focus on service quality the relationship will break down. Some providers are so focused on big deals that they will not (or cannot) give you the attention you deserve.
There is also an increasing temptation for colocation providers to focus on servicing wholesale (generally hyperscale cloud) growth at the expense of the hands-on managed services that retail customers need. Administrative and physical security and technically qualified electrical and mechanical staff are critical. These personnel are hard to find on a global basis and require ongoing support and monitoring.
Check response times and service level agreements (SLAs) listen to feedback from existing customers and watch out for inconsistently applied standards and improvement cycles.
For global providers, a mix of sector and market-specific certifications should be complemented by a robust compliance framework that delivers the same design, operation and quality standards no matter where the facility is.
Look out for payments standards like PCI DSS, cloud-specific accreditation like Cloud Sec/FedRAMP High, and data security standards that match your sector (like SOC 2 Type 2, InfoSec/FISMA or HIPAA for healthcare).
Globally, the ISO mark is an extremely good guide in areas like Quality Management (ISO 9001), security (ISO 27001) Energy (ISO 50001) and the environment (ISO 14001). A global compliance overview should be easy to find for comparison purposes.
5. Global ambition
Finally, make sure you will not be constrained by your colocation provider. You want a digital enabler with matching vision. Look at the investment rate and ask how fast your provider is growing and in what directions, as this must cover both your existing market requirements and future needs you may not have defined yet.
A well-funded core business is key as access to capital dictates accelerated expansion rates. Most colocation businesses are expanding through a mix of organic growth and acquisition; finding a balance between these is generally key to ensuring that the double-digit growth of the sector fuels your ambition, without undermining service levels because your provider is trying to integrate too many new businesses under one umbrella.
To take Iron Mountain as an example, building on its three-continent base, in the last six months alone the business has grown its portfolio by about 25 percent. This has been achieved through a mix of ongoing campus expansions and new builds across the USA and in the UK, plus the acquisition of a turn-key facility in Frankfurt and an innovative Joint Venture to become one of India's leading data center players in Mumbai, Pune and Delhi NCR.
Well-managed mixed expansion of this order needs to be accompanied by a disciplined standards-driven retail focus, but there is no doubt it can support the global digital ambitions of most customers.
More from Iron Mountain
Iron Mountain to launch Global IT Asset Lifecycle Management business

Company expands capacity for existing Fortune 100 customer

Investment will see Web Werks expand into Bangalore, Hyderabad and Chennai