From pets, plants in our garden, to the technology landscape, everything is getting hybridized. In the Information Technology world, the hybrid cloud (or compute infrastructure if you wish) is defined as interconnected on-premise, shared, and cloud resources, simultaneously using collective resources.
As noted in a survey "Voice of the Enterprise" conducted by the 451 Research Group, nearly 60 percent of organizations indicate that they are establishing a hybrid cloud environment. This means they are leveraging existing data center assets (traditional and private cloud), colocation, and cloud resources to meet various performance requirements. What seems a bit surprising, based on anecdotal conversations, only 18 percent of the participants in the survey indicated that the public cloud would become their sole computing platform.
Hybrid Cloud investment predictions for 2019 according to 451 Research Group
Enterprise data centers show 2.5 percent growth rate, which is down from six percent two years ago
Colocation and Managed Service facilities are increasing by 8.1 percent, surpassing enterprise owned assets
Cloud infrastructure is growing by 18 percent which is expected, but showing signs of slower growth
Tracking data center growth and density the industry tracking sight datacentermap.com gives a great visualization of private, shared, and public cloud-based data centers.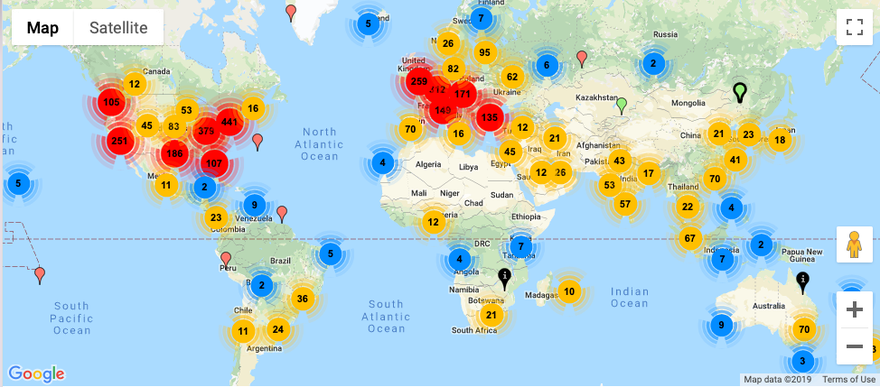 Drivers and demands for the hybrid cloud
Edge computing demand is driven by low latency/high bandwidth data demands from autonomous vehicles, on-line transactions, to IoT devices
Cost management of applications where IT organizations are optimizing workloads based on infrastructure and networking costs, risk management, and performance demands
Performance factors drive workload placement – distributed computing for high transactional requirements; traditional centralized infrastructure for compute intense batch reporting and analytics
Security and compliance drive workload placement. Traditionally, it was believed that an organization's own data center offered more security and auditability. However, as these facilities age, colocation and public cloud vendors are adopting modern and more sophisticated systems.
Trends
Colocation services have evolved over the years from the fortress style data centers to a highly connected internet exchange hub. We are now seeing that further evolve to host more complex physical and virtual infrastructures, capable of supporting the workload mobility demanded by the Hybrid Cloud and Edge computing needs.
With this, maturing or evolution competition among colocation providers is increasing. They now need to add unique services to entice and maintain their tenants. This competition is good for both the customer and the colocation providers themselves. Enhanced services bring significant value to the tenant without paying for the high cost of innovation. Improved services help bring operating costs down while driving more customer demand.
Colocation vendors are starting to provide more services and transparency to support the tenant's workload management. To manage workloads in this complex hybrid environment, organizations need visibility into the entire stack, where is it, where does it run best, where it is the best security profile, where does it cost least to run.
Complex environments have millions of inputs from devices and sensors daily. It is impossible to manually monitor and react to the valuable data that is available. Artificial Intelligence (AI) and machine learning are being adopted to provide advanced help to innumerate all of the outcomes for smarter decision making and improve failure predictability.
The demand to optimize and tier workloads are demanding more in-depth management tools to assist. DCIM tools are proving the ideal solution for both tenants and the Colocation provider to understand the nature of a workload and identify where it should move to, based on the parameters of cost, performance, and risk.
7 DCIM considerations when choosing a colocation provider
Is the location easily accessible to servicing vendors and employee access, as well as are there costs and risks driven by environmental conditions?
Are the power supply and costs reliable?
Is there appropriate cooling and PUE management to keep costs consistent and predictable while reducing overheating risks?
Does the host use Data Center Infrastructure Management tools, and can you interface with them to monitor and manage your environment?
Is there adequate physical security and reliable audit trail documentation?
Is there a comprehensive and integrated workload and workflow system in place?
Is the colocation vendor's Service Level Agreement in alignment with the tier requirements of the applications placed there, and are they transparent regarding SLA performance?
Challenges
The complexity of technology and the hybridization of the compute infrastructure is requiring new skill sets and a broader depth of talent that organizations are challenged to find. These factors are driving the need for automation, as found in DCIM, and a resurgence in engagement with integrators such as IBM, Atos, and Accenture.
Quality of connectivity is critical more so now than ever. Organizations need to know latency, jitter, and packet loss to ensure predictable quality data transactions. To achieve quality network connectivity, a dedicated and secure connection not typically found in an IP connection is required. These connections can be very costly and time-consuming to manage. Colocation providers can provide these and grantee them with their SLAs.
The growing diverse footprint of the hybrid cloud, demand consolidated visibility for capacity planning and workload placement and optimization. DCIM helps provide the visibility to manage these workloads and understands them to automate the workflows needed to manage them across the hybrid environment.
New technology, available skills, and lacking DevOp tools challenge the move to hybrid cloud, adding complexity to capacity management. There are more and more computing platforms demanding the metrics to know where to place a workload. More and more applications are getting placed in nonoptimal platforms. There is a need to know resource availability and how much subscription to commit to for maximum optimization of workloads.
What to do now
When selecting a Colocation partner, first understand the 7 Key Best Practices. View them as an extension of your own compute infrastructure. Make sure they provide tools giving you visibility, management, and validation of SLA of your real estate.
Ideally, find a Colocation partner that provides a portal that allows you to manage your environment and integrate with your own DCIM solution.