Everyone was taken by surprise, but at the same time everyone felt it was the most logical development in the world when IBM announced at the weekend that it would be buying Red Hat for a cash sum variously calculated to be $33 billion or $34 billion.
Whatever the final sum - and on the assumption that no shareholders or regulators block the deal - this is one of the biggest tech acquisitions ever. It's the largest software acquisition, and certainly the largest in the open source world. It's also IBM's biggest purchase ever. In the data center and cloud world, it dwarfs the $2.6 billion it paid for SoftLayer in 2013 - and the stated reason for both is the same: to strengthen its hybrid cloud offering.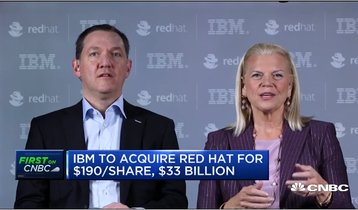 Whitehurst for boss?
There are many questions here, but both companies are emphasizing that Red Hat will operate independently part within IBM, under its CEO Jim Whitehurst. This is because IBM obviously needs Red Hat. It needs it so much it is paying $190 per share, which is a 60 percent premium on the Red Hat stock price when it was announced, and a total price of 51 times the estimated Red Hat earnings for next year.
When any open source company is bought, there are questions about its other partners: will they take kindly to their platform's new owners? In this case, there are many high profile Red Hat partners out there. Linux is the predominant operating system for the cloud, and Red Hat Enterprise Linux (RHEL) is known to be the basis for both Oracle Linux, and for the operating systems running Amazon Web Services.
Red Hat's independence is designed to keep those relationships on track, but IBM itself is already in competition with Oracle, and wishes it was able to take on Amazon - and the Red Hat acquisition is clearly designed to help with both.
There is no such ambiguity when it comes to Microsoft. Linux is already the major platform for cloud applications, and IBM has been selling it with a Red Hat partnership for some 20 years. Bringing it in-house should erase any doubts about enterprise credibility, and help promote Linux as an alternative to Windows servers and Microsoft Azure.
IBM has been a lackluster cloud player despite its best efforts, struggling to show any growth at all in the last six years, and suffering from the difficult position of maintaining a hardware platform while becoming a services company (and increasingly outsourcing the delivery of those services abroad).
By contrast, Red Hat people know that they are talking about, and have a clear mission. Numerous people are now urging IBM to go beyond preserving Red Hat's corporate culture, and to adopt it out right. These people are tipping Whitehurst for the top job at IBM.
Long time IBM commentator Bob Cringely predicts Whitehurst will get the CEO job within the next six months, and presents a Machiavellian set of motives: "Ginni is overdue for retirement, this acquisition will not only qualify her for a huge retirement package, it will do so in a way that won't be clearly successful or unsuccessful for years to come, so no clawbacks. And yet the market will (eventually) love it, IBM shares will soar, and Ginni will depart looking like a genius."
Seriously? Well, IBM normally retires CEOs at 60 and Rometty is 61. Whitehurst is ten years younger, at what Cringely describes as "the age when IBM likes to hire new CEOs". Both companies have big locations in Raleigh, so Whitehurst would not have to move.
Drupal creator Dries Buytaert predicts that Whitehurst will be IBM CEO "within five years," echoing the view that " IBM has the ability to introduce Open Source to more organizations in a way that Red Hat never could."
Hybrid cloud is hot, and Buytaert says IBM is not too late to join the fight. Hybrid cloud is based on a conflation of public cloud - overwhelmingly based on AWS - and private cloud, where VMware is the leader; and both AWS and VMware left it till last year to make a convincing move into hybrid cloud.
Real work, not paperwork
Cringely also expresses that hope that at all levels of the organization Red Hat people - who can "do something technical" - will take over from IBM engineers with their "paperwork-centric design engineering" approach. The result, he says is that Red Hat sales will explode in IBM shops looking for a Microsoft alternative.
The downside is that Red Hat customers should be bracing themselves for a deluge of IBM systems and services sales, and they may not want to become IBM shops.
The only way to avoid this, and to gain the positive advantages of this acquisition, will be for IBM to show it is serious about keeping Red Hat's corporate culture. The best way to do that will be to hang on to Whitehurst - and the way to do that is to give him the top job.