Companies have data. Lots of data. As they accrue more and more, we're seeing a change in infrastructure preferences. Consumers like to use apps – there are more than 2 million available on the Apple app store – and apps need data. The two things are getting closer and closer together in a very literal, geographical way and we're starting to see the development of data center campuses.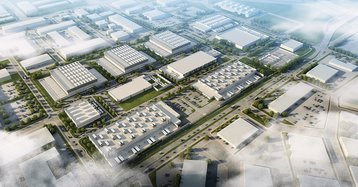 Why so close?
In a virtual and connected world, it could seem counter-intuitive for physical proximity to be so important for modern infrastructures. However, companies need to have rapid, real-time access to their stored data. They also need simplified processes for using that data.
There are teams that need to process data in real time and understand its impact immediately so that they can put it into action. For instance, marketing agencies may need to adjust advertising campaigns based on the performance of specific creatives, especially when they're focused around specific events. Or online retailers need to understand the performance of their platforms at peak buying times to ensure maximum conversions. The list of uses goes 
With so much of a business's success or failure hinging on the effective application of data, getting hold of valuable information quickly starts to have a premium. Like the 'speed races' amongst high frequency traders of the 2000s, proximity is becoming the key thing. Speed is increased when distance is reduced. It's a very basic principle of physics.
Building the framework
So how is that speed actually achieved in practice? The birth of data center campuses solves the proximity problem. By being part of a geographically defined space, within which all data is stored and processed, companies can get themselves an edge.
Campuses that unite colocation, scale and hybrid data centers mean that businesses can continue with the same hybrid cloud infrastructures, but in a way that benefits their strategic outcomes. You can get high demand networking, storage and low-latency all in one space.
Change inside the data centers
Proximity is also important when you peek under the bonnet of the data centers themselves. Most of the services that are consumed by businesses and individuals are mash-ups of multiple feeds or services themselves. The infrastructure that supports these services isn't always 'mashed up' in the same way.
It could seem counter-intuitive for physical proximity to be so important in a virtual and connected world, but companies need to have real-time access to their stored data.
Interconnection to establish an ecosystem of apps and data seems a simple idea, but in practice relies not only on knocking down siloes, but also the proximity that we've been talking about. Companies with multiple cloud instances and a diversified infrastructure don't always have their data and apps in the same locations.
However, peering exchanges make it possible to bring all of this together at an affordable rate. By buying and procuring transit of data within an integrated campus environment, the costs can be managed, but also the campus becomes highly scalable. For webscale businesses, the growth from one cabinet to a whole data center can happen at break-neck speeds. So having a blueprint for interconnecting different databases in a scalable way that optimises the analysis of data is crucial for building successful businesses.
Connected data center campuses allow companies to take part in a diverse ecosystem that consists of a culmination of services and assets. They provide agility to support dynamic workloads, flexibility to scale when needed and private and secure access to cloud services in under 1.5 milliseconds.
Dale Green is marketing director at Digital Realty