With today's rapid pace of change, it's getting harder to tell where the state of technology will be in 2020, never mind the next decade. But one thing we do know is that enterprises will need to continue to evolve and innovate to keep up with their competition.
To help IT professionals stay a step ahead, let's take a look at three key themes that I expect to influence enterprises in the years to come:
New levels of maturity for emerging technology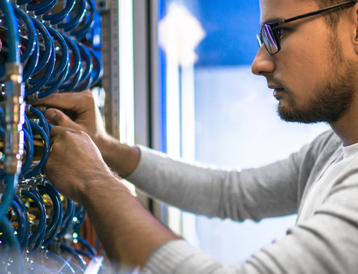 Over the past several years, we've seen the IT industry boom with the explosion of artificial intelligence (AI), the Internet of Things (IoT), the cloud and more. While it can be difficult to imagine what comes next, what I do expect to see is new levels of maturity when it comes to using emerging technology. Gone are the days when businesses were simply testing out applications of hot new tech – today's leading organizations have made the cloud, AI and IoT established staples of their long-term IT strategies.
However, while enterprises increasingly use these advanced technologies, they are also realizing that their existing infrastructure can no longer adequately support their use of these technologies, because it wasn't built for these complex applications. As a result, they'll need to evolve their IT infrastructure strategies so that they can support these technologies better.
Security concerns will magnify in decentralized architectures
Traditional network architectures have been evolving over the past few years. The transition toward a decentralized model allows enterprises to tap cloud providers, SaaS platforms and proprietary data centers, enabling them to ultimately achieve greater resiliency, scalability, and significant cost-savings.
But, hosting various pieces of an enterprise's environment in different places can open the business up to a greater number of risks and attacks. In order to make sure that each part of an enterprise's new environment is protected without inhibiting performance, more businesses will begin to implement a security strategy that combines physical and network security with robust encryption key management services.
Setting sights on new territories
In an increasingly globalized society, enterprises are constantly looking to store their data closer to the eyeballs of their end-users to ensure better experiences. The most efficient way to do this, oftentimes means businesses will have to enter new markets. As a result, I expect to see a universal increase in investments for new data centers builds in an effort to help enterprises reach their growing audiences. Particularly, I sense we'll see hubs emerge in tier-two cities across Europe and the US, in addition to continued investments in existing data center hubs, such as London.
For data center providers, establishing infrastructure in a new region to help these businesses meet their needs isn't as straightforward as simply launching a new build. In fact, there are several considerations that data center providers must be mindful of as they expand into new territories. For example, they have to ensure there will be enough customer demand to fill a facility – the new build has to make business sense. Moreover, data center providers and builders must be mindful of maintaining meaningful engagement with local authorities along the way, working with power providers to ensure the facility can run with no outages, and collaborating with local digital and connectivity communities in the city. A strategic approach will help data center providers succeed as they seek to grow in previously unexplored markets, and in turn benefit enterprises as they seek to grow their own footprints, strategically and with scalability.
Watching it unfold
Carrier- and cloud-neutral colocation data centers will play a key role as these trends unfold. Colocated IT infrastructure delivers high-performant, secure and cost-effective interconnections to the cloud and connectivity providers. Leveraging the right infrastructure, in the right location, will help enterprises advance their adoption of emerging technologies while meeting their unique business needs, deploy the best security strategy while optimizing their performance, and enable them to expand into new regions and grow their business.
It's an exciting time to be in the data center industry, as all of the technology innovation happening in the new decade will impact the space. I can't wait to see how these trends unfold, as we'll see them impact both the colocation market at large, as well as businesses and their IT strategies.