Fiber has become increasingly critical across the data center and large enterprise IT facilities as data speeds continue to increase from 1Gbps on up to 400Gbps with a roadmap to 1.6 Terabits. Consider for a moment the business value of easily migrating from 10Gbps Ethernet to 400Gbps circuits within your data center?
Time critical processing and response generate income, drive business advantage even accelerate scientific breakthroughs and fiber is a key data pathway.
Added to this, market intelligence analyst Cru Group recently reported prices for fiber have now reached their highest level since July 2019, due to a worldwide shortage of fiber-optic cable and lengthening lead times as demand for cable increased 8.1 percent in the first half of 2022 compared with the same period last year.
New technologies, cable innovations and the overarching drive for greater sustainability across increasing components of the data center requires a more integrated and flexible approach to cable infrastructure to support you and your customers.
Robust fiber network management has become crucial for all businesses and the data centers that support them. Optical distribution frames (ODF's) are the core of the fiber network, which makes them critical for business continuity and necessitates that you can investigate and guarantee the position and quality of your core implementation.
Additionally, deploying an automated cable documentation capability provides the platform for a Network Mapping System, reducing paper documentation to a minimum, whilst increasing serviceability of your cable network.
Panduit has demonstrated a reduction in documentation time and cost of 50 percent when utilizing its latest app-based cable mapping system.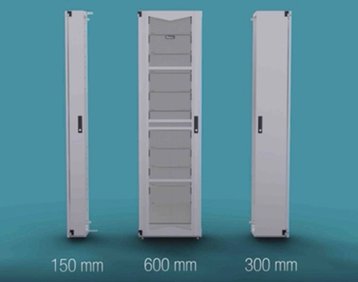 Optical distribution frames (ODF) offer maximum flexibility, manageability, security, and scalability used in both grey space and white space applications. They can offer a versatile front access cable system and provide maximum protection for your most critical circuits.
The latest systems utilize three modular building blocks comprised of a 150mm wide vertical cable manager, a 600mm frame, and a 300mm vertical cable manager that can be used to create the exact configuration to optimize density and system availability.
An increasingly effective format is a wall mounted single or double rack, and middle of the room back-to-back configurations. The capability to wall-mount an ODF creates revenue opportunity for the data center operator.
This was previously not considered as saleable space, particularly in multiple tenant data centers (MTDC). However, the wall is often a prime location for an ODF, and thus opening more space for revenue generating ITE.
Full front access ODF systems provide the capability to mount directly against a wall as all moves, adds and changes (MACs) can be done from the front of the frame.
One such modular system reduces floor space by as much as 50 percent and its frame modularity and one size, four-meter, patch cords ease supply chain complexity.
The ODF system can manage up to 3,168 fibers per frame, making it easy to create multiple configurations using the three modular building blocks.
This flexibility offers design customization and scalability while optimizing both product availability and system density. Compared to typical data center cabinets, this can increase floor space utilization in a data center by 50 percent.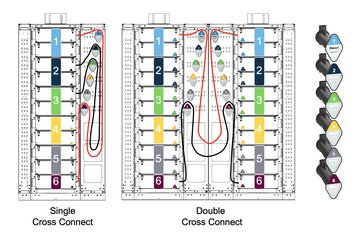 The ODF offers one of the highest fibers per frame densities in the industry and is designed to works with a wide range of cabling systems, including HD-Flex™ splitter and tap cassettes, fiber cable runner and supports automated network mapping systems.
This innovative cable management system includes intuitive cable routing paths that eliminate guesswork and the need for rip and replace strategies, which is becoming increasingly important at a time of long delivery delays and pressure on corporate sustainability and net-zero commitments.
As fiber density increases the need to increase automation within the documentation process becomes essential to maintain an optimized infrastructure.
Networking, connectivity, and human error are top causes of data center downtime. Using the latest network mapping systems will help optimize cable documentation.
Utilizing patch cords prelabelled with individual barcodes together with a companion Bluetooth-enabled handheld scanner and the downloadable mobile app, you can semi-automate labelling, tracing, and troubleshooting and reduce time spent by engineers on cabling.
Eliminating manual data entry removes a major contributor to error-prone cable documentation, which is known to lead to outages and network port utilization inefficiencies.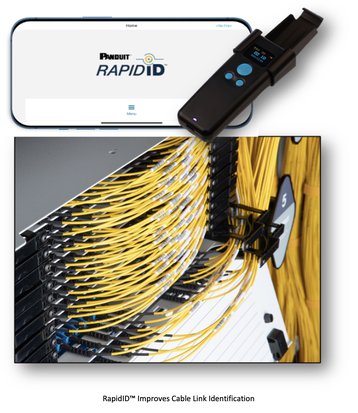 The latest ODF designs makes moves adds and changes (MACs) up to 30 percent faster, with easy-to-use cable management accessories include spool kits, furcation kits, and cable breakout kits.
The systems' 4RU universal enclosures are equipped with 12 slideable trays that each accept one of the four different cassette types; LC splice, LC MPO, LC tethered, and cable to cable splice.
The enclosures are designed to be added as needed so that you can scale as you grow, and each with space for a maximum of eleven 4RU universal enclosures.
Security continues to require additional attention and the system offers side panels and doors with locks that allow the enclosure to be totally secure.
The universal enclosures also include optional dual locks that allow compartmental security, perfect for multi-tenant data centers, and offer increased overall physical security for your cabling infrastructure.
Today's ODF systems offer cost effective solutions designed to meet future growth while maintaining a small footprint, aligning this capability with a network mapping system will strengthen your fiber network core.
As the value of data increases we must implement and optimize the processes and capabilities our data centers utilize to enhance and protect that value.
For more information, please click here.
More from Panduit
Multi-tenant data centers need physical infrastructure that connects every area equally well. Panduit's latest Solution Guide shows you how

Physical infrastructure can maximize value in both hosted and on-premises it environments

Accurate, automated, centralized visibility into your digital infrastructure? That's next-gen DCIM