It may have felt as if the whole world started working from home overnight back in March, but it was anything but a sudden switch for Vertiv. We call ourselves the Architects of Continuity, and we live that internally every day. When it came to the coronavirus, that meant staying on top of events around the world long before the first reported cases reached the U.S. and preparing for every eventuality – including the extended shutdown that still has our facilities and countless workplaces across the country and around the world closed to employees.
Vertiv was actively preparing for the virus before I started with the company in late February. I met with our business continuity manager my first week on the job, and the looming pandemic was the only topic on the agenda. I quickly jumped into ongoing work to set up virtual desktops to enable remote network access and collaboration across the organization. This was an early priority, and it paid off when we closed our offices to non-essential staff just a few weeks later.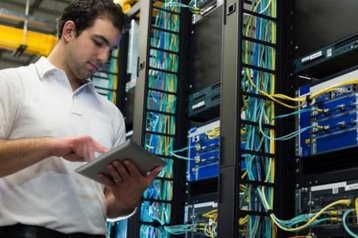 It may sound like hindsight now, but foresight was the key to managing this transition and ensuring no sags in productivity as a global organization with nearly 20,000 employees moved to a remote work model. That may not be helpful advice for companies still struggling to adjust today, but early preparation will be the key to the next business crisis as well – whether that is another pandemic or some other major national or international disruption.
With that in mind, there are a few recommendations I can share based on our experiences and lessons learned at Vertiv.
Capacity comes first. We changed some of our network traffic to split tunneling, directly routing any traffic that needs to go offsite to the internet rather than forcing it through a central hub as we would under normal circumstances. That reduced traffic and latency and eliminated costly delays across the network. We tested this well ahead of the March shutdown to ensure remote workers received the network performance they needed. Likewise, we made sure we had enough VPN licenses to support the entire organization. That was a problem for a lot of companies when their entire workforce started accessing the network from home. Some companies had to have their employees work different shifts to stagger VPN usage. We avoided these issues with early awareness and planning.
Tools matter. We weren't as far ahead on this front as we would have liked. We were in the middle of rolling out Microsoft Teams when everyone started working from home. That's not ideal, but we saw something interesting happen right away – when everyone started working remotely, adoption of Teams skyrocketed. Implementation went much faster than we expected, with everyone on board in about two weeks. The reason? It was the right tool at the right moment. Our people wanted to collaborate – they needed to collaborate – and they recognized the value of this new collaboration tool right away.
It's not (just) an IT problem. When the company started our business continuity meetings in early January, they included not just IT personnel, but decision-makers from across the organization and around the world. There was a good, healthy dialogue about what we needed to do organizationally to prepare for how the virus could impact both the health of our employees and the continuity of our business. Input from colleagues in China, Italy and elsewhere helped us understand the challenges the virus was presenting in those regions and was likely to introduce to the U.S. and other regions that were not yet affected. Network traffic was an important part of those conversations, but so were supply chain implications, healthy building practices, employee wellness initiatives during the pandemic, and any number of other topics. It's impossible to be completely prepared for an event like this, but we were as prepared as we could be.
Expect bad actors. Unsurprisingly, we saw an uptick in potential security threats as the pandemic swept across the globe. We beefed up our security operations center early on, understanding that a remote workforce introduces additional security vulnerabilities that must be managed. IT has to lead this effort, but every employee plays a role, and communication is critical to success. Our changes included enhanced monitoring, and increased communication to our employees on how to work safely from home.
Mind the details. We have an effective process for onboarding new employees, providing them with the equipment they need (laptops, for example), and supporting them as they get up to speed. When the pandemic hit, that process changed completely. Suddenly, we were shipping laptops, monitors all over the world and dealing with all the issues inherent in that sort of effort. This was an area where our pre-pandemic planning lagged, and we were forced to develop new policies and procedures more or less on the fly. It was a good exercise – now our laptops and PCs show up direct to the remote user, fully configured, so they can get right to work – a best practice that we will adopt long-term. Our new policies now allow for self-service refreshes through modern cloud technologies and remote hardware support through collaboration tools.
Stay connected. This is less about network connections than about personal ones. Those conversations you take for granted in the office can fall by the wayside when you're working remotely. IT professionals often are introverted by nature, so being intentional about staying in touch with colleagues who are important to you and your job but perhaps outside your core team. Before the pandemic, we had full-team IT meetings every six weeks. Now, we're having quick, 30-minute meetings every other week to keep everyone connected and informed. Personally, I've created what I call a "Who" list – who should I be talking to? – and setting up regular calls with everyone on that list to make sure we're having the necessary conversations.
Bottom line: None of this is easy. It was a challenge four months ago, and it remains difficult today. Planning and communication can help mitigate the impact of the pandemic across organizations and establish the right processes and protocols to ensure a smoother response to the next crisis.