AI, IoT, machine learning (ML), autonomous cars and 5G are today's hot topics in the US and beyond. Connectivity has become increasingly critical as content evolves and becomes more impactful through HD, visual AI and advances in sensor data. These technologies require the storage of deep analytics in the cloud, and these deep analytics require quick data processing and data delivery to the "edge."
Billions of dollars of submarine cables transport data across 448 subsea cables that cover 1.2 million kilometers. In 2018, subsea cables transported more than 440 terabytes of the intercontinental data traffic, as reported at Submarine Networks World 2019. That number is estimated to exceed 600 terabytes by 2020.
All this traffic is dependent on the ability of hundreds of multimillion-dollar subsea cables to transport it across the ocean floor. Investment in subsea cables has exceeded $2 billion dollars over the past four years, bringing the value of subsea cables to over 13.8 billion. By the end of 2020, we will have 107 new subsea cables that have been developed since 2016.
However, many old cables - especially across the Atlantic - are nearing end-of-life, and several have low capacity remaining. Thus, without even greater investment and technology advancements, the demand for subsea cables will soon exceed capacity. At the Submarine Networks World conference, a major social media company stated that in less than one year, they were out of capacity on their latest subsea cable investment.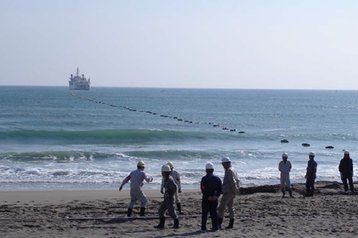 How do subsea cables play a role in AI/IoT/machine learning/autonomous cars and edge computing?
As advances in AI, healthcare, and content drive the age of technological innovation, a massive amount of data will need to flow efficiently between the continents. US-based companies that use automation in their overseas factories will need to collect, store and analyze data - mainly housed in cloud environments - from millions of sensors.
Advances in entertainment and visual AI are also driving new levels of data connectivity. We no longer need to imagine the day when holographic concerts and sporting events can be shown live in Singapore, Jakarta, and Beijing simultaneously because the technology to make this happen has already been developed. In fact, there is camera technology that can make sporting events viewable - and interactive - anywhere in the world.
More importantly, advances in health monitors and telesurgery are creating a mobile society no longer tethered to local healthcare agencies or denied critical medical procedures due to lack of local expertise.
With more than three billion people - roughly half of the world's population - in emerging world markets, there is a high demand for connectivity that can only be delivered through subsea cables. These are the markets of the future and truly represent the emerging edge.
Our global economy and society will be brought closer together through advances in technology - technology that must be delivered through subsea cables. To put things in perspective, $10 trillion of daily transactions takes place across the subsea cables of the world. The e-commerce and finance industries are highly dependent on subsea cables - making them even more critical to a global economy.
Today's hot topics - AI, IoT, ML, autonomous cars and 5G - are pushing data to the edge. By tapping into subsea cables, companies can push that edge even further.