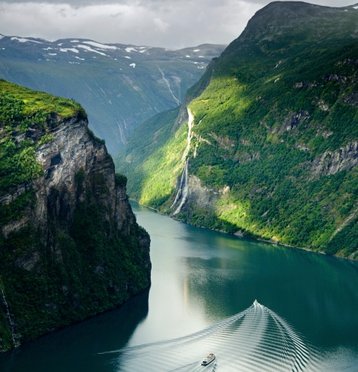 It can be tough to be small
But, having built their highly efficient offshore data centers in the Nordics and Baltics, many smaller operators now face a real challenge when it comes to persuading major customers to migrate their data north. Competing for business becomes an even more difficult task when you consider the global giants who have moved into the neighborhood.
With Facebook's data center established in Luleå, Sweden, and the enormous Google facility in Hamina, Finland, among several others, local data center operators know they need to provide something that the big boys can't.
Fortunately for them, size isn't everything. In fact there are several key areas where the smaller operators have a real advantage.
One important factor for local offshore data centers is differentiation of services. Having the agility to quickly provision tailored services is a key weapon when it comes to competing with the economies of scale and phenomenal capacity of mega data centers. The technology used by the web-scale operators and the services they provide are highly standardized. Smaller operators, however, can afford to think outside the box. They can fill their facilities with customer-specific storage and server devices. They have the flexibility to support legacy IT workflows and the agility to deliver customized hosting, colocation, hybrid or outsourcing offerings.
Smaller operators can afford to think outside the box
Disaster recovery and business continuity are also features where Nordic and Baltic offshore data centers can provide a clear value proposition. They find it much easier to implement the kind of back-up architecture needed to host mission-critical data. By creating twin data center topologies with facilities no more than 200km apart, smaller providers can offer stringent Tier 3 and Tier 4 services and ensure greater availability. And the data center services they are able to offer will be 30 percent, 40 percent or even 50 percent lower than the cost of such services down in cities like Amsterdam, Frankfurt or Paris.
It has to be unique
When it comes to convincing large enterprises to make the leap, an essential part of the strategy for Nordic and Baltic data centers is to offer a unique connectivity solution as part of the service bundle. Customers need to understand that data transport is free from traffic jams and security threats. They need to know that the connectivity strategy is scalable and that it's encrypted at the physical layer. But it's also essential to provide highly secure, low-latency transport from meet-me rooms to hosting locations. Secure, well-run meet-me rooms, perhaps in carrier hotels in major cities down south, are the key to connectivity and should be a focal point of any data center's marketing plan. What's more, it's important to have an attractive methodology for bringing customer data to the data center using a free "shuttle-bus" also bundled into the service package.
There can be no doubt that small off-shore data centers in the Nordic and Baltic region have reached a critical juncture. They need to seize this moment and show large enterprises how much they stand to gain by following the compass north. The time is now for them to step forward, take advantage of their unique strengths and sell their value proposition to Europe's biggest businesses.
Dieter Will, VP, business development, EMEA, ADVA Optical Networking