Today's DCIM (data center infrastructure management) capabilities have developed with the increasing utilization of hybrid digital infrastructure to meet changing business and leisure needs and create opportunities for growth.
The global DCIM market is poised to reach $3,075 Million with a CAGR of 8.6 percent by 2028, according to BlueWave Consulting research.
The rapidly increasing adoption of cloud-computing and need for efficient management of data centers, to reduce energy consumption and increase efficiency, has driven the latest generation of DCIM solutions that now offer true cloud-native platforms.
The massive investment in data center construction ‒ led by global tech giants, colocation, enterprise, and edge locations ‒ necessitates the adoption of DCIM solutions to generate the scope of data required to effectively manage individual or multiple sites from a single platform.
Improved DCIM capabilities
To match this, the latest DCIM capabilities have been created from the ground up to take advantage of cloud flexibility, scalability, enhanced manageability, security, and operational ease of use.
Data center, enterprise and edge infrastructure is supported through the management, monitoring, and alerting for the five essential data processing requirements: power, cooling, environment, IT and connectivity.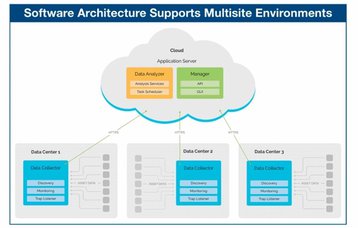 Systems such as, Panduit's SmartZone Cloud offer software agnostic and multiple vendor support for IT and facilities devices. Designed as a complete platform, it aligns with the company's range of smart local power distribution products and latest modular uninterruptable power supplies (UPS), as well as the host of environmental sensors and monitoring devices.
Panduit's system is deployed on Microsoft Azure and leverages the Azure application security service to provide continuous vulnerability scanning, together with the highest security, compliance, and certification levels.
There are growing concerns regarding the increasing power consumption of data center servers and communications devices, and these intensify the need for DCIM systems that offer a wider range of monitoring down to the rack level.
Over the past couple of years, the proliferation of smart IoT devices strategically positioned across the infrastructure has driven the need for DCIM.
The increasing amount of data generated and captured, enables users to visualize rack-level power, environment, and cabinet security access, both physical and electronic. Users can use a single pane of glass to manage the data center infrastructure resource.
In addition, floorplan layout, rack elevation and power path visualisation enable users to identify single point of failure, reduce overprovisioning, and improve risk assessment.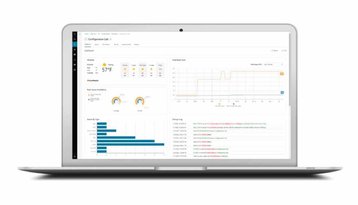 To achieve the benefits of the latest cloud-native implementation, the DCIM platform must be highly secure, and include encryption on data at rest and in transit, and two-factor authentication is a must have.
The past two years have witnessed great changes in work practices. These have been supported in the transformation of DCIM to provide access from outside the premises, and highly secure non-physical access to unlimited locations for users, with role-based access.
Operator and user equipment installation is simplified through plug and play device auto-discovery, intuitive web interface and real-time updates for software and environment monitoring.
This has given rise to fine-grained access control, and security focussed development lifecycles, which is strengthened with multiple security scanning and assessment solutions. These provide analysis of complex web applications and web services to ensure highly resilient service provision.
Security near and far
Panduit's next generation DCIM solution provides accurate, automated, and centralized visibility into the digital infrastructure to ensure stakeholders achieve service orientated goals.
It enables operators and users to make informed decisions to meet the demanding needs around capacity planning, remote management, and end-to-end service level agreements (SLAs). Real-time information and clear understanding of power, space and asset usage, environmental conditions, connectivity, and cabinet access is available to provide the complete overview of the data centre operation.
The latest smart cloud DCIM software offers enterprise web-applications hosted in the cloud. The capabilities users need to look for include, power and environment monitoring, along with asset and connectivity management and cabinet access.
Today it is essential that DCIM tracks critical infrastructure resources and provides visual representation of a rich set of asset attributes, connectivity, space availability and power and environmental resources, to ensure that the operator and users digital infrastructure supports mission critical applications and enables effective optimisation of data center resources.
With external accessibility comes the need for comprehensive security. It is essential that user roles define what users can do in the application. In addition, an administrator must have the capability to define access controls on specific assets to limit what users can see and interact with.
With Panduit's DCIM cloud-native solution, users can add access credentials for managed devices. This allows the use of configured SNMP community string to access sensors such as, current utilization from a managed PDU.
Device credentials are stored in the solution's cloud database and encrypted using Advanced Encryption Standard (AES-256) with keys that are unique to the user. The data is always stored and transported encrypted even over HPPTS.
For Data-at-Rest Security, the application is installed in Azure and uses the at rest data protection capabilities of Azure Cloud. The Data Collector is installed on the users Windows physical or virtual machine. If at-rest data protection is required for Data Collectors, technologies such as BitLocker can be used.
All Data-in-Transit Security interactions with the platform from a user or from a Data Collector is secured with HTTPS. Panduit's cloud Data Collector can be installed on one or more Windows Server 2016 instances on physical or virtual servers. It collects and relays data back to the Panduit cloud platform, which lets users and operators monitor and perform operations against the collected data.
Model and device definitions and use
The expansion of DCIM has required the development of increased levels of device definitions to collect and use the correct data to identify each device on the system. A device can be a server, CRAC, PDU, UPS or any IP accessible device.
To correctly model the device, SmartZone Cloud needs to understand the device type, manufacturer, and model. This is then mapped to applicable attributes, sensor data and communication protocols. To capture the model and device definitions, Panduit uses one or more of the following knowledge sources: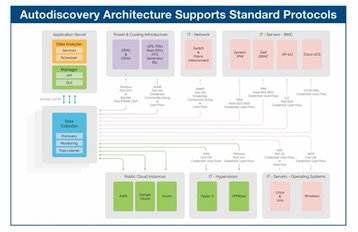 Model data: This allows the system to identify the device, down to manufacturer and model. It also allows the device to be classified based on extended attributes, such as space utilization, expected power utilization, network-related information, and other relevant data.
Device definition: Having defined the device, the system can now identify it and react dynamically to its variations, pulling data from the various sensors. This data is then mapped to instrumentation points within the system model.
SNMP traps: SNMP sends push notifications when a significant event happens, like a UPS losing power and switching to battery. Trap notification events are mapped to the device using the trap definition and they are passed on to systems notification subsystem.
Data centers are essential to everyone's daily life and more complexity has grown around the core attributes of processing and storing data. The latest DCIM platforms are a critical capability in maintaining the data centre and networks on which it depends.
Panduit believes that its latest DCIM platform offers operators and users a sophisticated range of capabilities to ensure efficient and effective management of the increasing valuable data asset within.
More information is available on Panduit's SmartZone™ Cloud here.
More from Panduit
Real-time, end-to-end network monitoring not only improves data center management, but can aid fiber densification efforts, says Panduit's Michael Akinla

Introducing the FlexCore ODF from Panduit, an innovative fiber cable cabinet that reduces passive cabinet floor space by 50 percent while increasing fiber count connectivity

A data center lacking built-in resilience in depth can too easily be knocked offline, making well-specified UPS infrastructure more important than ever, writes Panduit's Michael Akinla