ABB has expanded its NeoGear switchgear portfolio to deliver impressive safety improvements, optimized performance and digital connectivity, including real-time condition monitoring and predictive maintenance.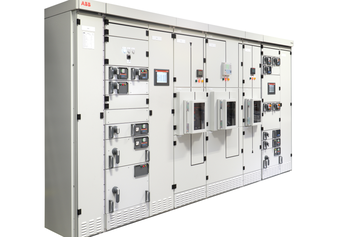 Building on the success of its proven NeoGear technology, ABB has further developed NeoGear, the safest low-voltage switchgear on the market for operators and maintenance engineers. Its revolutionary design eliminates hazardous exposure to live parts, uses 92 percent fewer busbar components than traditional switchgear and with 90 percent fewer electrical joints improves switchgear availability.
The arc ignition protected zone keeps maintenance personnel safer when performing routine works and repairs, while also reducing the risk of arcs caused by mechanical failures, one of the most serious safety risks that switchgear operators encounter.
Now available globally, NeoGear switchgear offers a reduced physical footprint of up to 25 percent compared to equivalent switchgear technologies. Within this compact footprint, it also achieves energy efficiency of up to 20 percent due to reduced heat dissipation.
The recently introduced 4-pole version as well as the upcoming 690 V version make NeoGear a very attractive solution for numerous market segments and industries, including utilities, food & beverage and infrastructure. NeoGear is also ideal for data centers, infrastructure and light industries where the highest safety standards and reliability are essential and where the reduced physical footprint and weight reduction of the switchgear are key benefits.
As well as improved safety, class-leading sustainability credentials and unrivalled performance, the enhanced solution builds on ABB's proven NeoGear platform with the latest connectivity capabilities for data analytics and data communication, making it the ideal low-voltage switchgear option for facilities working towards achieving Industry 4.0 standards. The new digital capabilities deliver up to 30 percent lower operational costs thanks to more efficient condition monitoring, making it a revolutionary step forward for sustainable switchgear.
Ronald van Leeuwen, Global Product Manager NeoGear, for ABB Electrification explains: "The industries we serve are continually evolving in line with key market drivers like digitalization, safety and reduction of environmental impact. So that we can continue to meet the needs of our customers, our product ranges must evolve too.
"Our commitment to product evolution is showcased in the advancements made to our NeoGear low-voltage switchgear. Improved operational safety, sustainability and integrated smart functionality makes it compatible with any digitalization strategy."
The expanded digital capabilities of NeoGear include real-time condition monitoring and predictive maintenance, remote assistance, fault and solutions diagnostics and data analytics for Industry 4.0. Furthermore, ABB AbilityTM Condition Monitoring for Electrical Systems (CMES) is also included to help customers gain additional operational efficiencies of up to 30 percent and harness unprecedented flexibility in their operations.
Divesh Ramasur, Senior Electrical Engineer from Sasol Mining South Africa, said: "Our main priority is to ensure the safety of our people. That's why finding a solution that delivered high safety standards was so important. Our first NeoGear Motor Control Center is installed in a remote part of our mining operation, in a dusty and harsh environment.
"Thanks to the NeoGear laminated bus bar technology, which is fully IEC-classified as an Arc Ignition Protected Zone, we have seen a major step forward in reducing the chance of damage to the installation caused by internal arcs. Arcing incidents puts both our people and our processes at risk."
ABB prides itself in creating scalable, modular and flexible platforms that are affordable to organizations investing in their digital transformation. This includes withdrawable or plug-in technology depending on customer requirement and components and devices that can be exchanged or upgraded easily, and new features can be added to an existing installation with minimal effort.
For more information about NeoGear, visit the ABB website.
ABB (ABBN: SIX Swiss Ex) is a leading global technology company that energizes the transformation of society and industry to achieve a more productive, sustainable future. By connecting software to its electrification, robotics, automation and motion portfolio, ABB pushes the boundaries of technology to drive performance to new levels. With a history of excellence stretching back more than 130 years, ABB's success is driven by about 105,000 talented employees in over 100 countries. www.abb.com
ABB's Electrification Business Area is a global leader in electrical products and solutions, operating in more than 100 countries, with over 200 manufacturing sites. Our 50,000+ employees are dedicated to transforming how people live, connect and work by delivering safe, smart and sustainable electrification solutions. We are shaping the future trends of electrification, differentiating through technological and digital innovation while delivering an outstanding experience through operational excellence for our customers across utilities, industry, buildings, infrastructure and mobility. For more information visit https://go.abb/electrification
More...
This paper discusses how to make modern data centers more energy efficient by optimizing and realizing true IT and OT efficiency

ABB's refreshed data center configuration app makes server room specs add-up automatically

A report based on results from DCD surveys looking at construction trends in the Asia Pacific region, created in partnership with ABB