Neu.ro, a leading MLOps and Artificial Intelligence platform, has partnered with Cato Digital, a leading provider of low-cost, low-carbon bare metal compute & storage solutions.
"The Neu.ro MLOps Platform is created and developed with a responsible and sustainable AI philosophy," said Neu.ro CEO Uri Soroka. "In this regard, Cato Digital is the perfect match for Neu.ro; together, we are committed to achieving a true carbon-neutral AI Cloud."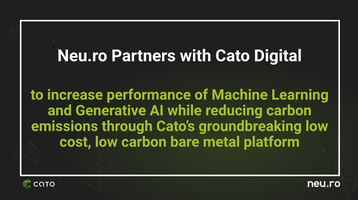 Cato Digital and Neu.ro are members of the iMasons Climate Accord, an industry consortium of over 200 companies focused on reducing carbon in materials, products, and power.
Cato's platform combines circular economy hardware, stranded data center power capacity, and clean energy to directly reduce scope 1, 2, and 3 emissions in digital infrastructure. Neu.ro's unique platform optimizes the most advanced ML and AI workloads to increase efficiency and performance while lowering costs and carbon emissions in both on-prem and cloud deployments.
"To make meaningful reductions of carbon emissions in digital infrastructure, we must assess the entire system," said Dean Nelson, CEO of Cato Digital. "By partnering with Neu.ro we have a holistic view of the data center, hardware, power, and software to increase efficiency and performance while significantly lowering costs and carbon for ML and AI model development, training, and deployment."
As the data center industry evolves rapidly, artificial intelligence (AI) and machine learning (ML) are increasingly recognized as critical drivers of increased private and public cloud usage. However, for teams to fully leverage the power of these technologies, they require comprehensive orchestration and integration support at every stage of development and deployment.
The Neu.ro and Cato Digital partnership are founded upon the fundamental tenets of sustainable and ethical data processing. By leveraging their expertise, Neu.ro, and Cato Digital are committed to driving positive change in the industry and promoting responsible data practices. The partnership represents a significant step forward in advancing the ethical use of data and reflects the companies' unwavering commitment to building a more sustainable and equitable future.
To facilitate AI workload growth and satisfy its current and future AI needs, Neu.ro deployed an OEM AI Cloud orchestration and interoperability solution to reside natively on Cato Digital bare metal.
The platform offers unique advantages such as easy and rapid access to the computing infrastructure via a CLI or menu system, access control and permissions for authorized team members, orchestration of both cloud and on-prem compute resources, workflow automation, and protection of AI assets and artifacts throughout the ML lifecycle.
Moreover, the platform integrates a wide selection of best-in-breed AI/ML toolsets that cover the entire ML lifecycle. For example, this includes modem long-language models (LLM) and ChatGPT-like bots. In an accelerated timeline, Neu.ro successfully installed, tested, and launched turnkey AI/ML services on Cato, enabling both companies to make significant strides to low carbon digital infrastructure.
For more information about Neu.ro and its commitment to ethical and sustainable AI, please visit this website or contact us at team@neu.ro to schedule a demo or request more information.