SUBMER, a leading innovator in advanced immersion cooling solutions for Datacenters and Cloud and Edge computing, is delighted to announce the launch of its latest solution, the MegaPod. The MegaPod is the company's latest step in its journey to revolutionize the datacenter industry and help it to become more efficient and more sustainable. The solution will be available to purchase direct from Submer beginning 17th March, 2021.
Datacenters are rethinking the way they operate. As technologies like Blockchain, AI and the Gaming industry continue to experience growth and their importance within the everyday economy increases, datacenters are under pressure to improve their power capacity and performance from customers while simultaneously reducing their impact on the environment to adhere to new policy requirements. Traditionally, adopting more sustainable technologies can mean sacrificing power, speed and performance. However, this is not the case when immersion cooling is adopted.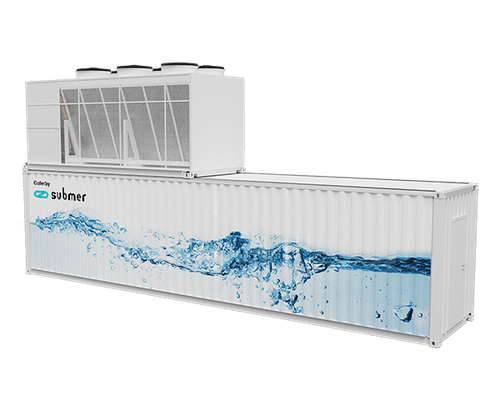 Immersion cooling is the practice of submerging computer components (or full servers) in a thermally, but not electrically, conductive liquid (dielectric coolant). Immersion cooling offers datacenters the ability to keep up with the increasing demand for higher power density along with many other advantages such as: A reduction in CO2 levels, power usage and better Total Cost of Ownership (TCO). Additionally, immersion cooling offers protection from the surrounding environment which could damage the hardware.
The MegaPod has been purpose built to address the specific pain points faced by the industry. The solution incorporates Submer's innovative Immersion Cooling technology, with a compact, modular, prefabricated datacenter-in-a-box configuration that allows for fast deployment in any location and simplified commissioning with an unparalleled energy footprint. Simplifying site selection by including completely dry-cooled (zero water requirement) options.
The solution, which is aiming for TIER-Ready certification from the Uptime Institute, will include Submer's SmartPodXL and SmartPodXL+ technology, allowing for up to 800 kW of compute power in a 40' modular footprint, even including dry-cooler and critical power modules. The company will also offer customers the opportunity to purchase the MegaPod as a full turnkey solution through multiple recognised modular datacenter partners, enabling customers to have a fully operational datacenter in less than 16 weeks.
Commenting on the launch, Daniel Pope, CEO at Submer said
"Launching a product like the MegaPod is the next logical step for Submer. There has been great demand for our integrated solutions, thanks to their ease of deployment and unprecedented TCO benefits. Additionally, the MegaPod streamlines the supply chain to deploy Immersion Cooling, which can sometimes, like with traditional DC builds, act as a barrier for customers. It's the perfect solution for those companies wishing to easily expand their edge capabilities, while also improving their efficiency and sustainability. When needed, thanks to our Partners, Submer is now in a position to deliver a full modular DC all the way down to the actual compute and software".
"From concept to implementation, the design of the MegaPod has been a smooth ride, thanks to the solid foundation provided by the SmartPodX platform as the main building block. It's exciting to see our product continuously develop to meet the needs of the industry and really make an impact with our technology." David Montes, Product Manager, Submer.
Find out more about the MegaPod and Submer's other solutions here: https://submer.com/megapod/