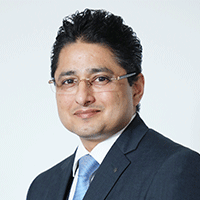 Deepak Singh Thakur
Head of Business - India and SAARC
,
Delta Electronics India Private Limited
Deepak is Head of Business - India and SAARC region for Ups, Critical Cooling, PQC & Datacenter Solutions, Communication & Information Solutions Business Unit (CISBU), Ictbg at Delta Electronics India Private Limited.
He is a Solution Sales Strategist, with over 21 years of customer engagement for their critical physical infrastructure design build. He has been engaged with large organizations for helping them build energy efficient, robust, highly available, intelligent critical physical infrastructures.
He has a passion for new business development, solution selling, global account management and Data Center solutions. He likes to get a deep understanding of the business challenges, and pains of C-level customers. He has strong drive to create new solutions that deliver business value, customer success, by innovative professional services and integrated technology solutions, to address customer needs.
Photography and reading management books on sales keep him occupied in his spare time.