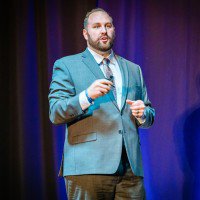 Jay Jorgensen
Founder & CEO
,
GeoBitMine
I'm the CEO and founder of GeoBitmine, and our mission is to create free heat for food production by capturing waste heat from data centers. Our system uses a blockchain-based token to enable food producers and consumers to interact directly, cutting out the middleman and making local food more sustainable while creating year-round Agriculture jobs, reducing the global climate change impact.
Our Company's model is to help create local food sustainability in regions where it's hard to access fresh produce, as well as to help make sustainable job opportunities for local communities by creating new businesses that can utilize the free heat from Our GeoBitmine Data containers.
We will be the first Company to successfully pair the Data Center and Agricultural Industries together, solving Energy Grid Stabilization, Food Sustainability and helping decentralize where there will be no more food deserts or blackouts!

Our Company's work has been featured in the News and Articles such as Inside Climate News Org. The Bitcoin Mining Magazine, and Bloomberg News, among many others.