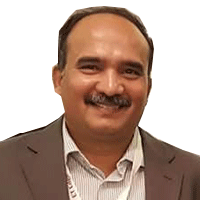 Sandeep Dandekar
Executive Vice President, Procurement & Asset Management
,
NTT Com-Netmagic
Sandeep Dandekar is the Executive Vice President, Procurement & Asset Management at Netmagic (an NTT Communications Company) since August 2013. NTT Holdings also entrust him with an additional role as APAC regional leader. Sandeep has been leading the two key domain functions for the company. He discovers profitable suppliers to initiate business partnerships, negotiate with external vendors, examine & re-evaluate existing contracts, track and report key functional metrics to reduce expenses and improve effectiveness, anticipate unfavourable events through analysis of data and prepare control strategies, perform risk management regarding supply contracts & agreements and control expenditure and build a culture of long-term saving on procurement costs.
With over 28 years of diverse experience in Techno-Commercial businesses, Sandeep has experience across different domains like International Marketing, Sales and Procurement Management.  He has worked both in domestic and international markets, across sectors like Manufacturing, Oil & Gas with his major functional activity being in EPC.
Prior to joining Netmagic, Sandeep was a part of the retail roll out with Reliance Industries Limited (RIL), where he helped create a momentum to build retail shops pan India. Post his experience in Reliance he worked with Syntel where he was the Head of Global Procurement and Global Travel functions. Sandeep has also worked with companies based in Dubai, Yemen and South Africa. Sandeep is a B.E. in Mechanical Engineering and holds an MBA in Marketing.
Sandeep loves spending time with his family who lives in Mumbai with him,. He has several hobbies and passions aside his professional track, which have even been adapted as songs in Marathi films. Post the 26/11 terror strikes in Mumbai, he felt the need to give back to society in some way and organised a peace-march in his locality, which was his way of paying tribute to the brave men and women who sacrificed their lives to protect others. A man of diverse interests, Sandeep has also authored an e-book titled 'Me, my wall' and during his tenure based in Dubai, he found an outlet for his passion for the game of cricket by coaching youngsters at the local cricket academy.