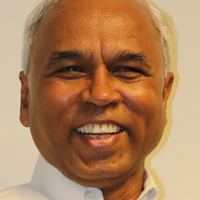 Shankar Ramamurthy
Founder and CEO
,
Energy Internet Corporation
Shankar is an entrepreneur-executive developing solutions to accelerate our renewable energy transition through innovations in low-cost long duration energy storage. He is currently involved in two power infrastructure companies he founded, that share a common theme of software defined systems that extend the successes in IT infrastructure virtualization to the physical world of electrons and molecules. He co-founded Energy Internet Corporation in late 2017 which is developing solutions for long duration energy storage. EIC's vision is to deliver the lowest cost of energy at any power scale.
His earlier ventures include an enterprise software company, Epiance, that developed a technology to automate documentation and training of business processes, in any language. His schooling in mechanical engineering in renewable and nuclear energy and automated controls, from IIT Bombay, is belatedly playing out in his recent ventures. He also holds an MBA from IIM Bangalore, in Finance and Power Management, that took him through a strategy consulting career at Deloitte and operational management roles in the then burgeoning IT industry in India.