What we do
The World depends on digital infrastructure, so we empower the people who plan, build, operate and supply it to make better decisions in a fast moving and complex environment.
To do this, we collaborate with and connect the most important stakeholders in the global technology and services supply chain, curating and creating always-on content that really matters.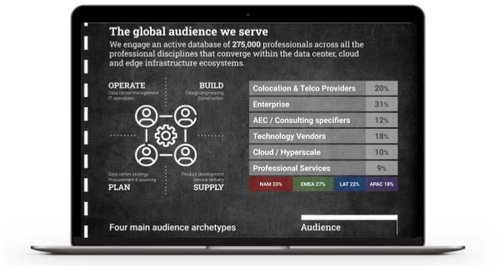 Serving a global audience
We have been publishing content and running events exclusively for the data center industry since 1998 and are a trusted source of information for industry insiders across the world.
We engage an active database of 300,000+ professionals across all the disciplines that converge within the data center, cloud and edge infrastructure ecosystems.
With unmatched engagement levels
Our world leading content is written and developed by a highly experienced team, with a footprint in North and South America, Europe and Asia Pacific, while delivery is through best of class media products and services.
By understanding our audience and personalizing need-to-know content specifically for them, our engagement rates are market-leading.
Delivering unique marketing services
We help organizations - who want to influence this market - build highly targeted objective based campaigns meeting KPIs and delivering strong ROI. Whether through magazine advertising, banners, advertorials, webinars, white papers, video, infographics, or other services, DCD offers a suite of bespoke channels to help marketeers reach their objectives.
All these channel programming activities provide us with data points that we use to spot trends and to better understand the future content requirements for our global audience and how to evolve industry debate.

Download product information
Align your brand with excellence at the "Oscars of the data center industry"

Find out how you can join the vendor marketplace at this exclusive, in-person event

Find out how you can join the vendor marketplace at this exclusive, in-person event