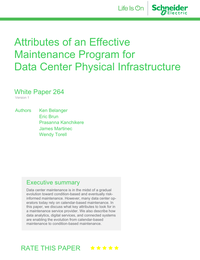 Data center maintenance is in the midst of a gradual evolution toward condition-based and eventually risk-informed maintenance. However, many data center operators today rely on calendar-based maintenance.
In this whitepaper, Schneider Electric will discuss:
The 5 key attributes critical to look for when selecting a maintenance service provider
Preventive and remedial maintenance in greater detail, describing the approaches to each, and working through examples
How data analytics, digital services, and connected systems are enabling the evolution from calendar-based maintenance to condition-based maintenance
And much more!