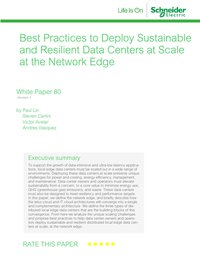 To support the growth of data-intensive and ultra-low latency applications, local edge data centers must be scaled out in a wide range of environments. Deploying these data centers at scale presents unique challenges for power and cooling, energy efficiency, management, and maintenance.
In this paper, we define the network Edge, and briefly describe how the telco cloud and IT cloud architectures will converge into a single and complementary architecture.
We also define the three types of distributed local edge data centers that are the building blocks of this convergence and analyze the unique scaling challenges and propose best practices to help data center owners and operators deploy sustainable and resilient distributed local Edge data centers at scale, at the network Edge.
More from Schneider Electric (Life Is On)