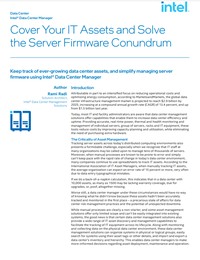 Attributable in part to an intensified focus on reducing operational costs and optimizing energy consumption, according to MarketsandMarkets, the global data center infrastructure management market is projected to reach $2.9 billion by 2025, increasing at a compound annual growth rate (CAGR) of 13.4 percent, and up from $1.5 billion last year.
Today, most IT and facility administrators are aware that data center management solutions offer capabilities that enable them to increase data center efficiency and uptime. Providing accurate, real-time power, thermal and health monitoring and management of individual servers, group of servers, racks and IT equipment, these tools reduce costs by improving capacity planning and utilization, while eliminating the need of purchasing extra hardware.
Download this new white paper from the experts at Intel to gain insights into maximising your assets.