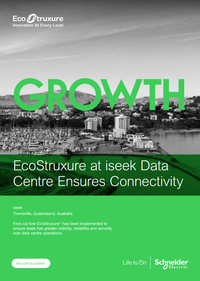 iseek is an Australian-owned cloud & service provider, specializing in enterprise cloud, robust data centers and managed connectivity. With data centers in Brisbane and Sydney, iseek houses business-critical infrastructure, ensuring security, connectivity and efficiency for a multitude of government agencies, local business and enterprises.
Positioned as the gateway to Asia, a new data center in Townsville would be pivotal to the long-term prospects of Far North Queensland. Townsville City Council had intentions to leverage the data center to promote job opportunities and boost future business investments in the region, leveraging the fact that Townsville already services several federal, state and government bodies.
"Continued growth and expansion was necessary to meet the growing demand for data center services," said iseek founder and chief executive Jason Gomersall. With the rise of cloud computing, immersive technologies and IoT, the increasing demand for data center capacity presented a great opportunity for iseek. This was further substantiated as iseek's two major tenants, James Cook University and Townsville City Council were looking to increase cloud storage.
Download this whitepaper case study to find out the results