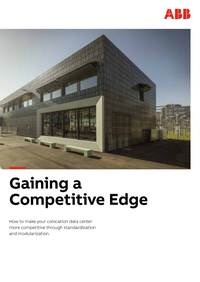 The data center industry is experiencing unprecedented growth. There are currently 2.5 quintillion bytes of data created each day. With the Internet of Things (IoT), this growth is accelerating so rapidly that, by the year 2020, IoT will comprise more than 30 billion connected devices
But the market has not by any means reached its full capacity.
The global rollout of 5G will put the growth of digital data into overdrive with firms such as Cisco predicting that we will soon enter the "mobile zettabyte era". This demand for data will require ever greater energy-management and operational efficiencies for data centers of the future.
As a result, we predict the growth of colocation and multi-tenant data centers as more and more enterprises increase their need for SaaS (Software as a Service) and IaaS (Information as a Service) applications and infrastructure services.
Several large-scale enterprises are choosing colocation to reduce maintenance and operational hardware cost, while others choose colocation for regulatory compliance and security in times of power outages and disaster recovery.
By 2022, the colocation market is expected to reach USD 62.30 billion, with demand for power and reduced overall IT expenditure being the major drivers of growth in the market.
North America, Europe and Asia continue to be the strongest players in the retail and wholesale colocation segment. But emerging markets such as India are now offering viable and alternative locations for providers as space, rising costs and reliable power are at a premium in developed markets.
We are all depending more and more on data, computing power and connectivity. Data centers are at the heart of our connected world and it has never been more important that they are built and run efficiently to maximize value for customers.
We hope you enjoy this whitepaper and welcome your insight and comments.