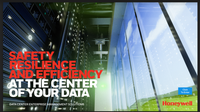 How do you protect mission critical data center infrastructure?
Infrastructure protection requires investing in sustainability, resiliency, and efficiency. In the era of intelligent connectivity, the world's most valuable resource is no longer oil – it's data. Making strategic data center infrastructure investments is ultimately a source of differentiation.
This report will explore how to keep your data center safe, efficient, and resilient.
Download the full report for free.