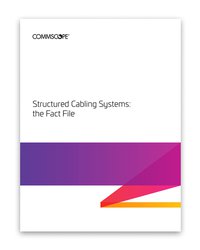 Data centers are one of the most complex environments where structured cabling can be most helpful and even indispensable.

Built on the science of innovation, SYSTIMAX, CommScope's flagship line of copper and fiber structured cabling solutions, has been meeting and beating industry standards—oftentimes before they're even written. Combining high-bandwidth data connectivity and power, the solution is engineered for long-term performance that anticipates future network changes and convergence.
From design and deployment to management and moves, adds and changes; SYSTIMAX delivers the performance, flexibility and reliability that no other solutions can match.
Discover how SYSTIMAX sets the standard. Learn more in the Structured Cabling Fact File.
History
Application in Smart Buildings, Campuses and Data Centers
Technical Innovations and Standards
The Future of Structured Cabling
Case Studies and Training Courses
Interactive Tools and eBooks