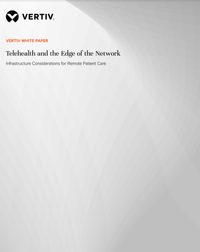 The global pandemic has had countless direct and indirect effects on the way we live and work. Nowhere is this more apparent than in the healthcare space. While hospitals and frontline workers battled COVID-19 and continue to do so, there were other, less obvious actions that are fundamentally changing healthcare. Chief among these is the rise of telehealth, a previously simmering patient engagement option that erupted with the pandemic. The widespread stay-at-home advisories forced the cancellation or postponement of many medical appointments and procedures, and physicians and health systems responded by ramping up what, in most cases, were little-used or non-existent telehealth systems.
Widespread adoption of telehealth across distributed health systems that rely on edge networks presents new challenges for today's hospitals and healthcare providers — specifically increased demand for low-latency computing and security. Decision-makers must deploy their IT resources with that in mind while still managing the needs for sudden capacity increases and always-on availability.
Download and read this white paper for edge best practices outlined in this paper that may be used as a guide to address these unique challenges that the COVID-19 might have ushered in, but is set to stay.