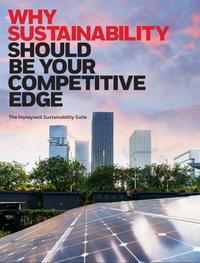 Executives in our industry are increasingly turning to sustainability as a force multiplier for competitive advantage. In the past, this was typically not a competitive focus – simply a means of demonstrating responsible corporate citizenship – and so sustainability initiatives often became siloed within the enterprise.
Today however, sustainability for data centers is becoming increasingly central to business operations, emerging as an essential element of a successful strategy. CEOs are discovering that "sustainability" and "profitability" have become synonymous ideas, making sustainably managed companies increasingly attractive to investors and customers.
This new white paper from the experts at Honeywell, looks at the sustainability journey, and asks the key questions you need answered to run a greener, smarter business.