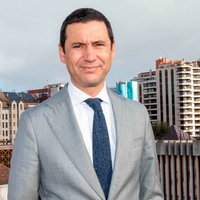 João Galamba
Minister of Infrastructure
,
Governo de Portugal
João Galamba was born in Lisbon in 1976.
He graduated in Economics from the Nova University of Lisbon Faculty of Economics in 2000. 
He completed the curriculum part of his PhD in Political Science at the London School of Economics, and he lectured on Political Philosophy at the Government department.
He worked at Santander Corporate Bank, at DiamondCluster International consulting firm, at the Portuguese Presidency of the Council of the European Union and the Mission Unit for Integrated Long-term Care.
He arrived in parliament in 2009 and was a member of parliament in the 11th, 12th, and 13th Governments. He was coordinator of the Socialist Party members of parliament in the Budget and Finance Committee, and Vice-President of the Socialist Party Parliamentary Group.
He was Secretary of State for Energy in Prime Minister António Costa's first Government,  Deputy Minister and  Secretary of State for Energy  in Prime Minister António Costa's second Government, and Secretary of State for the Environment and Energy in Prime Minister António Costa's third Government; on 4 January he was appointed Minister of Infrastructure.