As we enter the tail end of 2018, it's time to look back at the events that had a major impact on the data center industry. And what better place to start than the rapidly growing markets in Asia Pacific? Here, we outline some of the significant colocation and cloud developments of the past 12 months that can perhaps offer a glimpse of what to expect in the year ahead.
The cloud battleground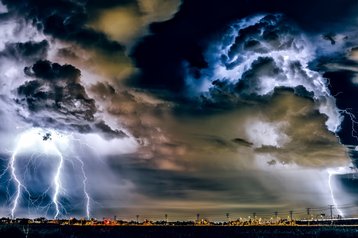 The growth of hyperscale cloud providers as they attempt to meet the thirst for public infrastructure capacity is undoubtedly the most noticeable aspect of 2018, with spending on public cloud services and infrastructure projected to increase by more a third (35.66 percent) over 2017 levels in the APAC (excluding Japan) region, according to analyst firm IDC.
And this projection appears to be borne out, as the cloud titans have opened new facilities or beefed up their existing data centers at breakneck pace across the region, in countries like Singapore, Malaysia and Indonesia.
Amazon Web Services (AWS) got the ball rolling by announcing its third availability zone in Singapore in January, though a Hong Kong cloud region previously expected to be launched in 2018 may not make it, with less than two weeks left to the end of the year.
Google Cloud did something very similar: it opened its third zone for the Singapore cloud region in May, followed by a Hong Kong cloud region in November. Despite having two operational facilities in Singapore, Google in August announced that it had started building its third data center on the island.
Not to be outdone, Microsoft just launched Azure availability zone functionality in Singapore – involving multiple data centers.
The cloud battlefield isn't restricted to giants from the West though. China's Alibaba Cloud has quietly but swiftly built up a strong presence in Asia, as it seeks to spread its wings on the global stage. With cloud regions in Australia, India, Indonesia, Malaysia, Hong Kong, Japan and Singapore, Alibaba Cloud is arguably one step ahead in the region, and has the added advantage of being preferred by Chinese companies.
Feeling the (land) squeeze
The move to the cloud is putting the squeeze on suitable data center real estate, and operators in the urban hubs of Singapore and Hong Kong are feeling the heat, though the issues look set to be more pronounced in the latter.
For instance, Singapore's Tanjong Kling (formerly known as the Singapore Data Centre Park) is effectively full, despite an initially slow start. Awareness of the increasing scarcity of land could be the reason why Facebook announced a US$1 billion facility in the city in September this year. Located at Tanjong Kling, Facebook's new hyperscale campus will be the largest project of its kind in Singapore, and draw up to 150MW of power when fully operational.
For perspective, the 2018 multi-tenant data center market report from 451 Research pegged total UPS power for existing colocation facilities in Singapore at just 326MW. Facebook expects to commence operations on the new site sometime in 2022 or 2023; analysts have pointed to the lengthy construction times as evidence that the company is acquiring capacity ahead of its actual requirements.
There could also be practical considerations at play here, such as Facebook's ambitious plan to build the tallest data center in Singapore, at 11 stories. Moreover, it is not clear if the dedicated power substations at Tanjong Kling can meet Facebook's needs on top of capacity committed to Telin Singapore's Telin-3 and other data centers under construction there – an upgrade may be on the cards.
All out of space?
In Hong Kong, the ongoing land crunch is looking to ratchet the pressure on data centers to a new level. Just last week, the government sold a second land parcel earmarked specifically for data centers, for HK$5.46 billion. The winning bid by SUNeVision, a top data center operator in Hong Kong, beat six competitors to close at HK$4,500 per square foot - reportedly 45 percent above market expectations.
Elsewhere, legal battle lines were drawn when SUNeVision in October filed a judicial review against the Hong Kong Science and Technology Parks Corporation (HKSTPC). The former is alleging that the HKSTPC did not enforce restrictions against subletting data centers in the Tseung Kwan O Industrial Estate (TKOIE). SUNeVision cited suspected breaches or potential breaches by three grantees with facilities in the TKOIE, namely NTT Com Asia, Global Switch and HKCOLO.
Awareness of this potential grey area surrounding the use of the land inside the TKOIE is not new, and was highlighted by Samuel Lee, the president of Equinix Asia Pacific, in an interview with DCD in 2015. "What happens if we resell a piece of space to a telco, and they package their own service? Is it legal under the current regulation?" Lee asked at the time, noting that the land in TKOIE was technically rented to end-users, and hence could not be subleased.
Other places to watch
Data center developments are hardly limited to Singapore and Hong Kong, and countries such as Malaysia, Indonesia and Thailand are set to considerably increase their data center footprint in 2019. A new facility in Johor, Malaysia, for a cloud giant understood to be Microsoft's Azure Cloud, is scheduled to be ready by 2020, while both AWS and Google Cloud have announced their entries into Indonesia, a country with more than 143 million Internet users.
Earlier this year, ST Telemedia Global Data Centres (STT GDC) also announced its partnership with industrial property developer Ticon to build "a number" of data centers in Thailand, marking its first foray into the Thai market.
In response to a query from DCD, Bruno Lopez, the group CEO of STT GDC shared his thoughts on opportunities and challenges inherent to the region: "While the APAC data center market is dynamic and enjoying explosive growth, it is also far from homogenous; with each country having its unique operating environment, laws and regulations and standards of technical expertise.
"Some data center markets are still in their nascent development stage, with limited high-quality capacity. The problem is then further exacerbated by the inherent challenge of bringing new capacity into the market quickly to support the high growth rates of these markets," he said.
Lopez considers the dearth of experienced data center professionals as one of the key hurdles facing the industry in the region, noting that the ability to develop quality talent and cross-train resources into these growing markets has been STT GDC's focus – and recipe for success, as it continues to expand.
Perhaps it's a good time to be a data center engineer in APAC?