The making of Loudoun County as the heart of the data center industry wasn't always a foregone conclusion.
It had to survive the dot-com bubble bursting, build its credibility in a cautious industry, and find ways to keep on growing, no matter what. Now, its position is secure, with the Virginia county cementing its place as the capital of a demanding industry.
But Loudoun, and Ashburn within it, face new headwinds as power and land demands outstrip supplies, and some locals push back against the preponderance of one industry.
To understand how Loudoun will adapt in the current climate, and what it means for the future of data centers in the country, we sat down with the man who made it possible - Buddy Rizer, Loudoun's executive director for economic development.
This feature appeared in the latest issue of the DCD Magazine. Read it for free today.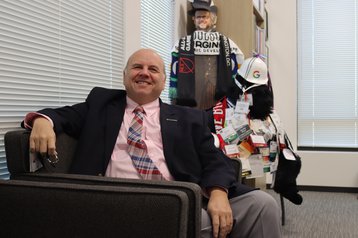 "When it all started here, it came by accident," he explained. "The Internet exchange was in Tyson's Corner, but the federal government realized that you could just drive a truck into that building, and moved it out here."
That was followed by AOL and WorldCom, and some of the first dedicated data centers in the country.
It was the height of the dot-com bubble, and "they were all putting fiber in the ground. Companies like PSINet and UUNET were just throwing money around and valuations were just stupid."
Then came the crash. "That kind of blew up," Rizer said, with PSINet going bankrupt in 2001, and UUNET owner WorldCom filing for what was then the largest Chapter 11 bankruptcy protection in history a year later due to widespread fraud.
Rizer was brought on to the economic development team in 2007 with a simple aim: Increase county revenues. "81 percent of our tax revenue was coming from residences," he recalled. "And, as we saw during the housing bubble a year later, that was not good."
Looking out his window, Rizer pointed to three data centers built during the first boom. "They sat empty for years, they never got filled, until I was able to convince Digital Realty to move in."
The early companies may have left, but their infrastructure was all there - available for a new crop of corporations to buy up for cheap and build more sustainable businesses on top of.
"That was purposeful, that was something that we saw as an opportunity. When I hear people say, 'Loudoun's success was a lightning strike'… it was purposeful, we looked at that as an opportunity and I had to be proactive in building that," Rizer said.
"I was going to every show, we were trying to get deals done," he said, sitting in front of a stuffed gorilla wearing hundreds of lanyards from various events he visited. "With CyrusOne, wherever [then-CEO] Kevin Timmons was speaking at a conference, I was going to that conference and sitting in the front row, just so he could see me, and so I could talk to him after. He always said, 'I think we're too late to get in,' and all these things, but then when they came in, they were incredibly successful."
Proudly surveying the data center landscape from his window, he continued: "We worked very hard to build this. And it was not just us, it was landowners and Dominion," the power utility.
But after decades of building out the infrastructure that made the unprecedented data center expansion possible, Dominion this summer shocked the industry with the surprise announcement that it could no longer guarantee new power connections for four years.
"To wake up one day and to find out that there's now no new power till '26? I was flabbergasted. I really couldn't believe that we ended up there," Rizer said, admitting that despite their close ties he found out at the same time as everybody else.
The challenge was understandable, he said - "there's no case study to point to given the power density we have here," he cautioned. "There were a lot of factors, there was the Covid growth, and the shift in 2017, when the hyperscalers came in, where their ramp up of power is much quicker. They bring it on like that," he said, snapping his fingers. "That changed everything."
Dominion's announcement was a similar sudden snap. "No one's really been able to explain to me how we went from the idea of unlimited power that we always just assumed we had, to suddenly 'we don't know.'"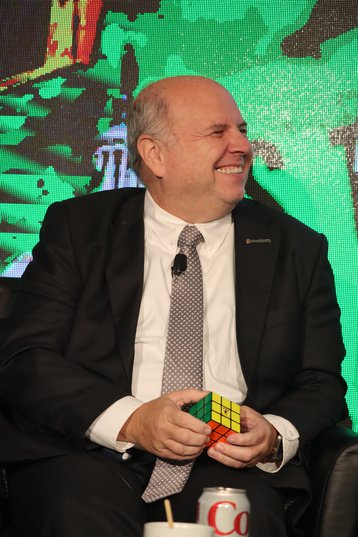 Beyond just the immediate impact on the data center sector, the sudden cessation of power and buildouts meant that the county's tax revenue plans were - and still are - thrown into disarray.
"We had projected 20 percent year-over-year revenue growth because that's what we traditionally had," Rizer said. "Now we know that that's probably not going to be the case. So that does impact our county budget. When you're dealing with half a billion dollars or more, 20 percent of that is a big number.
"When we're trying to plan schools, roads, community services, parks, sheriffs, fire departments, and all of those things, having that unpredictability that's going to impact our budget process for the next three or four years is not ideal. And we were already into our budget planning when we found this out."
But the Dominion delays, the scale of which we are still learning, represent just a temporary blip in the story of Loudoun, Rizer argues.
"It sucks for those companies that had already deployed investment into the county, and then now find out that they can't power the buildings that they built. But that hasn't paused any of the demand for the land. People are still trying to secure long runways so that when the power is here, they'll be able to really move pretty quickly. Nothing has slowed down the demand on our land."
As it currently stands, the data center industry takes up around three percent of the land in Loudoun (with a higher concentration within Ashburn), and consumes around two gigawatts of power. At full-zoned buildout, "maybe it's five percent of the landmass," Rizer said, adding that older facilities will eventually be torn down and rebuilt taller and denser.
"If we're at 28 million square feet, we could definitely exceed 40 million at total build-out. That gets us to five gigawatts, and over a billion dollars of annual revenue."
After years of building without limits, 2022 also saw the Board of Supervisors limit data center projects in some neighborhoods, particularly along Route 7. The new rules will also require data centers to adopt higher-quality building designs and tougher environmental rules depending on their proximity to housing.
"There's always going to be pushback when things start to get big," Rizer said. "That's a natural part of the conversation. But there is a difference between process and policy - the process has been tough, I'm not gonna hide from that. But when you look at it from a policy standpoint, honestly, I don't find it overly restrictive."
He believes the certainty of the new policy will be welcomed by the industry, while design standards are only for the worst offenders - most new builds already meet the requirements. Rizer said that while he welcomes more data centers, it's important to set restrictions in some areas to build "unique communities where people want to be and also protect Western Loudoun County and protecting the farmland there. I don't see a scenario where we're going to go west of Route 15. I just don't know that that's what we need to do."
He added: "There are places where we don't think there should be data centers. And I think that's okay. There's been a decade or more of unrestricted growth in the last year, and do you know how many data centers we've turned down? One. It's not like we've turned off the spigot."
While they haven't turned down that many data centers, the dwindling number of large tracts of land and skyrocketing land prices have driven companies to neighboring counties.
"It's not like if Prince William wins or Frederick wins a deal that we lose," Rizer said. "We have limited resources and limited land, and now limited power. I would rather it come to the region than not at all. I'm competitive and I don't like losing, but if there's a deal that they can't put here, I'd rather it go to Prince William."
The county receives around 31 percent of its tax revenue from data centers but, at some point, data centers will max out all the space made available to them, even if the industry stays strong for the foreseeable future.
"I think that the idea that data centers are going to go away anytime soon is probably science fiction," he said. "Our internal research tells us that the demand for data centers outstrips supply through the next 20-30 years. And if it does start to deteriorate, I don't think that it starts here."
But with a limit to growth on the horizon, he hopes to use the money raised by data centers to help promote a more diverse economy. "Even the data center sector wouldn't believe that it makes sense to have all of your eggs in one basket," he said.
"We're trying to build Life Science cluster, we're trying to build a cybersecurity industry, and take advantage of the Dulles Airport, and take advantage of the fact that we now have Metro," he said, referencing the Silver Line rail extension connecting Loudoun to DC that took nearly two decades, but opened in the week of our conversation.
"There's really three things that have been total game changers for us - one was 60 years ago, when the airport came, the second was the tech infrastructure that was built here pre-bubble burst, and then I think Metro is going to be the third."
The future of Loudoun, he hopes, will involve more data centers than ever before - but will rely on them less as new sectors sprout alongside it. "I don't feel like what we've done here in Loudoun County is the end of anything."
Still, he is happy to reflect on how far the county has come from its dot-com bubble days. "It's so cool to be the biggest in the world at something, to be able to have this industry that has built what it has. There's something to be said for that."