Interest in renewable energy in China is growing, and leading Chinese companies are riding on the opportunities to go with renewable energy, according to Greenpeace. The environmental campain group is set to bring out a new release of the Chinese edition of its Clicking Clean report, which investigate the use of renewables within the IT sector.
The renewable energy market in China is increasingly open, Yuan Ying, program manager of Climate and Energy at Greenpeace East Asia, told DCD in advance of the publication of China Clicking Green 2019, a new release in Greenpeace's Clicking Clean series of studies report, which examines the sustainable energy usage of Chinese IT and data centers. .
The report is due to be published at the end of the year, and Ying is scheduled to release some information from the report at a session at DCD>Beijing in December.
Quiet adoption
Chinese companies have been quietly adopting renewables in small pilots, with some embarking on notable largescale deployments, she observed. For instance, Alibaba's data center in Zhangbei in Hebei province – a mammoth cloud facility hosting over 600,000 servers – purchases wind power directly from local wind farms there. Elsewhere in China, a Baidu data center in Shangxi province purchased 550 GWh of wind power in 2018.
"These examples show that renewable energy is increasingly becoming available in China and top IT and data center companies are demonstrating great potential to lead the sector to make a shift towards 100 percent renewable energy," said Yuan. At the moment, she says the data center sector's renewable energy intake is around 23 percent.
China has made incredible progress in building renewable energy sources. Yuan said: "China is home to more renewable energy capacity than any other country in the world. By the end of 2018, solar and wind installation capacity wind [is more than] Europe's entire solar and wind capacity."
Room for improvement
There is room for improvement though. Yuan admitted that there were no "large shifts" towards renewables, and corporate renewable energy procurement in general is still at a relatively early stage. She says awareness in this area is "slowly building up", however. ,Chinese companies are showing a lot more in this year's report than in the inaugural report two years ago.
Crucially, no Chinese technology or data center companies have made a public commitment towards fully adopting renewable energy, unlike technology giants from the West such as Microsoft and Google. Energy usage transparency is not yet a norm with technology firms, which doesn't help in building awareness.
"Few companies are openly sharing their overall electricity consumption, electricity mix, and energy carbon footprint. The lack of transparency poses a challenge for public stakeholders to gauge how the companies are handling their energy usage and its associated carbon footprint," noted Yuan.
To drive the adoption of renewables, she suggested that companies establish an integrated internal structure or have a dedicated team of employees tasked to manage energy sustainability. This can help overcome the current situation where this function typically spans multiple departments, making it difficult for organizations to realize the full potential of switching towards renewables, she explained.
Increasing adoption of renewables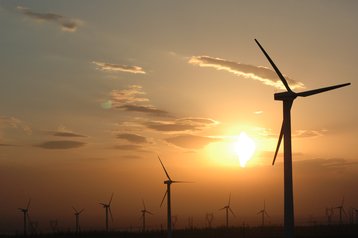 What of the Chinese government's push to improve energy efficiency by stipulating a PUE target? The average PUE (power usage effectiveness) of data centers in China was 2.2 in 2015, and has improved significantly over the lats few years. Earlier this year, the Shanghai municipal authorities issued a three-year action plan to bring the PUE of new data centers to 1.3.
While Yuan acknowledges that PUE serves as a powerful indicator that can be used to drive data centers towards substantial improvement in energy efficiency, she doesn't see it as the solution.
"We believe that optimizing energy efficient alone is not enough to address the scale of the challenges we are facing from climate change. We need to start addressing the carbon emissions and air pollutants associated with the source of power that feed into our data centers."
On this front, uneven policies in the emerging renewables market pose a barrier for data center providers to fully access renewable energy, says Yuan, due to unequal progress in the development of renewables across different provincial markets.
This places a heavier burden burden on data center providers to shop for the best renewable options that their data centers can access. Moreover, many companies lack the capacity or knowhow to navigate the inherent complexities of renewables to identify market opportunities for the best deal.
Urgent action needed
Fortunately, the situation is fast-changing, and additional procurement mechanisms are becoming increasingly available thanks to market reforms by the Chinese government.
"Since 2015, power market reforms have created unprecedented opportunities for companies to procure renewable energy via a diverse set of mechanisms, including building onsite distributed renewable projects, procuring clean power directly from renewable energy generators and purchasing green power certificates."
Ultimately, a lot more can be done by the industry, and urgently. After all, China's data centers are heavily reliant on coal power, emitting an estimated 117 million tons of CO2 in 2018. This is projected to reach 194 million tons by 2023, assuming no changes in the ratio of renewable energy intake.
Conversely, should data centers' renewable energy intake increase by a third to 30 percent, a whopping 19 million tons of carbon emissions can be avoided by 2023, says Yuan. This is equal to the emissions from roughly 10 million round-trip transatlantic flights. So every data center that adopts renewable energy matters. And the earlier, the better.
For now, Yuan is hopeful that various renewable pilot projects – though small – may yet bear fruit. "We believe as China power reforms deepen and corporate procurement mechanisms diversify, these pilots will become the seeds for a massive shift towards renewable energy."