Despite the metaphors, the cloud is a real, physical thing. The infinitely scaling cloud providers still require real servers in a set location.
As companies move away from the overly-excited days of cloud-only towards hybrid strategy, IT infrastructure is increasingly spread across a mixture of cloud, Edge, and on-premise. Companies are realizing public cloud regions can't offer the latency that certain applications require, especially if companies are set on keeping some workloads on-premise.
To capture what the major hyperscalers believe to be a huge and untapped opportunity, they are increasingly offering on-premise hardware to bring the cloud in-house.
Oracle's on-premise dedicated OCI cloud regions is just that; a slice of cloud hardware deployed as a managed space and service in your on-premise data center.
A dedicated cloud region, just for you
Oracle first introduced Dedicated Regions in 2020, offering an Oracle-installed and managed caged deployment at customer data centers that create a single-tenant siloed cloud region.
Today, customers include Japan's Nomura Research Institute (NRI), the Government of Bangladesh, and the Government of Oman. Recently announced adopters include UAE telco e& (Etisalat) and G42-owned Injazat.
Amazon Web Services (AWS), Microsoft, and Google all have their own on-premise offerings, but these generally offer a limited number of services compared to the public regions. Oracle aims to differentiate its on-premise cloud offering by making all 100+ OCI services available to Dedicated Region customers.
One major customer, Vodafone, has deployed half a dozen of these Dedicated OCI regions at three of its data centers in Europe.
The partnership was first announced in June 2022, with Oracle saying at the time that Vodafone had entered into a 'multi-year agreement' that would see the telco 'modernize and migrate a large number of its systems' to OCI Dedicated Region.
At Oracle Cloud World London in April 2023, Pedro Sardo, IT operations and technology director at Vodafone, announced that the company had completed the deployment of all six regions across its core European facilities.
The first Dedicated Region – a Gen1 version – was deployed in Milan in September 2022. The other five regions – Gen2 versions with smaller footprints deployed in pairs at facilities in Ireland, Italy, and Germany – all went live in April 2023.
Going hybrid to modernize
While Vodafone has more facilities across Europe, the three data centers in Ireland, Italy, and Germany are where the company runs 'the majority' of its workloads.
The telco is a user of AWS for many of its workloads – with multiple Wavelength Zone deployments – alongside partnerships with Google Cloud and Microsoft Azure as well. The company has long been an Oracle customer and uses OCI for those 'traditional' Oracle workloads.
"For the last five years we have had a strategy of deploying public cloud," he says. "And I think that we have been pretty successful in doing this for everything that is a new application.
"But Vodafone is a really complex organization, and we have many other systems that we've built over the years that we also wanted to modernize and bring to the cloud."
Vodafone's Sardo tells DCD the company chose to adopt Oracle's Dedicated Regions as part of its consolidation and modernization initiatives.
"For older applications, it's difficult to upgrade and to modernize them to enable them to be running on public cloud," he says. "A lot of them are tightly integrated because of the complex ecosystems we have built over the years."
By deploying on-premise regions, Vodafone migrated workloads to what is basically a public cloud in a way that suits the business.
Rather than an entire application, the company can move a particular database or workload tied into the application. Because the cloud is on-premise, latency isn't an issue like it might be if an application was broken up between on-premise and a traditional public cloud region.
"If I would be doing that in the public cloud, I would never be able to do that," says Sard. "I would need to migrate the whole stack of an application altogether. I couldn't move the database and then do the application [later]."
"It gives us optionality on the way that we do the modernization."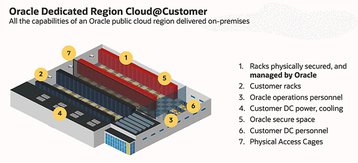 Deploying a dedicated region
Through pay-as-you-go, Oracle requires a 'minimum commitment' to deploy Dedicated Regions. The initial larger 45-rack first generation had a base footprint of 2,200 sq ft (204 sqm) and reportedly required commitments of around $6 million per year over a three-year period.
The new smaller second-generation Dedicated Regions – with footprints starting at 12 racks – reportedly requires around $1 million a year, generally over a four-year period. The regions are scalable up to 450 racks or more.
The base footprint of the current 12-rack region is around 600 sq ft (56 sqm), inside an Oracle-managed space within the customer data center. The company says it installs, operates, supports, and upgrades each OCI Dedicated Region in the same way it maintains public OCI cloud regions.
At initial deployment, the footprint is based on the customer forecasted consumption for the first year. Oracle says that it continuously monitors consumption and will expand the footprint as required.
"I visited our data centers in Milan, and I saw the two regions. Between version one and version two, you can visibly see the difference," says Vodafone's Sardo.
Installation can take several months, depending on a number of factors. The host company must first make the space ready for deployment; Oracle staff will then deliver, install, and configure the cloud hardware; and then the host company will help with interconnections to ensure it is properly integrated.
"Oracle staff are on-site during the initial deployment of OCI Dedicated Region and its integration to the customer's facilities. After that, support is provided 24/7, remotely. If a problem cannot resolve remotely (such as hardware replacement), Oracle will dispatch an employee to the customer's location," Oracle tells DCD.
Sardo says to make its data centers ready for the region roll-out, there was preparatory build-out work that needed to be done on the Vodafone facilities.
"We had space available, but one thing that OCI required us to do was to give Oracle the space in a contiguous area," he explains. "In some cases, we had to either create a bit of space and renew some rooms or to move some things around in order to create that space.
"Because it's high density, you might need to sometimes reinforce a bit of floor. But that's normal; when you buy storage, some of that is really heavy and sometimes you need to make sure that the floor can handle it."
Oracle also offers individual Cloud@ Customer racks; a single rack can weigh up to 1,004kg/2,215 lbs (including Power Distribution Units). According to company documentation, Oracle Cloud@Customer systems have been designed to function while mounted in a natural convection airflow. Optimal operating temperatures are between 21-23 Celsius (70-74 Fahrenheit).
Power requirements are less clear. Despite our request, Oracle declined to share power requirements for the OCI regions to DCD.
Sardo notes that the OCI deployments run at a higher power density than a lot of its existing on-premise hardware but the power requirement was "not huge."
"We had power available into our data centers," he says. "It was just a matter of making it available to the OCIs."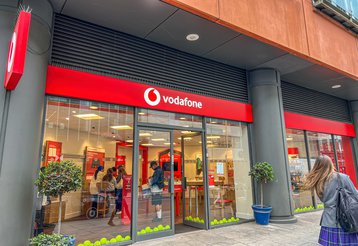 Migrating databases to your on-prem cloud
Vodafone has around 6,000 databases and 2,000 applications that the company is looking to migrate to its Dedicated Regions.
At the time of our conversation, the company had migrated around 150 databases, and had 100 more scheduled in the coming weeks.
"On some days, we are already migrating six databases per day," Sardo says.
"Everything that we've moved there, we have never rolled back anything, which I think is always a great criterion for success."
While Oracle manages expansion, Vodafone provides input to the cloud provider, and the telco is already looking towards its next region upgrade as it begins planning some major workload migrations.
Sardo explains that it is unclear how the journey will end. Maybe the company will migrate everything that's on Dedicated Regions over to the public OCI regions and close certain data centers, or perhaps business needs and regulations will require some workloads to stay on-premise, and the company will continue with its current hybrid approach.
"I have the option to decide what to do. In three or four years, I can sit down and look and say, 'is this something that I want to do?' I don't know, but at least from a technical perspective, I have the option if I want to migrate them.
"And because now it's all running on OCI, hopefully, it's going to be much easier to do those migrations."