Data centers are continually driving to become more efficient, and to get more useful work out of staff. In the case of giant hyperscale data centers, increasing automation may be calling time on the practice of people patrolling thousands of yards of data center perimeters.
Novva data centers, led by former C7 CEO Wes Swenson and backed by CIM Group, has a 100-acre flagship in West Jordan, Utah - a campus that could reach more than 1.5 million sq ft (139,350 sq m) of data center space. The first phase, involving a 300,000 sq ft (28,000 sqm) data center was completed in late 2021 and includes a 120MW substation as well as an 80,000 sq ft (7,500 sq m) office building for Novva's headquarters.
To cover that much space, Novva is turning to autonomous drones and robots. The company is deploying Boston Dynamics' Spot robot to patrol data halls, as well as semi-automated security drones (also known as Unmanned Ariel Vehicles, or UAVs).
"When you run a 100-acre campus, you really should have an aerial view of the operation," says Swenson.
Drones take flight at the data center
In 2021, Novva deployed two Blackbird drones from Nightingale Security – and plans to have four on the Utah campus.
"For the most part, it just does its own thing and then just autonomously goes back to its landing site," says Swenson.
Equipped with 4K cameras, LiDAR and infrared, the quadcopter drones perform regular autonomous perimeter checks, as well as responding to ad hoc alerts. The drones run around 10 pre-defined missions, providing perimeter checks, facility inspections, and can react to certain alerts automatically.
"We have detectors on our fencing that detect any kind of vibration, and an algorithm that detects whether that vibration
is due to the wind speed or some other interference," says Swenson. "If we think it's somebody trying to climb over the fence or cut it, the drone will automatically launch towards that sensor and get eyes on it."
Robots in data centers are still niche: while they might be used during the construction phase, use of drones at data centers for security and ongoing inspection is rare.
As well as Novva, Nightingale has been reportedly working with 'a very large Silicon Valley company that runs their own data centers' for around two years, and is in the process of conducting a pilot with an eCommerce company in Washington. The company was deployed at the Ohio data center site of a US investment bank in during the construction phase.
Data center operator BSC is also considering drones at its facilities. Hector Castenada, senior director, service delivery and technology for BCS, says the company is hoping to deploy a pilot project at a 300,000 sq ft data center close to its Texas HQ by Q3 of 2022.
As well as pervasive security drones, Castenada is considering drones for facilities inspection – so visiting engineers can inspect chillers or other equipment on the roof without climbing up themselves – as well as wider land and data center surveying.
While the project is still in the research phase, he would expect to see around two permanent security drones at each facility – ensuring one can patrol while another recharges – alongside smaller held-held machines engineers can bring on-site for inspections.
"I definitely see this becoming the standard in a few years," he says.
Integrating data centers and machines
Nightingale offers its drones, base station, and software as a package to buy outright alongside a yearly subscription, or on a lease basis. Swenson says Nightingale was the UAV company which offered Novva the closest to a complete package, as opposed to point solutions.
"Most drone companies are basically remote control aircraft companies," says Jack Wu, founder & CEO, Nightingale Security. "They're just building something based on RC [remote control] technology that's been around for decades. We're trying to marry the autonomous technology, with robotic software and robotic infrastructure."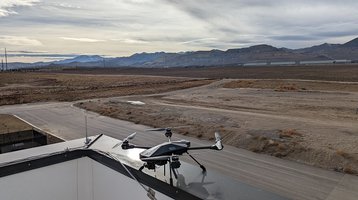 Drones have improved in leaps and bounds in recent years. They can now remain in the air for long periods and are able to fly autonomously in difficult conditions. But the software and wider support ecosystem isn't quite as advanced. If data centers are to become more automated, the robots deployed there will need to be easily integrated with existing management systems, something which is still in the nascent stages.
"Automation is a huge trend," says Wu. "You're going to have ground-based robots, drones, other automated systems. We're not at the age where we're all integrated yet. But that is coming."
Wu suggests we are still in the 'discovery phase' where customers learn and understand the potential use cases of different robots, while the robotics companies are working on getting each platform working properly, independently.
After that, the industry can focus more on integration and putting more robot platforms into a single dashboard.
"First phase is the introduction of these select platforms. And then after that, it will be the phase of integration, where all the different platforms will start working together."
While Swenson says Nightingale was one of the most 'enterprise-ready' offerings on the market, deployment still takes work.
"This is not something that you just go buy off the shelf and drop in. It does take some work. It takes some on-site consultations and setup," he says. "The drones themselves are pretty mature, but to integrate it and run missions, that is still pretty advanced."
Castenada says BSC is researching the integration of drones for extended duties.
"I'm really keen to use the drone not only for perimeter security, but to interact with, a chiller or an external generator; external devices and external critical equipment."
"What we're looking for is integration capabilities with our BMS [building management systems]. Right now we're researching which drone to integrate with video management systems like Genetec."
Currently, Azur Drones of France appears to be the only UAV company with a publicly announced integration with Genetec, says Castaneda. He also says there are a few data centers that integrate with drones.
The company is also reportedly exploring Wingtra, which offers a vertical take-off fixed-wing drone that can be used for surveying.
Humans need drone training
While different drone companies will have different processes, prior to deployment Nightingale will come to a location, survey the environment, map the buildings and potential obstacles, and help train the staff.
Wu says the process normally takes about a week.
"Each local environment is different," he adds. "They have different wind patterns, different temperature, and also their operational tempo is different; some use it 12-13 times a day, others use it twice a day."
The software system includes predefined limits around altitude and no-fly areas. At Novva drones won't fly over the on-site substation or peek into neighboring buildings. Nightingale will help establish those initial restrictions but the customer can change those as required.
It's surprisingly straightforward to pass FAA requirements to fly a drone. The Nightingale flight system is designed to meet US Army standards. Wu says this means they are usable by people with a minimum IQ of around 80.
"Part 107 [the FAA's drone certification program] is only a 60-question, multiple-choice questionnaire," he explains. "Anybody who can use an Uber app and Google Maps can use our software."
Nightingale put DCD in charge of a drone in a live demonstration, allowing this writer to fly a drone around the company's facility in California, from the comfort of a flat in London. Moving the machine was a simple case of point and click, and despite my efforts I wasn't able to crash or break through the no fly zones. During the flight, the drone was able to identify and flag vehicles in the company's parking lot outside usual working hours.
Swenson says everyone at Novva's control center, including himself, is FAAcertified to fly a drone, and the company has different internal pilot statuses. Less certified members of the team can pause and rewind pre-set missions to check for anything the drones may have missed – and control viewing angles – but those with top-flight status can take full control of the drones.
"The drone itself requires very little human intervention once it's preprogrammed," says Swenson. "And even then it has all sorts of safeguards; emergency landing zones, no-fly zones, altitude zoning."
"It's also something that we felt like we could copy and paste to other facilities and build a training structure for every data center. It's something we can replicate more easily."
Wu is clear, however, that his company's machines are complementary to humans, rather than a replacement.
"We're not here to replace all human guards because there are tons of things that humans can do that we can't. So robots are good at repetitive tasks, dangerous environments, and the ability to be very cost-effective, but we can't answer telephones, and we can't provide directions."
"And we definitely can't discern the context of a bunch of kids smoking weed, or a bunch of guys with guns, in the parking lot. The context is very important, and humans have that context."
Building a base for your robots
The Blackbirds live within a designated enclosure with a retractable roof that acts as a landing pad and charging pad. Swenson describes Utah as a 'cold desert', just as likely to see snow as intense heat, so it is important the base station is weatherproof and can deal with snow without needing a person to clear the landing pads.
The razor-wire-covered drone compound where the base stations reside sits at ground level on the Utah campus. It measures around 16 feet by 20 feet – the base stations are around 7 feet by 7 feet – and the pad has dedicated power and fiber running to the stations.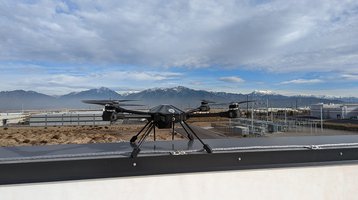 "We needed something that could sit in a weatherized vestibule. You could put this on the top of the building but it does take some planning; it's not something that you can just go in and drop in in a day with a WiFi signal. But compared to building a data center, putting in one of these drones was relatively easy."
Wu describes the base station as an 'Edgebased computing device'; the station stores the video feeds and other data collected by the drones and runs the footage collected through machine learning algorithms, for example, to detect cars or people.
"It has a large PC inside, tons of memory, tons of storage, and a lot of horsepower to crunch numbers," says Wu, adding that processing and storing the video streams at the base saves cloud costs and provides added security.
When asked if the drones have helped prevent or deal with any incidents, Swenson says the company has not caught anybody trying to get into the facility since it opened, but the drone has made some avian friends.
"Sometimes we have some birds of prey out here that find the drone quite interesting when it's flying around; we have a few eagles and some hawks that find it interesting but for the most part, they keep their distance."
When drones at a data center makes business sense
Wu suggests campuses less than 30 acres probably won't need a drone for patrols, as people and cameras can do the job well enough. For larger campuses where it can take minutes to get across site even in a car, drones potentially offer a more efficient patrol and quicker response option.
"If you have large perimeters, it just doesn't make sense for you to put cameras on them because it's very expensive," he says.
"It's not just the cameras - you also have to run power. And then you also have to run data, so that becomes a huge cost factor."
While large remote industrial sites are suitable for drones, deploying a drone at an inner-city carrier hotel might not make sense. Wu notes the more urban a proposed site is, the more difficult it is to gain approval from regulators to fly.
"If your data center is in a residential, super metropolitan area, it'd be a little bit risky to be sending a drone up in tight quarters," adds Swenson. "People are going to get sensitive about it and you're gonna get calls; they're just too dystopian, and people might feel like they're being spied on."
While the company helps train staff, Wu notes it's ultimately up to the customer company to understand restrictions and potential liabilities in relation to flying drones, likening the relationship to that between a carmaker and the driver.
When it comes to Return on Investment however, Swenson admits the company is still 'trying to determine' a hard number for the value of drones.
"We see it as another aspect of our current monitoring. It gains us more comprehensive coverage, faster, and in a consistent repeatable pattern. It is not at the stage where we are replacing one thing to gain another. Ultimately, our intangible ROI is greater peace of mind."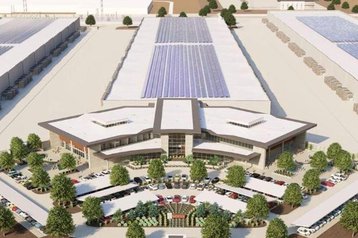 Drones inside data halls
In future, Wu suggests the systems will be more autonomous and less reliant on a dashboard and point-and-click interfaces.
"Eventually you'll just install the system, and the person will just talk to it: 'Hey, Blackbird. Can you do a perimeter patrol of Section A or Parking Lot 1', and the drone will take off go and do it."
"And then when it lands, it will give an alert to the person the mission is complete, or, if it sees something suspicious will automatically say, 'you should take a look at this' and provide the live video.'"
Castenada says if his test pilot goes well, he'd like to see BSC start to use headsets such as Microsoft's HoloLens to control the drones. He also wants to share the drone's footage with customers.
"We would like to introduce transparency. A customer wants to see their facility, and we'd like to offer a secure portal for them to be able to view and watch their property."
Today Novva only has medium-sized drones that operate outdoors, but in the future, the company wants to have microdrones within the data halls - perhaps flying eight to 10 microdrones per building.
"Right now we're experimenting with smaller drones that are three inches in diameter," says Swenson. "They would operate within the data center and be able to monitor things [and watch for] anomalies within an aerial view."
"There are not a lot of robust solutions on the market today, but we anticipate many more in the future."
More in The Management & Operations Channel