Deep in the bowels of the vessel, surrounded by large metal pipes and the soft hum of pumps, you can't feel the surrounding water. But, if a large ship passes by, you can hear the distant whir of propellers, a hint that this data center is rather unusual.
Nautilus Data Technologies is best known for the barge data centers it has been working on since it was founded in 2014.
And yet, even as we toured its sole facility in Stockton, California, the company was keen to highlight that it was more than just floating servers.
Instead, key to its pitch is simply access to ample supplies of nearby water, preferably already moving. While it has plans for additional barges, Nautilus hopes to develop more traditional data centers on land, pumping in water through its actual unique selling point - its patented Cooling Distribution Unit (CDU).
This feature appeared in the latest issue of the DCD Magazine. Read it for free today.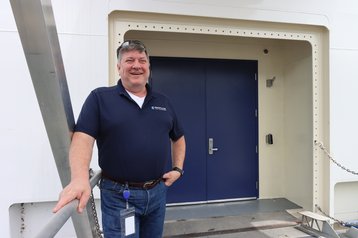 On the barge, it takes external water, holds onto it for 15-16 seconds, and transfers heat to it from an internal closed loop of pure water via a heat exchanger. The external water leaves the CDU 4°F/2.5°C warmer.
On land, it will need water brought to it. "We've arbitrarily set our distance [from the river/lake] at about a kilometer," Robert Pfleging, Nautilus' president at the time of our visit (now CEO), said. "And that's a function of pumping horsepower, and then you have rights of ways and the costs of installing those pipe lengths."
Each approach has its benefits, and accompanying drawbacks. Land-based data centers can grow larger, and there are more possible locations to choose from, even with the kilometer cap.
Floating facilities, meanwhile, have to find a waterway where they are permitted to permanently moor - such as a port - and have to come in the shape of a barge, or at least something that floats.
But, in return, the facility can be moved if required. You don't have to waste power pumping water over a distance, and there is even a small conductive cooling effect from the water passing around the vessel. Nautilus argues that you also save time on permitting, because you can slip under a port's existing permitting umbrella.
Plain sailing
However, Pfleging is keen to point out that Nautilus data centers embrace the water-cooled concept far more aggressively than the Google site. "Oh my gosh, they're using naturally cooled water, but that is the starting sentence of War and Peace from what we're talking about," Pfleging said. "Here, it is much more extensive than that."
There are other parallels, As well as its paper mill installation, Google also considered a floating facility, applying for a floating barge patent concept way back in 2008. The company built four barges between 2010 and 2012, the use of which was never clear. Google once claimed one would be a "marketing center for Google Glass," the company's now-nearly forgotten smart glasses failure.
In a cruel twist of fate, one of Google's barges found its way up to the San Joaquin River-Stockton Deepwater Shipping Channel, near Nautilus' facility. "There are still remnants of it, up along the river," Pfleging said.
Now, Nautilus hopes that Google, or a hyperscale rival, will instead turn to it as a partner, with the small company setting up barges it can float to places where the cloud provider needs more capacity.
"We have interest from a hyperscaler, and another with a large colo," Pfleging said.
He added that they were drawn to the potentially fast permitting times and rapid deployment of the barge Pfleging claimed. "And while I'm doing that, the customer can work on their 50MW data center, and maybe keep the barge or float it to its next city."
Similarly, it hopes to find hyperscale or large wholesale interest at its potential Maine facility. "Our Maine site continues to leap forward and then stall, because it really begs to be 30-50MW out of the gate," Pfleging said. "So it really narrows the number of customers that we would want to put in there.
"I honestly wouldn't open the Maine site for 5MW, it just doesn't make any sense. We're going to build the greenest data center in the world: It's going to have new green materials, with energy recapture on water, a little bit of solar, feeding downstream customers, and those types of things," he said, adding they were aiming for the hydropowered facility to have a PUE of 1.08-1.10. It is also talking to fish farms about using its warm waste water, similar to Green Mountain in Norway.
Along with its Maine plans, the company is targeting an undisclosed city in California, another in Europe, and has signed a Memorandum of Understanding with DFNN for a potential data center in the Philippines, and with Raimon Land to explore licensing its tech in Thailand and the Philippines. It also has a long-delayed barge project in Ireland. "I was just in Limerick, Ireland, last week," Pfleging said, claiming that the project is getting back on track.
After being proposed in late 2018, the port-based facility was quickly approved despite complaints by local businesses. But a new wave of objections, Covid-issues, and the lengthy process of getting data center power in Ireland held up the facility. "We have just got a power letter from [Irish utility] ESB, they committed that we are in the 2022 batch, we're on their timeline now," he said.
"So it might take as much as 90 more days for them to identify, but as soon as they identify a delivery date of power, we're off to the races there - we've got a conditional lease, we validated connectivity, we have line of sight to all of our permits.
"It's close, I would say our [California] site and our European site are closer."
With these projects, and its colocation facility in Stockton (which has space to be joined by other barges), one could be forgiven for thinking Nautilus was looking to muscle in on the same turf as Digital Realty, Equinix, and dozens of other colocation and wholesale companies that dominate the land.
"People often get confused by that," Pfleging said. "I've been there and done that," as a former VP of CenturyLink (now Cyxtera), where he ran 55 data centers. "When I was interviewing here, I said that if we're gonna be another Savvis or CenturyLink, I'm out.
"It's not our desire to go out there and build up 50 data centers and be an owner-operator. I don't want that headache again."
The company will do some of its own projects, such as Stockton - a necessary proof-of-concept - and has plans to proactively develop in some locations ahead of finding a customer. But mostly, it hopes to work with hypercalers and colos, including the Equinixes and DRTs of the world.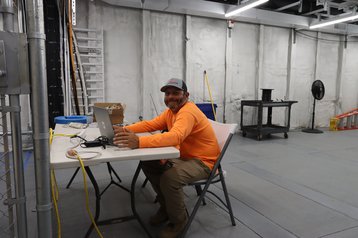 "We'll deliver the full product to you, and they fund it," Pfleging explained. "We have a percentage of ownership for carrying the project that you can effectively call our margin, and then we will stand up operations through testing, around 24 months.
"We'll stand up that operations company, hire the people, get all through compliances. And then contractually, at some point in time, then the customer can go, 'Okay, great. We're going to now buy the operation company away from you. And those are now our co-workers and we will buy out your equity stake in the company. It's ours. We know now it runs well.'"
Further down the line, if it has done this multiple times with a company, "I would then have a level of comfort where we can just do a straight license." The barges themselves will be built modularly by shipbuilders and designed in tandem with naval architects Elliott Bay Design Group.
But that's all in the future, if everything goes to plan. For now, we have the Stockton data center, floating on the Stockton Channel.
The company made a mistake with that facility when it first began. "We went and bought a used barge," Pfleging said. "We thought it was great for the story, and saves on steel."
Another reason was that California has a permitting process called 'shade on the waterway,' where permanent platforms that block sunlight to the river bed need a permit - but if you buy an existing barge, it comes with a permit.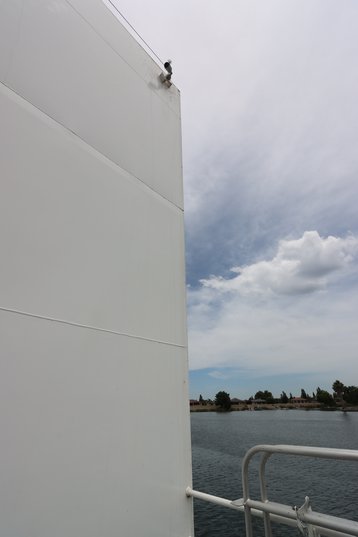 "We thought we were really smart," Pfleging said. "We spent about twice as much refurbishing that than just buying a new one, and the footprint was not ideal.
"We have to live with the footprint we have," he said, explaining why PDUs were in the data hall where the customer gear is.
"It's not like that in any of the new designs, where it's in its own electrical room. But lesson learned."
The whole facility is a series of lessons learned, with improvements in design and layout apparent from the early first data hall to the more modern fourth - including going from 2MW of IT capacity to 2.5MW and swapping the lead acid UPS for lithium-ion.
The ship could hold 440 IT racks; a newer design boosts it to 480. Evolution is also apparent in the cooling rooms, which we were not allowed to photograph for fear of disclosing information about Nautilus' proprietary CDU.
The first CDU room, a 'Gen One' design, is a mess of pumps and machines, akin to a jungle. Gen Two, a floor above, is closer to a delicate bonsai garden.
"Everything you're seeing here is a piece of our IP," Pfleging said, gesturing proudly. "We actually bought this IP," he added, tapping on a box. "The original IP was owned by an entity out of the UK, we bought it and then we continued to update it since then."
Pump and control monitoring software is also designed in-house. Gen Three is in development, moving the system's air handler onto the CDU so that it can help cool itself. It is also expected to be increasingly pre-fabricated, reducing on-site labor time.
We go outside via the CDU room, and are immediately confronted by a wall of hot, sticky, Californian air. It's not wholly pleasant, with the odd waft of sulfurous algae occasionally overpowering the industrial odor of an active port.
Such natural and man-made contaminants - as well as fish, driftwood, and rubbish - are common to all major waterways. But they do not present a threat to the barge's intake, Pfleging argues.
Here, the company did not need to develop new IP or revolutionize the water wheel. "We find people that have been doing it for 50 years and use them," Pfleging said. "There are great companies out there where you tell them the body of water you're sitting on and your flow rates, and they'll size your intake system to include the little slots or slivers so that a fish can swim along and not get sucked into the inside of it."
Large debris, fish, and larvae are first strained out. Then the water is ionized so that it doesn't stick to anything. Pipes are vibrated with ultrasonic transducers, a tech developed by the US Navy to stop barnacles from being able to attach to their ships. The water then travels through stainless steel or high-density polyethylene, which is hard to attach to, and doesn't impart chemicals into the water.
Should nature, in its irrepressible inventiveness, find its way through and cause a blockage, the jet can be reversed. Along with the filters, the heat exchanger can also opened up to be cleaned. "And there's a redundant one for every data hall," Pfleging pointed out. "So I'm N+1 at the heat exchanger level for every data hall."
In the case of the Stockton data center, water is sucked from 11-12 feet below the surface level to ensure a consistent temperature that isn't warmed by the scorching Californian sun, but is also not so low that it is sucking up silt.
"Go over there and look at the water," Pfleging said. "It's murky water, but we can do it."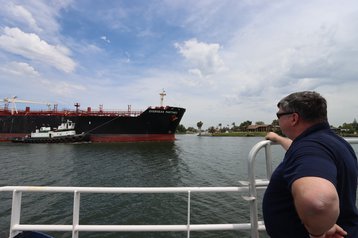 As he speaks, a vast oil tanker passes slowly, flanked by two protective tugboats, there to avoid an Evergiven-in-the-Suez-Canal situation.
It's a relatively straight journey for the vessel, and it has its guiding ships - but mistakes can happen, and the 183m tanker could theoretically veer off target. "It's a very narrow, very deep channel," Pfleging reassured me. "They'd run aground before they get to us."
Still, freak accidents can happen, perhaps with a smaller boat that could make it across the channel and flood the barge. What would that mean for its precious, electrically-powered cargo?
The barge has 13 watertight compartments, five of which would have to be compromised to sink it. In such a case, all the IT equipment would still be above the waterline should the barge touch the riverbed. In its other planned Californian location, where the water is deeper, it is placing pilings underneath it so that it would still settle above the water line. All the equipment below the line is designed to live underwater.
"The fear of sinking is a non-starter," Pfleging declared.
On the small deck, you can see signs that this barge lived a whole life before it became a data center. "It spent 20 years of its life floating between here and Hawaii carrying aggregate rock back and forth, so it took some abuse," Pfleging said, giving a railing an affectionate pat.
On its land side, the traditional high, barbed-wire fence looms imposingly. But here, on the river, the railing is all there is between the barge and open water. Across the channel, residential houses are visible, with the nearest garden proudly sporting a miniature Statue of Liberty - base and all - to welcome passing ships.
This makes the side of the data center feel strangely open and unguarded. Not so, Pfleging countered. "Within 50 feet of us is Homeland Security," he said. "And we've had two instances where they put the boat out after people."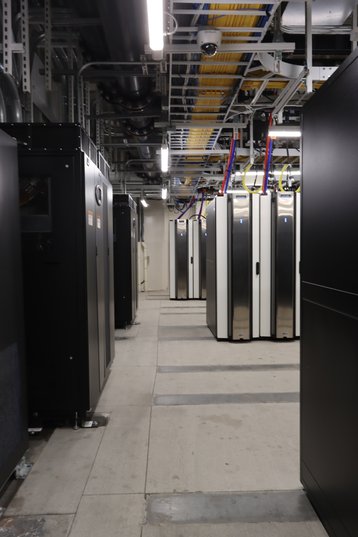 One time, Nautilus was doing weekly water testing and forgot to notify the agency. "Our boat pulled up alongside to talk to somebody here, and turned around just in time to see the fast attack boat coming down with an M16 machine gun on the nose pointed at these guys," Pfleging said.
The other time was a bass fisherman. "We were trying to be nice and told him to stay away, but he was all 'you don't tell me what to do,'" Pfleging recalled. Unfortunately for the recreational fisherman, the camera footage is linked to port police and Homeland Security.
"So they pulled his identifier number off his boat," Pfleging said. "DHS went and paid him a visit, they impounded his boat and said he can have it back in a year or so. He's also on the no-fly list. Just because he was an ass, not because he was a bad guy."
Keen to not jeopardize our flight home, we turned our attention to the other side of the data center, where it is linked to the land.
Power cables and submarine cable fiber connectivity snake in along with a gangway. All are capable of moving up and down, because the tidal river shifts around three and a half feet. "We could handle a 15-foot wave or 100+ mile-an-hour winds, not that we're going to get any of that," he said.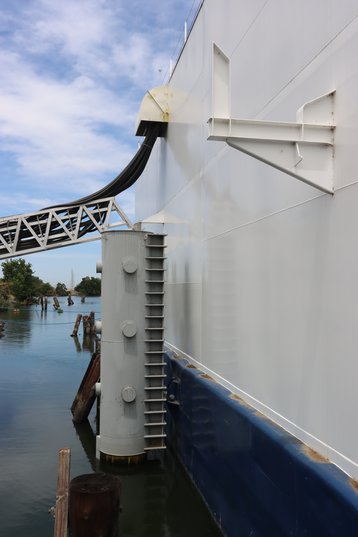 On land, the data center plant continues.
Diesel generators and fuel storage are based on terra firma, as is a Network Operations Center (NOC), which includes a small warehouse. "If a customer wanted it, we could do it all floating, but at some point it just becomes a question of what you are really trying to accomplish," Pfleging said.
That question is at the forefront of his mind in what he calls the "twilight of his career." He explained: "I couldn't be more excited that it has finally evolved to be something meaningful."
After years at both APC/Schneider Electric and Emerson Network Power/Vertiv, as well as CenturyLink and healthcare IT, he remembers chasing one percent efficiency gains in cooling systems.
"Frankly, we're moving the needle 10s of percentage points overnight here, it was just this complete paradigm shift in the way we think about mechanical cooling," he said.
"Data centers have a black eye right now, a lot of places don't want us - Singapore, Amsterdam, Ireland… and rightfully so," he said. "It's about making data centers part of community planning and part of the ecosystem that it lives in, as opposed to a drag on the system."