At a recent DCD Energy Smart event Priscilla Johnson, data center water and energy strategist at utility PG&E, said there is "a dire need for energy efficiency to be married with demand-response." David Murray, president of distribution at Canadian utility Hydro-Quebec, proposed that facilities should be able to "erase themselves from the grid" at critical moments, or contribute power from their backup sources to the grid.
The reality is not yet that dramatic, but demand-response is on its way. And, if done correctly, sharing your backup power can actually make your facility more reliable, not less.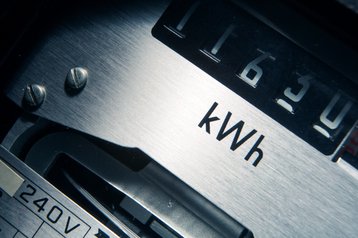 Spare capacity
"There are UPS systems out there with spare capacity," systems engineer and energy consultant Graham Oakes told DCD in an interview in 2018. "We could build a cloud service that would connect to the UPS and tell it when it could run from the battery for short periods when the grid is under stress."
Oakes should know. In 2013, as a response to a challenge prize sponsored by the UK's National Grid, he created the idea of a cloud service brokering access to organizations' energy backup systems. He founded Upside Energy in 2013, offering savings under a National Grid scheme which offered users a dividend for cutting their electricity usage at peak times by running on batteries.
As well as batteries, diesel generators at participating sites could also be used to feed power into the grid. "It's counter-intuitive, but this provides large environmental benefits," Oakes explained. The grid's normal backup is to have gas turbines constantly running at part-load, providing little or no power, so they have spare capacity when needed. "They are less efficient at part-load, which is very significant, because [those turbines] have to be running the whole time."
Demand-response could also allow the UK to reduce its reliance on an arrangement to draw power from France during shortfalls. All this saves money, which can be passed on to the UPS users, usually in the form of services, such as reducing maintenance costs for the UPS hardware.
Upside started with a pilot scheme part-funded by £2.8 million (US$3.7m) in government investment, and built a network of participants with about 25MW of backup power systems. Its arsenal includes a 1MWh research battery run by the University of Sheffield which can deliver around 2MW of power, making it similar in scale to a small data center.
It also integrated TV broadcast towers run by Arqiva. At around 200kW each, these form a small, but significant part of the UK infrastructure, and each one has a diesel-backed UPS.
In 2018, Upside entered a partnership side with energy infrastructure vendor Vertiv (the supplier of those UPSs at the Arqiva towers. Vertiv is now bundling the Upside service with systems delivered to other customers.
This was a big credibility win for Upside Oakes told us: "If you are a data center manager, and a small startup knocks on your door, asking to do clever stuff with your UPS, I guarantee they will say no. If Vertiv comes and says they are working with that startup, it gives them more confidence."
Oakes has moved on, to work with other people on new applications of intelligent energy systems, but DCD spoke to him while he was still chief scientist at Upside.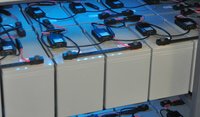 Frequency response
Demand-response is easier to deploy than you might think, Oakes told us. High demand causes generators to slow down, and the mains frequency reduces: "We can detect the frequency change, and respond."
In fact, it's more dynamic than that: "If we follow the frequency dynamically, we can increase the power incrementally." This helps the grid stabilize (on 50Hz in the UK), reducing potential damage to generation equipment, as well as to electronics connected to the grid.
Upside also makes it possible to respond to dynamically changing prices. The price of electricity goes down when demand is low and when renewables are onstream, and goes back up when people are active and power is scarce, so users can charge up at 4am, and access cheap energy at 5pm when the grid is expensive.
Upside gives customers a dashboard to monitor what is happening, and lets them withdraw from the service if they need the UPS, for instance while doing maintenance. "The data center manager always has to be in control," said Oakes.
Under the deal with Vertiv, when a customer makes their UPS available to the grid, revenue from the utility is shared between Vertiv, Upside and the customer. The customer could get an upfront discount on the UPS, or a more integrated service package, with high-end maintenance.
Regular use for short periods should increase UPS reliability: "If we constantly monitor the UPS, and use it once a month for about 30 minutes, that is a really good way to get paid to have health monitoring on your UPS," Oakes told us.
Upside also monitors and cares for batteries: "We only use 20 percent of the battery capacity. Lead acid batteries will tolerate shallow cycling, and lithium-ion batteries are cycled differently."
Upside is just one of several aggregators: others in the UK include Flexitricity, which operates with industrial plants, and Ecotricity, a wind power provider which offers batteries to households.
Meanwhile Vertiv's competitor Eaton has launched UPS-as-a-Reserve Service, co-developed with Swedish energy company Fortum, which lets organizations earn money from their UPS investment by providing energy to the grid.
Again, Eaton assured DCD that its service leaves data center operators in control.
The idea could lead to data centers buying power on demand from a provider which manages their UPS, an idea which Vertiv CEO Rob Johnson describes as providing "freedom from hardware", by offering mechanical and electrical equipment as a service.
The idea isn't entirely new, Oakes pointed out: "Rolls Royce no longer sells jet engines. It's now selling hours of power."
This has been updated from a feature which appeared in the October/November issue of DCD Magazine. Subscribe for free today: