The Covid-19 pandemic made 2020 an apocalyptic year for many retailers. Local lockdowns forced the closure of huge swathes of retail stores, many of which have not reopened, and may never do so.
As we look forward to 2021 and beyond, firms must reassess how they approach both online and bricks and mortar. Many retailers look towards more investment in artificial intelligence to make shopping both online and in-store smarter.
Machine learning and AI were cited as the emerging technologies that would have the greatest impact in the industry over the next year, according to TotalRetail's 2020 Retail Technology Report. Other AI-enabled technologies, including automated checkouts, augmented reality, robots, and facial recognition also ranked as important. Global retailer spending on AI will reach $7.3 billion annually by 2022, according to Juniper Research, up from $2 billion in 2018.
Whether it's driving sales with recommendations and personalization, driving efficiency with robots or sensors, or offering new ways to shop and manage stores, AI is touching every part of the retail industry.
This feature appeared in the 2021 Retail Supplement. Read for free today.
AI at the Edge of retail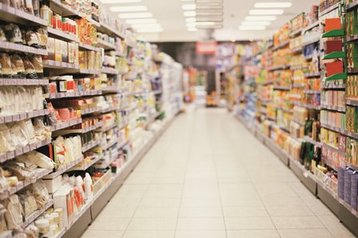 Personalized recommendation engines have been a mainstay of shopping for years. There's a folk legend in data mining circles, which claims Target has such powerful data mining and analytics, it once recommended baby clothing to a girl before she knew she was pregnant. Sadly, it's just a myth, dating from a hype-filled 2012 New York Times report.
But while big data and AI use cases for online shopping are still largely based in centralized data centers, a growing number of use cases are seeing retailers embrace Edge computing and AI, both at the Edge and in the cloud. Fulfillment centers are increasingly being used to automate warehouses in order to speed up deliveries and optimize space, which can make supply chains and logistics more efficient. In-store, robots are being used to stack shelves and clean floors.
Machine vision is being brought in to scan shelves and manage inventory, suggest fashion ideas to customers, and in the case of Amazon Go and other competitors, remove the need for cashiers and traditional checkouts. Robots, both in-store and in the warehouse, are becoming increasingly common, and sensors are being used to monitor key equipment for potential failures ahead of time.
Starbucks is rolling out smart coffee machines that are using predictive maintenance as part of the wider Deep Brew AI initiative that CEO Kevin Johnson has called a "key differentiator" for the future.
Uniqlo developed an automated personal shopper that uses neuroscience to gauge customers' reactions to different outfits in order to recommend different items to suit their moods and preferences. Kroger has sensors to constantly track the temperatures inside cold and frozen food cases, sending store associates digital notifications if there's a mechanical breakdown or a door has been left ajar. From 2017 to 2020 Walmart used shelf-scanning robots to help manage stock levels.
While some of the data will be sent to the cloud or central locations, much of the important pre-processing will be done either on-site or at a nearby Edge site to reduce latency. And while many retailers aren't jumping all-in to cloud for their main workloads, some will utilize the scale benefits of the cloud to train AI models, while many of their retail tech suppliers will be cloud-based to offset costs.
Automation comes to retail en masse
Even before the pandemic, the shift to online had already forced thousands of store closures and many large retailers out of business. Covid-19 has accelerated many of those challenges. And the stores that do survive may well see less room for human staff.
McKinsey predicts retail in-store retail roles could fall by 40 percent in the UK alone as a result of automation technology, while Juniper Research predicts that transactions using smart checkout technologies like Amazon Go will jump from $2 billion in 2020 to $387 billion in 2025. The firm suggests the bulk of transactions will be in small convenience stores owned by large retailers.
"To compete with eCommerce disruptors who heavily rely on AI, traditional retailers must adopt AI rapidly to boost efficiency," said Juniper Research analyst Nick Maynard. "If they fail to do so, they will face a highly commoditized retail market with an outmoded, uncompetitive business model."
At the same time, McKinsey has noted a growing number of retailers launching smaller 'neighborhood' or pop-up stores, and highlighted the importance of using AI in order to create the right mix of tailored assortments to offer their local consumers more personalized shopping experiences.
Debbie Bowen-Heaton, partner at consultancy firm Oliver-Wight, says that many retailers - especially the large ones - already have enough data gathered from online stores as well as historical in-store purchases, but often suffer either a lack of urgency or ability to exploit what's sitting in their databases. Fashion, she says, is probably the furthest ahead in embracing AI and embedding it into the business to ensure agility.
"The larger retailers have got the economies of scale, they've got the resources," she says. "But the downside is that scale makes you less agile and they haven't got the ability to respond when things change fast, and it's probably a real frustration for them."
"The big opportunity is that a lot of retailers have data. They've got it, it's at their fingertips, but it's just about how they exploit it more. And for me that's the big opportunity, doing something with that data and really using it to drive your innovation. Not just new products but services that really excite customers."
As a result of the push to AI, says Dave Demlow, VP of product strategy at Scale Computing, retailers are turning to hybrid infrastructure models with a combination of Edge, cloud, and central IT.
"You collect the data locally and you probably do some pre-processing, but training AI models require large amounts of compute for very short periods of time and you can do that model training in the cloud," he says. "But then actually utilizing the model on-prem is a very, very common model for people who are looking at AI kind of or any heavy data-intensive applications."
Amazon brandishes AI
Amazon's ever-expanding retail empire and increasing moves into physical retail, plus the fact it owns the biggest player in the cloud computing space, puts it in a strong position, especially when it comes to AI, and puts its retail competitors in an awkward position.
Jeff Bezos' company is already one of the biggest retailers in the world, driving a huge proportion of online sales. And its scale and direct access to machine learning expertise means that it can iterate quickly and experiment with ideas in retail technology, especially in the physical space. While its Dash buttons and barcode scanning wand failed to drive quick physical retail actions at home, its cashier-less Go stores have created a slew of competitors looking to utilize AI to create a walk-in, walk-out checkout-free experience. As well as deploying this technology in its own stores, the company is offering it to industry.
Scale Computing's Demlow says that few retailers have gone all-in on public cloud, partly due to the direct threat posed by the company.
"A lot of the retailers that we see and talk to are very cloud-averse," he says. "Amazon just is the arch-enemy of retailers, and no retailer I've ever talked to wants to put anything on Amazon."
Walmart has turned to Microsoft for its public cloud services, with the two companies acknowledging their mutual rivalries with Amazon and AWS were a factor in the agreement. Walmart has previously been reported as telling suppliers to move away from AWS as well. Target reportedly scaled back its investments in AWS after Amazon bought Whole Foods because it didn't wish to directly fund a rival.
Other retail companies face similar challenges on whether they should utilize technology that directly funds one of their biggest rivals, and last year Canalys reported Google Cloud Platform and Azure were both ahead of AWS in the retail and eCommerce sectors as a result of the conflict of interest.
"Due to this competitive aspect, many major retailers have opted to work with other cloud service providers," Canalys research analyst Blake Murray said. Many retailers are looking to the other public cloud providers as an alternative.
Microsoft offers a similar level of capabilities for retailers in the cloud, and has made a number of moves directly appealing to the industry. And while Microsoft has dabbled in owning stores that sell Microsoft products, the Redmond company offers a way for retailers to adopt technology without the fear of funding a direct rival.
Kroger is another retail giant to prefer Azure (and GCP) over AWS, with its CIO Chris Hjelm saying at the time there's no reason "to help grow that business for them." The company later revealed a smart shelf created in partnership with Azure that enabled real-time pricing for items. Microsoft is also reportedly trialing cashier-less, checkout-free technology that it will offer to customers.
Oliver-Wight's Bowen-Heaton says she thinks a lot of organizations are going into denial about Amazon's presence across every sector of retail and are "paralyzed with fear." And while she acknowledges that partnering with Amazon may come at a cost, retailers have to act or face going out of business.
"You've got to make a choice; you either embrace it, or you fight it and make some kind of smart move, flank them," she says. "Embrace disruption, or be disrupted, or find a way to compete. Go find different alliances. But just to ignore it is probably to their significant disadvantage, which I think is what we're seeing."