A year after hosting its first Transform event in New York City, it was time for Lenovo to once again update the world on the state of its Data Center Group (DCG).
The division made a name for itself when the company bought IBM's x86 business in 2014, but turning it into a profitable operation has been an uphill struggle - at a time when Lenovo saw a lot of successes in mobile and PC sales.
Last year, the company reorganized DCG into two subdivisions: ThinkSystem and ThinkAgile, the former referring to its traditional server, storage and networking products, and the latter - its hyperconverged systems.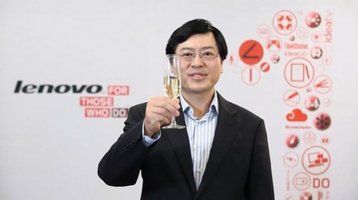 Tentative successes
Lenovo has since hired new executives, bolstered its global sales and marketing teams, and set up dedicated supply chains for the division; it launched channel programs and built new relationships with systems integrators, with whom Lenovo's EVP and DCG president Kirk Skaugen said its business almost quadrupled year-on-year; it opened new partner labs and R&D facilities around the world.
Despite these efforts, last quarter DCG once again came short of turning a profit.
And yet, this year's event had a self-congratulatory tone: Lenovo's server sales are up 49 percent year-on-year, and more than 20 million units have been shipped to date; there have been successes in HPC (the company says it is now the world's biggest supplier of systems to the Top500, up from 182nd in 2014), and improved relationships with cloud providers that doubled its hyperscale footprint in the past year. The company now claims to equip six out of ten of the largest data center companies in the world.
In his opening speech, Rod Lappin, the SVP of DCG, said the company's global supply chain had boosted its popularity with the hyperscalers, since it enables Lenovo to offer customized solutions including motherboards and firmware.
As for its hyperconverged infrastructure, developed with software partners like Nutanix, Microsoft and VMware, sales doubled in the past six quarters, as customers sought a foundation for hybrid and multi-cloud solutions.
Flash storage array sales doubled year-on year, and at the event Lenovo unveiled updates to its storage portfolio - products of a new partnership with enterprise storage giant NetApp. With the ThinkSystem DM and DE series, Lenovo is hoping to make a name for itself and rival other OEMs in the storage space.
And so, although DCG isn't yet a cash cow, some congratulations are in order.
The Chinese exception
One thing that could turn things sour for Lenovo would be to fall out of favor with Western governments, losing access to multi-billion dollar markets.
Its compatriots - namely Huawei and ZTE - have come under intense scrutiny in recent years, particularly in the US. Reluctance to use Chinese components grew after backdoors were discovered in Huawei's network systems, leaving customers vulnerable to espionage, and after ZTE was found to have breached international laws by selling semiconductors, which can be used in the development of nuclear weapons, to the Iranian and North Korean governments.
ZTE components were banned in the US between April and July, and the use of equipment from both companies is still prohibited in most government systems, as well as those of government contractors. Last month, a UK cyber security advisory board - created with the sole purpose of monitoring Huawei's involvement in the country's infrastructure - warned the National Cyber Security Centre (NCSC) that the company's practices still presented a "long-term increased risk."
So how has Lenovo managed to avoid the wrath of politicians, when its peers have been subject to one punitive measure after another?
Simple, according to CEO Yang Yuanqing, affectionately called Y Y by his executive team: "Lenovo is a global, international company, so our footprint is worldwide. Not just sales and marketing - we have R&D teams in China, US, India the US; we manufacture in Brazil, Mexico, Hungary… Most multinational companies don't have a multinational executive team. We are different. We are diverse.
"That gives us a unique position. So far I think Lenovo has built a trusting image for itself."
The company's CTO, Peter Hortensius, agreed, explaining that Lenovo executives are always hired in their country of origin – except in his case, since he is Canadian but works in the US.
"We respect local laws, ethics, and spirit," he added.
If China asked for backdoors in global products, Lenovo would refuse. But Hortensius conceded: "if they want back doors locally, I can't say what we would do."
The situation would be the same in other geographies: "there are more countries than just China that want access to be built into their encryption systems."
Lenovo's willingness to adapt to China's particular approach to business was exemplified by the decision to launch a regional joint venture with NetApp. Yuanqing said it was driven by the market's "specific requirements."
These requirements, according to Hortensius, pertain to encryption technology, as well as to the "basis of storage and IP that surrounds that," as Chinese storage systems are often OpenStack-based. Software in China is different, he claimed, "and storage is mostly software now."
Lappin boasted the company's approval by "most defense organizations and federal government around the world," but admitted this didn't mean that Lenovo had struck any major supply deals with them.
A bright future?
While server sales are on the rise, OEMs increasingly have to compete with 'white box' manufacturers. This type of simplified hardware is usually made at a low cost in China or Taiwan, and is popular among hyperscalers.
For Per Overgaard, DCG's SVP for EMEA, the compromises which must be made on quality to build such systems mean that they do not pose a threat to Lenovo's business.
"I experienced the complexity of getting all the components to work," he said. "You buy a motherboard, you buy an Intel processor or an AMD processor, memory, graphics cards and all that stuff. Getting that stuff to work optimally is very, very difficult, and when you add software on top, it's even more difficult.
"So I think from a Lenovo perspective, why we're still here is because we do it better than the average person. If you have the skills to do it, and the capacity, and the time, it makes sense, but I don't meet them very often.
"I know I'll have a job in five years, because it's really really complicated."
Plus, he explained, not only is their market share marginal, but most white box server sales don't concern Lenovo's target audience: "It's in the hosting area, it's in the MSP space, so there may be a lot of companies doing it but, we're not competing in that."
Another concern, which could arguably cause as many problems for Lenovo as any other server manufacturer on the planet, is a new proposal drafted by the EU Commission called the Eco-Design Directive. In a bid to reduce IT equipment's massive carbon footprint, a part of the proposed law would make up to 75 percent of servers on the market illegal in the European Union. Many have argued that the proposal, by capping idle server energy use, would be counterproductive, inadvertently banning the largest, most efficient servers capable of running workloads using less power, on average, than lower density machines.
Although as far as DCD is aware, the company didn't issue a comment when the proposal was originally drafted, a spokesperson shared the following statement: "We are involved in the discussion via our industry association Digitaleurope and the respective work group on eco-design for servers. Our position is that Lenovo shares the industry's concerns that eco-design rules for servers actually risk increasing energy use in data centers, as many of those targeted are actually the most efficient to run overall.
"We hope to find a better solution by, for example, aligning with existing or upcoming international standards like Energystar for Servers. We believe that through further constructive discussions between EU Commission and our industry, we can achieve a consensus on this topic."
Lenovo makes a display of its energy efficient practices, though these have an ulterior motive: more efficient systems can run higher density workloads, and a large chunk of the division's revenue comes from HPC customers. This also explains the introduction of its own liquid cooling system, Neptune, rolled out by the company earlier this year.
According to Hortensius, all of the company's hardware is compliant with efficiency regulations, and as for the lifespan - which can be as short as two to three years for some equipment, depending on how long it is supported - he asserted that Lenovo prioritizes re-purposing or recycling over disposal.
Innovation, partnerships and innovation
What can we expect from Lenovo in the next 12 months?
For Hortensius, the tagline of the event - Intelligent Transformation - will happen at three different levels. At the device level, he said, companies will grapple with whether investing in the creation of complex architectures is worthwhile, as Moore's Law reaches its limits and customers continue demanding improvements like better, more energy efficient sensors, omnipresent displays and flexible components.
Cloud computing will transform with the increased use of hardware accelerators - GPUs, but also application-specific integrated circuits (ASICs) and field-programmable gate arrays (FPGAs) - as well as edge devices.
Finally, he said, services will be affected by the emergence of artificial intelligence technologies, to which Lenovo committed a US$1.2 billion R&D budget last year. The company will focus on developing computer vision, natural language understanding and context awareness technologies.
Lenovo will make sure it plays a part in these markets by building additional research labs and forging more partnerships, more joint ventures - because, as Hortensius acknowledged, the company understands that "startups are key to innovation."
DCG's success will be crucial to Lenovo in the coming quarters. Thanks to a recent Windows update, its previously dwindling PC sales spiked in the early half of this year, and its mobile division was kept afloat by making cost savings - a measure that can only be taken so many times.
The data center industry is booming: global server sales are rising, and investment in cloud, virtualization and container systems is expected to grow steadily for the foreseeable future. And if DCG plays its cards right, it will have staked a claim in a lucrative industry that bears little risk of faltering.