Just over 20 years ago, the London Internet Exchange (LINX) set up a neutral internet exchange point in Telehouse in London's Docklands. Since then its model has been repeated worldwide and Docklands has become a center for Internet connectivity. 
Things have changed a lot since then, according to John Souter, CEO since 2001. The first packets were forwarded in November 1994 by a donated Cisco Catalyst switch "no bigger than a video recorder", located in what was then a "colossal" building which was almost completely empty.
Now, LINX has equipment in 11 points of presence, including the palatial Telehouse West (above), and the Docklands campus hosts the majority of UK Internet peering traffic, giving clients access to more than 60 percent of global GDP, Souter tells me.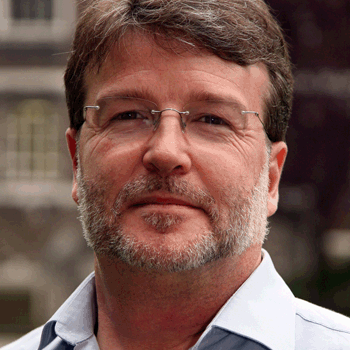 Starting small
It's hard to believe how small things were in the early days. That first Cisco switch had only eight 10Mbps ports, and the whole enterprise began when two providers, Pipex and UKnet, decided to link their networks with a 64kbps serial line to assist in routing traffic across the Atlantic. They were soon joined by BT, Demon and the Janet academic network, and LINX was born.
"There was an idea to start LINX inside a universtity," Souter tells us, "but LINX was fortunate in finding Telehouse as a partner. The operators realised they had a great opportunity, if they kept it neutral." Inside a University, there would be issues of funding, but in Telehouse, it could be part of the business world.
"When you start an internet exchange and want it to take root, you need a relationship with a data center," he tells us. "If there isn't somewhere to host the kit, or any circuits, you won't get anywhere."
When the pioneers put circuits into Telehouse, it created a clustering effect: "People had a massive preference to having something in Telehouse North [the original Docklands location], and one of the big pluses of our relationship is we have been able to make it a campus."
Expansion meant the exchange had to spread itself to maintain the cluster effect, says Souter, so LINX was an "important" part of the opening of Telehouse West, also in Docklands. 
Friends in Europe 
Telehouse wasn't alone, as other sites were being set up in Finland and Helsinki. "We weren't exactly the first," Souter admits, "but we were the first to build in a data center."
From day one, LINX was a membership organization, which was "cathartic", as commercial rivals decided to work together. The first director, Keith Mitchell of Pipex was free with advice and won massive respect from the Internet, which expressed itself in the most sincere frashion: "Lot of people cloned our MOU [memorandum of understanding or founding document]."
From those beginnings, there are now several distinct types of exchange, Souter says, alongside membership-based bodies like LINX. These include other not for profit organizations, academic institutions, datacenters themselves such as Equinix, and a few commercial exchanges not owned by data centers. 
LINX is emphatic that it will always be not-for-profit: "What the customer wants is not to be strong-armed into any exclusive relations," says Souter. This suits Telehouse fine, as LINX provides an "enormous" volume of traffic, and new partners are joining LINX.
Looking to the US
US providers have sometimes looked enviously at organizations like LINX: "The scene there is really rather different," he explains. "The USA is a continent-sized population, and it is not so easy to build Internet exchanges because of the geography." 
To some extent LINX's success had a lot to do with the underlying infrastructure and geography, he admits. 
In the US, all the exchanges are in data centers and all are somewhat smaller than LINX. They typically don't span the buildings of multiple data centers, or link together data centers belonging to different operators, Efforts such as Open-IX are creating standards to support peering after the fact, which is a harder task.
"We give special recognition to data centers that are prepared to be open," says Souter. "They are confident with their service, and are prepared to share because that's how it should be." 
Alongside London, LINX has been involved in regional exchanges in Manchester, Edinburgh and Cardiff, and the Telehouse partnership has allowed LINX to expand to deal with ever-increasing traffic growth: "When we deployed the first Juniper PTX Supercore routers, it was a challenge. Telehouse provided us with a fantastic amount of power and space." 
A neutral space
From its initial 10Mbps links, LINX has gone to 100Gbps, implementing it in the core some time ago and now extending it to the edge: "We have 24 live member ports that are 100G, and this seems to be the year where that takes off." To give an idea how fast things are growing, the first 10Gbps ports went in for the Olympic Games in 2012. 
You can tell how important the infrastructure is, by the way Souter rattles off the specs of his host: "Telehouse is a multistorey site, with stable power, indirect adiabatic cooling, and very efficient operation with a PUE of 1.16." LINX gets favourable terms as its presence is boost to Telehouse, but it does have to pay for power and cooling. 
For the future, Souter expects to be doing software-defined networking (SDN): "It's an active research topic, and I would be massively surprised if we weren't following that route." However, Cisco and Juniper's turnover is based on selling existing network hardware, which has sophisticated control and monitoring. Eventually, though applications will call for a change towards SDN, he says.
The strength of LINX, says Souter, is like the strength of a good colocation data center: "It's a neutral space."