Storage company Iron Mountain officially launched its first Asian data center in Singapore last month. Acquired from banking giant Credit Suisse along with a London data center two years ago for US$100 million, SIN-1 at Serangoon has been retrofitted and is now open for business.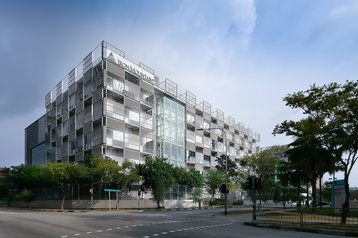 A strong heritage
So how can a facility built 11 years ago compete with the latest hyperscale facilities in the white-hot data center sector in Singapore? For a start, Iron Mountain never intended to compete head-on with these players, according to Michael Goh, the general manager at Iron Mountain Singapore who gave DCD a private tour of the data center. And it helps that SIN-1 was built to meet high standards when it was constructed.
The facility was originally built as a Tier IV data center by Credit Suisse. An area where the high standards is evident would probably be the perimeter fencing. With a concrete base of two meters topped with anti-climb metal mesh, a simple extension of the fencing was all it took to comply with Monetary Authority of Singapore's (MAS) Technology Risk Management (TRM) Guidelines.
Inside, the five-story facility now offers four data center levels, with the topmost taken by Credit Suisse as part of the agreement. Plans to fill up the entire data center never came the fruition, culminating in the bank using the other levels as offices to house as many as 600 employees. While the offices are now gone, the multiple passenger lifts installed to support these workers stand testament to the building's heritage.
There is much about SIN-1 that stands out. It was the first data center in Singapore to be hooked up to two separate power substations at different points of the Singapore power grid, says Goh. That was more than a decade ago, and special permission had to be obtained and investments made to lay the requisite underground power lines - Singapore uses underground cabling for its power grid - to a substation further afield. The data center was also one of three in Singapore to be awarded the BCA Green Mark Platinum accreditation as part of the pilot batch in 2013.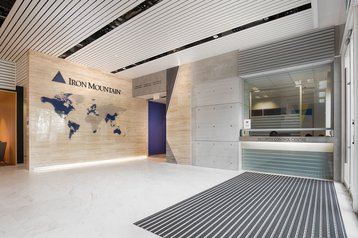 SIN-City
Though the mechanical and electrical (M&E) plant within the data center was originally designed for 2N "across the board," Iron Mountain had since modified it to N+1. To offer ease of maintenance without disturbing customers, power distribution units (PDUs) are located outside the data halls within partitioned off areas. CRACs are similarly located, which means that any water leaks are unlikely to affect data halls.
Inside, the data halls are column-free affairs with support for tall racks of up to 52U. Power is relayed throughout the building via two separate power paths and terminates at static transfer switches. On top of meeting Iron Mountain's standards for its global facilities, local requirements such as compliance with MAS TVRA and Outsourced Service Provider Audit Report (OSPAR) were also obtained.
Interestingly, fuel for the backup generators is found in tanks that are "partially underground," Goh says, deployed in readily accessible tanks located in a basement level. This sidesteps the challenge of high heat pressure and condensation inherent to underground fuel tanks, says Goh, and makes maintenance easier. Up to 100,000 liters of diesel are available, spread across five separate tanks for up to 36 hours of operation at full design load.
One common confusion about SIN-1 is the outdated notion that it has a low floor loading of 5KN (509kg), Goh says. This stems from a time when mezzanine floors were installed on the office levels by Credit Suisse, which substantially reduced the average loading. The mezzanine levels have since been removed and the floor loading restored to data center standards, says Goh.
SIN-1 is currently fitted for up to 2.5MW, with 1MW dedicated to Credit Suisse. While the total building fit-out is pegged at 5.5MW, Goh says he can go much higher if necessary, courtesy of 22kV power feeds from the substations. For backup power, there are currently five units of 2.5MW static power generators housed in rooms on the ground level - power generators in land-scarce Singapore are typically located outdoors.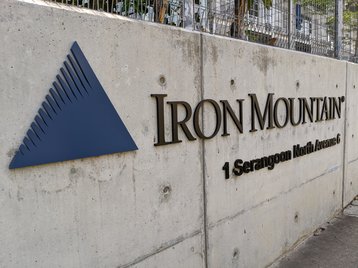 Getting customers
Though testing was only completed at the end of July, the fourth level of SIN-1 is already substantially reserved. Goh says a lot of these customers are existing Iron Mountain customers in other parts of the world, due to contracts with customers from its legacy document storage business that could be extended to its digital business.
"Being a global player, businesses for Iron Mountain tend to come from overseas. They look at us as a single point of contact for overseas customers. A lot of deals originate outside of Singapore. That's how we serve our customers," he said.
Moreover, the retail customers that Iron Mountain serves are unlikely to require high power density, which makes SIN-1 a perfect fit: "In the retail market, nobody goes for 8kW for their full [rack]. [Customers] typically go for 4kW."
To support its customers, SIN-1 has dark fiber connectivity with support for up to 100G to Equinix SG1, a top carrier hotel in Singapore. This is offered through a Metro Wave service and charged at cross-connect rates, though Goh emphasized that Iron Mountain is carrier neutral: "We want customers to come to us not just for location. We want to offer carrier diversity. Without this, the data center is just like a warehouse."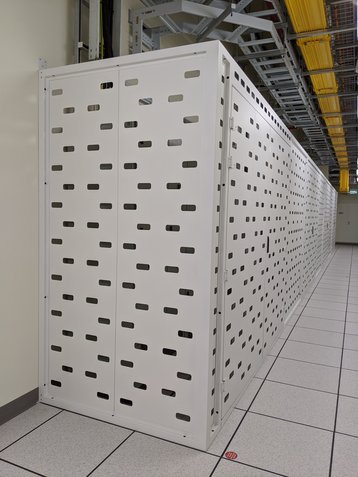 Eye for growth
The Singapore colocation market is highly competitive, says Goh, though he disagrees that there is too much capacity currently. "If you look at the market within the next six months, there isn't a lot of supply. Even if there is supply, they are coming in via phases, with a lot of these booked by hyperscalers and cloud players. If you want capacity in the short term, there aren't a lot of players with capacity in the market," he explained.
For now, Iron Mountain is looking to grow in Singapore and in Asia. "Even in Singapore, we are not limited to this building. We expect demand in Singapore to grow; we are interested to find more space to expand in this country.
Given the case, why didn't Iron Mountain buy IO Singapore as part of its acquisition of the US operations of IO Data Centers in 2017? The explanation proved to be rather mundane: The former IO data center was located just down the road at Ang Mo Kio Ave 5, a five minute stroll by foot. It didn't make sense to acquire a second data center in such proximity, says Goh, who pointed out that Iron Mountain spent more than US$2 billion on various acquisitions of data centers from 2016 to 2018.
"We started off with Singapore in Asia, we are interested in any of the key markets in Asia. We are looking to expand our portfolio within the region," Goh said. "Our ambition to be a top five player in the world for colocation."