In the wake of Covid-19, ongoing global geopolitical instability and macroeconomic volatility continue to cause widespread supply chain issues across the data center industry.
In fact, over 75 percent of organizations reported disruptions of some type over the last 18 months, according to recent research conducted by infrastructure advisor Uptime Institute.
Yet, demand for data center capacity continues to grow. PS Market Research predicts that market revenues will almost triple to $602.8 billion, from 2022 through to 2030.
To resolve these conflicting forces, data center stakeholders are developing new design innovations, capacity planning, strategic sourcing, and project management solutions.
Supply chain disruption differentiators
The sheer scale of density and quantity of materials required differentiates the supply chain challenges that the industry faces, according to Christopher Gorthy, advanced technology preconstruction lead at US-based data center contractor, DPR Construction.
Gorthy told DCD: "The timings involved in building a data center are much shorter compared to a hospital, for example. Critical validation processes require more time. Plus, mechanical and technical supply chain lead times are also two to three times' longer."
He added that other constraints related to power, fiber, water, land, and skilled labor, as well as non-equipment materials shortages, for metal decks and grills for instance, were also contributing to supply chain constraints.
John Arcello, advanced technology core market lead at DPR, said raw material suppliers and equipment manufacturers have been taking steps to respond.
"They are doing all they can to respond to the limitations of ongoing global supply chain issues," Arcello explained. "In addition to increasing capacity, they are short shipping or developing more plug-and-play solutions that can support uniform or modularized designs."
Designing for future-proofed flexibility
Design is a key industry differentiator when it comes to overcoming supply chain-related disruption. Gorthy cited the growth in off-the-shelf development. "More buyers are leaning into prefabrication and getting involved more early in the design process," he said.
Evan Antonides, EVP for US commercial construction contractor HITT Contracting, pointed out that design agility and innovation have had both good and bad effects.
"Innovation in more power-use efficient equipment has allowed for larger-scale data center deployments at greater power densities per square foot," Antonides commented.
"At the same time, many digital infrastructure leaders have scaled back MEP [mechanical, electrical, and plumbing] designs with an emphasis on simplification, cutting out unnecessary bells and whistles that can increase equipment costs and lead times that drive schedules."
Carl Chapman, associate director at global construction consultancy Linesight, also said major contractors were starting to forward buy equipment. "This is taking up capacity, while producers are fighting for space," he explained. "So, stakeholders are looking for long-term relationships that strengthen their pipelines, with neutral cashflows or upfront payments."
Factoring in longer lead times
In acknowledging the impact of longer lead times, like Gorthy and Chapman, Antonides advised: "Organizations deploying capital early to mitigate risk stemming from variable lead times prior to construction start are well positioned to deliver aggressively when competing for digital infrastructure deals if they can remain disciplined in their core design models which, while standardized, still allow for innovation."
To illustrate the point, Gorthy said that some construction projects can now resequence the schedule of works to allow for the late arrival of equipment. He added that 4D scheduling construction sequence simulations generated from a 3D model were helping to increase productivity.
As manufacturers work to reduce lead times, this also has an impact on quality. Here, Antonides explained how, 15 years ago, it was rare to have a major piece of equipment that not only was factory-started, but also tested under simulated load conditions and witnessed-tested by the owner, engineer, and contractor before being shipped to the jobsite.
"Now, we're lucky to see the equipment go through factory start-up before it's shipped, which pushes more factory-level QA/QC work on-site that can create additional challenges at the jobsite," he explained.
"Allowing more up-front time with early release counteracts some of these quality issues. Additionally, many of the large-scale equipment deployments for specific clients are standardized within their program. So, when a manufacturer technician is deployed at the site, the fix is usually common instead of the first of a kind."
Powering growth in data center demand
Beyond design, quality assurance, and scheduling, operators must consider other commodity requirements before even breaking ground. HITT's Antonides said utility power constraints have become a significant bottleneck for planned deployments over the last year.
Due to overwhelming demand for capacity in some markets, this bottleneck has affected specific regions rather than contracting the US data center market overall.
"In Northern Virginia for example, much of the planned work over the next few years has pivoted from Loudoun County to adjacent jurisdictions due to utility capacity constraints forecasted by Dominion Virginia Power," he said.
"While in some cases this may benefit the labor force, as it brings opportunity to new regional trade partners, every jurisdiction operates differently, and permits or inspection-wise, this can have a significant impact on project schedules and delivery timelines."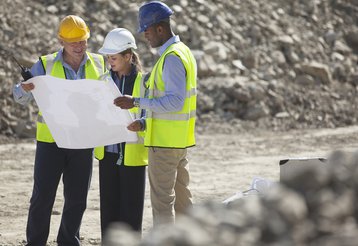 Chapman, from Linesight, agreed that power availability was another unique industry supply chain differentiator. "It may be that a data center market grows up around an initial investment in a secure connection," he observed. "But this can subsequently lead to competition with housing, for example."
Antonides added that some companies have begun to look at other energy options, such as natural gas or even nuclear power, for the fact that it is greenhouse emission-free and renewable. "If there is already a nuclear reactor in a community, chances are it will also welcome a data center that can provide beneficial tax revenues," he said.
Necessity inspiring design innovation
A number of the experts who spoke to DCD also said data center structures and footprints are being reimagined. According to Antonides, the continued trend of adding density to floor space will only increase as companies become more comfortable with the emergence of immersive cooling, which puts services in a non-conductive liquid and cuts down on wasted square footage required for heat dispersal.
This reimagination even extended to take capital constraints into account. "With land costs continuing to rise in preferred data center development regions, three- or more-story vertical solutions are being presented more frequently to allow for larger-scale deployments on limited site footprints," he added.
Nancy Novak, chief innovation officer for Compass Datacenters, innovative developments created a 'catch-22' situation for manufacturers and buyers, alike. "It's the improvement of technology that creates a version control issue where we're racing down this path to develop equipment or materials that are more sustainable, functional or higher performing," she said.
"It's a very dynamic process right now trying to figure out how to be fungible enough and future-proof with what we're doing so that we're not constantly having to pivot. It's because technology is very exponential, and we're seeing it more and more."
In response, Novak said some clients were repurposing equipment, which is more sustainable and can ease pressure on lead times: "Lastly, having strategic relationships with vendors, who understand what our backlog and pipeline looks like, is key so they can plan ahead and set aside the likes of floor space for our needs as far in advance as possible."
Overcoming specialist skills shortages
There was consensus, irrespective of the latest measures designed to mitigate upstream supply chain issues, that the lack of skilled resource is also a major factor affecting data center supply stakeholders' ability to effectively meet demand.
Antonides said: "Staffing shortages remain a challenge. However, more people have entered the construction industry recently due to slowdowns in other markets. Contractors and other industry-related organizations must take responsibility to ensure hiring doesn't outpace proper training and onboarding. When bringing on new talent, you need to have the right ratio of experienced leaders willing to take time to invest in new team member development."
Novak put a spotlight on the importance of embracing diversity as a way of filling skills gaps. She suggested that the ways in which contractors look at modern methods of construction, using a more componentized approach and more offsite assembly could help increase diversity, while addressing skill shortages.
"This offers predictable work schedules, commutes and interiors," she explained. "It's spaces that you can work in, and that are safe, clean and protected. Most of the men in the industry would also like to be home in time to watch their kids play ball or go to their concerts and things like this. So, diversity is critical."
Novak concluded: "You need that diversity to become more innovative; and, if you're more innovative, you're going to solve problems better. If you solve problems better, you're going to be more profitable.
"It's literally a cyclical way of looking at how to solve supply chain issues and drag our industry into the future. So diversity, to me, is number one."