Concrete construction is one of the worst polluting industries worldwide, pumping out some eight percent of the world's CO2 emissions. Data center operators make a small portion of that, but they are building very fast indeed, pouring concrete like there is no tomorrow.
Operators are very keen to show their green credentials by reducing the energy consumption of their buildings when they are in actual use - they are not moving nearly so fast in cutting the emissions they create when they are being built.
For instance, Microsoft and Amazon have invested in a company called CarbonCure, which pumps CO2 into the concrete as it sets, Compass Datacenters has used CarbonCure concrete in some of its buildings. However, this process only compensates for about five percent of the emissions from a given batch of concrete and it is only possible to use it in a small fraction of the concrete being used.
Far more radical alternatives are possible, particularly with plant-based materials, which could actually turn the tables and make buildings carbon negative, storing carbon instead of emitting it.
Wood
Timber is a much more practical building material than many would credit. But it is one that suffers from all the difficulties any new material will have with a community as conservative and risk-averse as data center builders.
Data center builder Zac Potts of Sudlows has constructed a wooden building-within-building containing a data center, at the Ashton Old Baths in Manchester, but he was uncertain about the idea of building a facility entirely from wood.
"There would definitely be considerations about fire risks," said Potts, when DCD asked him about the possibility.
In 2021, OVHcloud's SBG2 in Strasbourg burnt down, and no cause has been revealed - but among the rumors circulating about it, one allegation is that the building had wooden floors.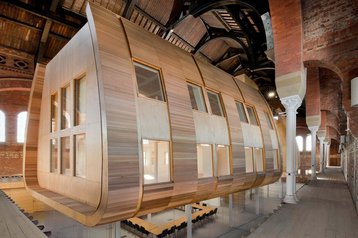 Architects who favor wood would argue differently, and point the finger elsewhere. Architect Rune Abrahamsen has built the world's tallest timber building, an 18-story office-and-hotel block in Norway called Mjøstårnet and he told EuroNews wood's well-known behavior in a fire can actually be better than concrete.
"Timber burns, but the good thing is that we know how it burns," he said, pointing out that a big log on a campfire will still be there in the morning when smaller branches have gone. "Similarly, a timber building will remain standing after a fire has gone out by itself. The charring of wood creates an insulating layer that protects the inner part of the timber."
"The charring speed is predictable," he said, explaining that the building is made cross-laminated timber, also known as glulam. Tests have shown a structural column can burn out leaving large sections undamaged.
Concrete is very different "When there is a fire, concrete will get warm and crack, which means there will be openings at the surface, exposing the reinforcement. The reinforcement is normally made of steel and when the steel gets warm it melts and loses its bearing capacity. Consequently, the concrete will collapse because it's no good without the reinforcement."
As a modern hotel with an exhibition center and office space, Mjøstårnet has a wooden swimming pool, and will certainly also have some installed IT equipment, probably in a dedicated server room or closet. Still, that is not a wooden data center.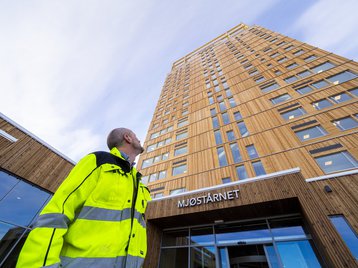 The closest to a wooden data center can be found in two projects in Sweden. The first is EcoDataCenter's facility in Falun, which uses cross-laminated glulam wood for the frame, walls, and roof of the data center. "You will ask me, why, wood burns?," Jan Fahlén, EcoDataCenter site development manager, told DCD. "Yeah, it does, but laminated wood doesn't burn that way - try to put fire on this, you won't be able to."
The second is the Boden Type facility built by researchers in Sweden, which uses wood for efficiency, and also to meet with environmental requirements set down by the local authority.
"We laid the foundations in concrete, and we added some steel reinforcements, but the outer shell construction was wood, all the way," says Professor Jon Summers, of RISE, the Research Institutes of Sweden. "There were some metal elements holding the main supports together."
Summers says that buildings don't have to be entirely made from non-traditional materials: "It's about reducing, isn't it? If you are reducing the amount of concrete, then your carbon intensity should be lower."
Hemp
Another front runner in organic building material is hemp.
Hurds or shives, a by-product of making hemp fiber can be mixed with a lime-based binder, to create a composite material called "hempcrete." This has very good carbon storage properties, as the organic hemp material consists of carbon fixed from the atmosphere, and the lime binder absorbs CO2 during the setting process (unlike concrete which emits it).
Microsoft is reportedly considering using hempcrete to build carbon-negative facilities, having sponsored a paper on alternative construction methods in 2021, from the Carbon Leadership Forum at the University of Washington College of Built Environments
The report considered hemp, alongside five other novel materials.
Hemp is not suitable for load-bearing structures, but very good for insulation, with "high fire resistance, excellent moisture-handling capabilities, good carbon storage capacity, and non-toxicity," according to the report.
"For Microsoft's data centers, they are trying to make fireproof buildings, so a hempcrete panel for a building like that makes a lot of sense," One of the authors, Chris Magwood, told HempBuild magazine (interviewed by city planner Adam Tate).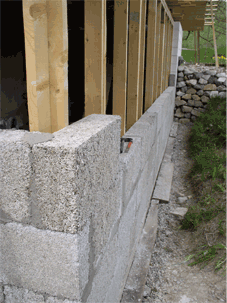 Magwood has worked with hemp for 20 years, writing a major textbook on its use, and is the author of Essential Hempcrete Construction: The Complete Step by Step Guide.
He's not expecting Microsoft to switch across to hemp overnight, but its name on the report will legitimize the subject, giving it credibility.
"If I'm somebody making a hempcrete material and trying to convince somebody to fund me; if I tell them I have three homeowners who want to do this, that doesn't speak very loudly," he says. "If I can say Microsoft is interested and they're actually in with some money, that really makes a difference. So I'm hopeful that things like Microsoft's interest will really help move things along faster than they might have."
Hemp cultivation was only legalized in the US in 2018, and new hemp farmers will be looking for a way to make use of their hurds, and hempcrete products can be made as like-for-like replacements to existing products, so they can be used in both new builds and retrofits, turning buildings from carbon sources to carbon sinks.
"The great thing about a material like that is that it's a one for one substitution for things that are already in the market," says Magwood. "If your crew sticks a fiberglass batt in a wall every day, they can just stick a hemp fiber batt in."
Mycelium, earth, and more
Another material proposed in the Microsoft-sponsored is mycelium, the root structures of mushrooms. The benefit of mycelium is that, as well as storing carbon, it can also be turned into wall panels or even structural mycelium tubes.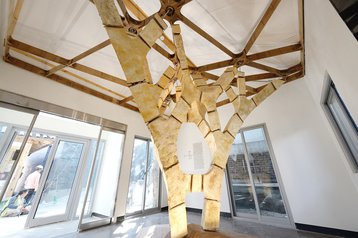 Mycelium can be grown in agricultural residue or waste such as straw, hemp, wood chips, or nutshells. Many of the materials it replaces are made from petrochemicals - and tubes produced from it can even replace some structural steel.
Other materials in the report include bricks made by growing algae in a mixture of sand, seawater, and cyanobacteria: "These 'living bricks' are a concrete-like alternative that can be grown on demand."
It's also possible to get bricks as a byproduct of making biofuel. The residues can be turned into stable "biochar," which stores CO2 for very long periods.
Alternatively, raw algae or nutshells can be mixed into more conventional concrete, storing carbon and making it carbon neutral. Even replacing some of the cement in concrete with unreactive fly ash can reduce the carbon it emits substantially.
Some alternative materials are far more simple and traditional: hay bales and thatch can be used, and bamboo's structural properties are well known.
Another possibility is literally much more down-to-earth. Data centers have a concrete slab floor, but the Microsoft-sponsored CLF report proposes a solution already available, under our feet: hard-packed earth slabs.
"Despite centuries of historical precedent, surprisingly little research has been devoted to the idea in a modern context," the report says."Among those unaware of modern enhancements, the notion of an earthen floor tends to evoke associations of poverty and dirt, so the option is typically dismissed. For this reason, the making of earthen floors has remained a niche market, one not yet applied to modern buildings or seen as meriting any significant study."
Additives can give the earth floor greater durability and grip, protecting it from spillages or other eventualities.
Building a market
The tough part to any of this is turning the idea from a possibility into an actuality with a groundswell behind it. With the earth's climate teetering on the brink, it's just as vital to give up on polluting buildings as it is to stop using fossil fuels.
But it won't happen unless new material get credibility through prototypes like Mjøstårnet and the report's authors think Microsoft can help here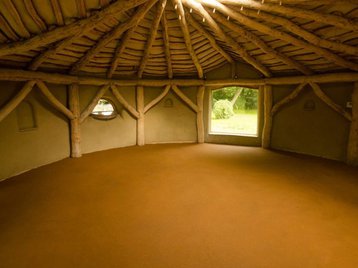 "These materials warrant realistic enthusiasm and are worthy of investment to aid and accelerate their prototyping, scaling, manufacturing, and marketable use in the building industry supply chain," the report concludes. "In addition, opportunities exist for investment in educational and training opportunities in embedded apprenticeships in research, design, and construction labs, at manufacturing sites, and with professional design firms."
It suggests that in 2022 showcase carbon positive buildings should be put together and promoted. It might even be possible to make quick and easy versions of Edge data centers, which could be 3D printed from new materials.
There also needs to be a significant investment in getting the new materials through compliance and safety tests. That's an expensive process, Magwood points out: "We could get all these materials through R&D, and approved in two years for millions of dollars, but in general, the people doing it don't have millions of dollars."
Give us a showcase
That's one role for a Microsoft or another tech giant. Once approval is gained, new materials can stand on their own two feet, says the report: "Past experience bringing cross-laminated timber and mass timber materials to market has shown that low-carbon and carbon-storing materials are feasible and attain parity with more conventional alternatives in terms of cost, code compliance, and construction schedules."
It adds, however, that "these materials, lacking leverage on any of these fronts and needing significant investment to scale up production, have not achieved mainstream status."
To get over this next hurdle, the concept needs a showcase, and an actual net-positive data center would be a very good one, well within the capability of a hyperscale data center builder.
Microsoft stops short of promising that in its introduction: "Investing in a proof-of-concept plan to bring new carbon-storing technologies to market aligns with Microsoft's environmental values and pledge to become carbon negative in present-day operations by 2030 and to remove from the environment all carbon emitted by the company historically by 2050."
Microsoft's actual promises are to champion low-carbon public policy, and support efforts to educate students into using new materials with an "Idea" program (Integrated Design, Engineering, and Architecture) to promote carbon-storing material, delivered through colleges and Microsoft's Climate Innovation Fund.
Magwood is hopeful: "I think there's a really great role for them to play and it was exciting to be a part of Microsoft kind of sticking their toe in the water. That's a real switch, for the last 25 years, alternative materials have been this really grassroots thing, so it's really interesting to see Microsoft make these really bold climate commitments they now have to figure out."
But actual data center designers warn it will be an uphill struggle, when delivering an IT service is the first priority: "It's what we're always up against - it's there for the IT," says Potts. "Keeping the space clean and safe is the number one priority, and it's hard to justify new materials."
More in The Data Center Construction Channel