While the south side of the Potomac river is home to the world's highest concentration of data centers, Maryland and Frederick County to the north are largely virgin space.
But as land becomes increasingly scarce and expensive, a new company is looking to turn Maryland into the next great data center market outside Washington DC with a new data center park offering to hyperscalers and wholesalers.
Quantum Loophole: Wholesaler to wholesalers
Led by former Terremark and CyrusOne executive Josh Snowhorn, Quantum Loophole has partnered with TPG Real Estate Partners (TREP) and is developing a 2,100-acre, gigawatt-scale data center park in Maryland's Frederick County.
Located some 25 miles north of Ashburn in Adamstown, the campus is centered around the former Alcoa Eastalco Works aluminum smelting plant. The land includes the plot on which the now-demolished metals plant stood, as well as a number of surrounding greenfield plots currently used to grow animal feed, as well as a manor house from the 1800s.
"We provide land, energy, water, and fiber services at an unprecedented scale," says Quantum Loophole CEO Josh Snowhorn, who has pitched the project as "the wholesaler to wholesalers."
Work has begun on the site; with groundworks on supporting infrastructure such as power distribution and underground power ducts, water and sewer pump stations and piping, and underground fiber distribution ducts, beginning in July 2022. Given its previous use, most of the land is already zoned for industrial uses.
Under general contractor STO Mission Critical, the site is due to go live with power, fiber, and water infrastructure in late 2023 or early 2024. Groundworks for the first data center have already begun, so the first facilities will likely be ready around the same time.
According to Quantum Loophole director of operations Chris Quesada, the company will be offering different ownership models depending on customer needs; the land will be available to buy, with Quantum owning the supporting fiber, water, and power infrastructure; or available on a long-term lease on which customers can build their own facility; and customers can ask Quantum to build the facility in more of a powered shell-type arrangement.
The latter is reportedly the company's least favored option due to the upfront capital requirements, but one it will happily do if required. Quantum has previously said it expects to deploy individual data center modules of 30-120MW capacity in less than nine months.
A key part of the project is the company's QLoop network; a 43-mile fiber conduit system able to hold more than 200,000 strands of fiber running from the campus to Leesburg in Virginia's Loudoun County and back, running under the Potomac in two places as well as the Monocacy river on the journey. The infrastructure build-out will include two on-site network centers.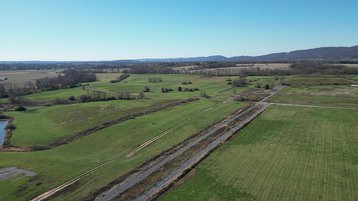 There's something about Maryland
Quantum raised $13 million in seed funding in 2021 before TREP, the real estate equity investment platform of asset firm TPG, invested. The size of TREP's investment in Quantum hasn't been disclosed, but it has around a 20 percent stake in the company.
While its investment portfolio includes stakes in the likes of Airbnb and Dropbox, TPG isn't known for its dedicated data center investments; its previous telco/ communications investments include AllTell, later acquired by AT&T, and Astound Broadband.
However, TPG previously invested in the department store chain Neiman Marcus, which was founded by members of Snowhorn's family.
"We had bidders hunting us down and competing to invest in us," says Snowhorn. "TREP are wonderful partners with a deep understanding of the data center sector. "They looked at the assets that were for sale; Switch and CyrusOne and lots of other folks out there, but I think that they looked at it as a world that was starting to commoditize itself a little bit. But they looked at us as a business, as a wholesaler to the wholesalers, that is unique and less at risk of being commoditized. We're going to be the single greatest return they've ever seen."
When asked which came first, the site as an opportunity or the concept of a gigawatt wholesaler, QL tells DCD the company and concept pre-empted the interest in the property.
"I always felt that there was something missing that hadn't really pushed the limits of scale and building an Internet city-scale ecosystem that would support mass-scale interconnection and commonality, something like a master-planned community," says Snowhorn.
The site was acquired for around $100 million; at around $48,000 an acre, that's significantly less than the $3 million per acre paid in parts of Virginia for prime data center land.
In May 2022, Aligned Data Centers became the first company to publicly announce plans to develop a data center at the campus. Andrew Schaap, CEO of Aligned Data Centers, said at the time that the "attractive tax exemptions, power availability, and proximity to Northern Virginia" were key drivers in its decision to choose Frederick County.
On its website, Aligned says its Maryland plot spans 75 acres. There, it says the company is planning a total of 1.3 million sq ft (120,800 sqm) and 192MW of capacity across four multi-story buildings, each spanning 325,000 sq ft (30,200 sqm) and 48MW per facility. However, Aligned reached out to us to say it's planning a total of 3.3 million sq ft (306,600 sqm) and 264MW.
Aligned has already begun work on the site. The company's plot is located in the center of the Quantum Loophole campus, with a small number of Aligned-affiliated staff on-site as DCD was given the tour.
Snowhorn previously said the company has signed contracts with four different entities totaling more than 240MW for the Frederick site, representing the first phase of power available to the site.
It is unclear which other companies have leased space at the site, or the scale of each project, but Snowhorn makes reference to 'multiple hyperscalers' and government customers.
While some of the 'smaller' plots measure more than 70 acres, operations director Quesada told us that most interested parties are looking at developing multi-building mini-campuses within the wider Quantum Loophole park averaging around 200 acres or more.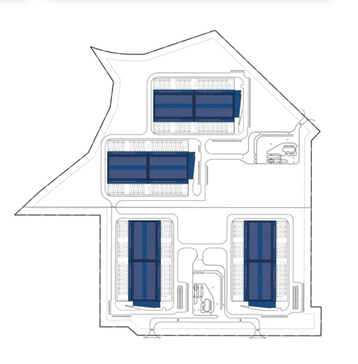 "One of the hyperscalers is engaged with us for 300 acres and around 800MW of power across eight buildings; that will be two parcels of four buildings at two stories tall and 100MW each, and they'll interconnect those and use those as two distinct availability zones," explains Snowhorn. "Another client is taking 50 to 65 acres and they're going to put up anywhere from three to four two-story buildings in a denser environment."
While part of the same PJM marketplace as Virginia's Dominion Power, First Energy is the transmission provider to the site. 230-kilovolt transmission lines already run through the site and a new 230-kilovolt on-site substation is scheduled to be built by First Energy subsidiary Potomac Edison.
"My biggest worry is that 2.4GW is not enough power; what happens when we go to liquid cooling, and other things that densify that same environment? All of a sudden you could have a four to 10× level of power load demand requested on the campus, so it's going to be very interesting to see how well we can accommodate the future densities."
The campus will also reportedly include a "battery farm" to offer large-scale energy storage.
"We're thinking about a 100-hour level battery farm, so very long duration to accommodate any variability of outage," says Snowhorn, "but also give us the ability to potentially store energy and to play some arbitrage in the marketplace like peak shaving.
Out of Virginia, into Maryland
With land prices soaring, power capacity limited in some areas, and growing opposition from residents, building data centers in Northern Virginia isn't as simple as it once was.
Some developers are heading further south. Amazon is looking to expand into Culpeper and Fauquier Counties, though has faced pushback from residents opposed to such developments.
Many are looking to Prince William County, which already has a sizeable market, but faces continued opposition from local groups despite government support.
Maryland, however, is largely devoid of data centers, with Frederick surprisingly lacking facilities despite its immediate proximity to Loudoun.
During the tour, Quesada tells us he thinks there is at most a handful of other small data centers in the whole county belonging to local government and/or telcos serving the area. Colocation and wholesale facilities in the area seem non-existent.
The company reportedly "looked hard" to find a suitable plot in Virginia but found itself competing with a lot of the companies it was hoping to court as customers. QL also found many of the Virginian counties outside of Loudoun and Prince William were either too far away from the center point of Ashburn, lacking the required infrastructure, or not particularly welcoming to data centers.
Local government in Maryland is on side. After watching Virginia, and particularly Loudoun and Fairfax Counties, prosper from increased tax earnings from data centers, the state of Maryland and Frederick County are looking to attract investment.
2020 saw Maryland introduce new tax breaks that will see data centers exempt from certain sales and property taxes if they meet the required investment and jobs thresholds.
"When we were looking, we always discounted Maryland because there was no tax legislation offering tax benefits like you would see in Virginia counties, particularly Prince William and Loudoun," says Snowhorn. "That all changed in the summer of 2020, legislation was passed that provided tax incentives in Maryland, and that was everything."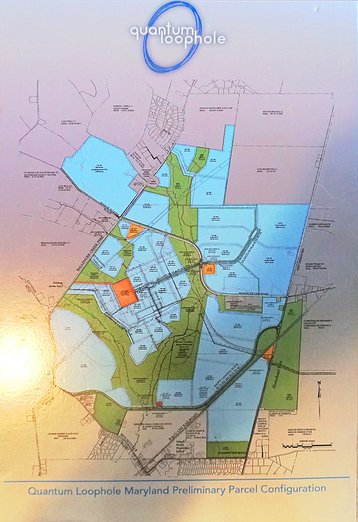 Frederick has also made changes in local regulations to allow for quicker and more streamlined development processes after losing what could have been a second major project.
AWS had hoped to develop a number of data centers in the county, but pulled out after local officials said it couldn't meet the cloud company's aggressive timelines. This was partly due to the fact zoning changes were required, and such amendments couldn't be made on the eve of county elections. Known as Project Holiday, local reports suggest the company was looking to develop on the west side of I-270 near Sugarloaf mountain.
In response to losing AWS, the county has since passed an amendment to zoning laws that lists critical data infrastructure, such as data centers, as a permitted use under Frederick County zoning laws and would allow them in industrial-zoned plots.
"The government itself locally in Frederick County, they love it," says Snowhorn. "Because of those tax benefits and low impact on the things that they have to worry about funding. They're very excited to bring that in as well as the additional benefit of the massive fiber backbone we're bringing."
Many data center workers live in Maryland and commute into Virginia. Quesada noted that the project has attracted attention from potential employees looking to cut their commute times.
Local residents, however, can be the hardest to win over. We've seen elsewhere in Virginia that failure to do so can result in protracted battles and sometimes canceled projects.
A recent local press report said Quantum executives answered questions from Adamstown residents for more than two hours during a town hall meeting.
"There were farmers happy to see Alcoa go away," says Snowhorn. "And we had to alleviate concerns within the community about the scale of what we're doing. "It's millions of square feet, and we had to make them understand the tax benefits, that the demand on housing, schools, and other community infrastructures can be quite nominal.
"While initially there'll be a lot of traffic with construction, once these data centers are up and running, they'll hardly see a car on the road. Getting them comfortable with that was important."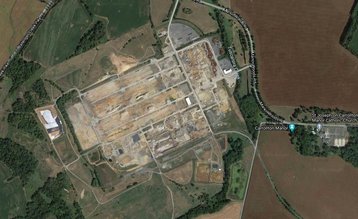 Despite the potential to change the geography of data centers in the area, Snowhorn is confident his company will be the main 'land & services' provider in town.
"I very much doubt you'll see a dramatic amount going to Montgomery County. In Frederick, whatever ecosystems develop out will simply be a supporter with us at the heart of that."
It seems issues in Loudoun could help push more operators north into Maryland. Quesada notes that the project was already attracting interest from potential customers with operations or interest in Virginia, but Dominion's surprise announcement about a capacity crunch in Loudoun County has accelerated that interest. DCD's tour of the site was the first of many that day from interested parties.
"There's very much a stretching of the marketplace; there's almost no land left in the center of Loudoun County at all, it looks like Silicon Valley in that respect," says Snowhorn. "The power crunch has certainly been eye-opening for a lot of folks. The growth out to Manassas or up to Maryland, it was happening anyway; that simply accelerated with that crunch happening because people were forced to very rapidly make decisions to come up to us and to go to Manassas."
The first gigawatt campus, but not the last
While Maryland is currently the company's only project, Snowhorn has previously said that Quantum Loophole is laying the groundwork for similar "data center cities" to serve north, south, and western US.
Despite asking for further details, the company isn't ready to share any more information about its wider ambitions.
"In some markets, we're trying to assemble up to 10,000 acres," Snowhorn tells DCD. "The growth areas that we're focused on going outside of the Virginia area; we will be focused on Chicago and California and potentially Dallas markets."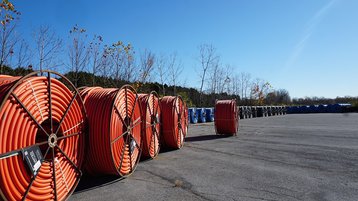 The company is reportedly in the process of working through details such as energy studies and fiber right of ways, legislation, tax rules, etc.
"We're building the biggest campuses in the world, so a lot of work has to go in place to make that happen. But you'll see some announcements hopefully next year."
Digital Realty's Digital Dulles campus in Loudoun is expected to grow to a gigawatt, but such projects seem set to remain a rarity for the immediate future.
However, in the time since Quantum Loophole announced its plans there have been a number of very large projects measuring more than 400MW. South of Loudoun, QTS, and Compass are both part of the PW Gateway project that could see more than 25 million sq ft (2.3 million sq m) of data centers developed in Prince William County; the 2,000+ acre development could reportedly support up to 1GW of capacity. Switch Inc.'s Reno and Las Vegas Prime campuses each offer more than 400MW of capacity. In the UK, developer Reef is looking to create a 175-hectare, 600MW data center campus in the east London borough of Havering. Campuses offering a hundred megawatts or more of capacity have gone from extremely rare to not uncommon in the space of a couple of years.
"Anybody can put a dot on the map and say I'm going to build a campus. That's happened many, many times," says Snowhorn. "What's important is that we prove that we are able to put our money where our mouth is and go and actually accomplish what we're doing in Maryland. So that's really our first step as a business. And that's happened now; the industry is incredibly confident in what we're doing now."