While data center owners and operators are increasingly signing contracts to procure renewable energy or connect to district heating schemes, true carbon neutrality can only come once companies address the sustainability of IT hardware assets.
According to the Global e-Waste Monitor report, the world generated 53.6 million metric tons (Mt) in 2019, and only 17.4 percent of this was officially documented as properly collected and recycled.
Much of this equipment was likely consumer-grade devices, where environmental groups are demanding that devices be made repairable to prolong their lives. But the role of enterprise IT hardware in data centers should be addressed with equal urgency. According to SuperMicro's 2021 Data Centers & The Environment study, 28 percent of companies globally reuse/repurpose IT hardware internally, but there are still 26 percent who don't fully recycle their IT assets.
Research by Service Express suggests hardware failure rates remain less than 0.5 percent, even over a 10-15 year lifespan, suggesting companies that refreshed hardware after more than the customary three to five years could get a much longer usable lifespan if they were willing to compromise slightly on having the latest and greatest machines.
It is true that hardware refresh cycles are getting longer – an average of five-year cycle in 2020, up from three in 2015, partly driven by the fact that chip performance and efficiency are not increasing as fast as they used to. But that's still a potential eWaste problem whenever a company refreshes its hardware.
However, driven by the ownership models of public cloud and as-a-service hardware sustainability choices are increasingly being taken out of customers' hands and onto the agendas of hyperscalers and OEMs.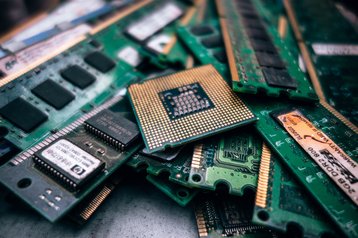 Hyperscalers think circular
The move to the cloud means that hyperscale players such as Microsoft are forced to consider the whole lifecycle of their servers. These players are now hardware owners on a massive global scale, and this compels them to derive as much value as possible from their investments.
Microsoft, Google, Amazon, Iron Mountain, Vodafone, and Dell are all members of the Circular Electronics Partnership (CEP), which aims to reduce eWaste and increase circular practices amongst electronics companies.
While historically hyperscalers have turned to third-parties, increasingly they are turning to in-house solutions to further drive circular practices.
In 2020, Microsoft announced Circular Centers, dedicated to reusing and repurposing servers and other hardware in its data centers. Its servers have an average lifespan of around five years, and Microsoft expects the centers to increase the reuse of servers and components by up to 90 percent by 2025.
Microsoft – which aims to be carbon negative by 2030 – opened its third European Circular Center in Sweden in November 2021 alongside its new Azure cloud region in the county; the company said the facility will have the ability to support 12,000 servers per month. Its first center was launched in Amsterdam, and although it hasn't shared all center locations the company said recently it plans to open centers in Boydton, Virginia; Chicago, Illinois; Dublin, Ireland; and Singapore. It noted in a blog that its projected savings could reach approximately $100 million dollars each year.
Google is also a major proponent of hardware re-use and refurbish programs. In 2020, 23 percent of the data center hardware components it used in server upgrades were refurbished inventory and 8.2 million components were resold into the secondary market. The refurbishment percentage has stayed around that figure for the last few years, but the number of components resold has increased from 2.1 million in 2016.
Oracle – which sells on-premise appliances to customers and makes its own for cloud services – has its Clean Cloud initiative. The company takes back Oracle products free of charge.
"It is our responsibility to reduce the impact of our hardware at the end of its useful life. When we take back our hardware for Oracle Cloud and on-prem, we sanitize it for data protection, and then reuse and recycle it as appropriate," says Rich Kroes, vice president, global sustainability, Oracle. "Our goal is to reuse and recycle Oracle hardware at the end of life; 99.6 percent of our electronic waste was reused or recycled in FY21."
AWS doesn't detail the circular efforts of its internal servers and other data center hardware; in its most recent sustainability report, it merely notes it has joined the Climate Neutral Data Centre Pact, which includes the promise to reuse and repair servers.
How As-a-Service hardware makes your thinking circular
While hyperscalers who own cloud hardware are keen to eke as much value out of those assets as possible, a similar trend is happening in on-premise systems, because many OEMs are transitioning to hardware-as-a-service models.
The likes of Dell, Lenovo, and HPE all have their own hardware-as-a-service (hardware-aaS) offerings, where owners lease hardware from the manufacturers and return it at the end of contract. While leasing isn't new, many companies are driving the 'aaS' model for hardware as a way to drive more recurring revenue and align with more 'cloud-like' and opex-based thinking.
As a result, OEMs becoming hardware owners as well as manufacturers means re-use and refurbishment become more important as they seek greater returns on their asset investments. All three of the above-mentioned companies operate some form of asset recovery and recycling services.
"In our operations, we practice a 'Design-Use-Return' model to cover everything from products and packaging, manufacturing and operations to product take-back and value recovery," explains Ian Jeffs, General Manager at Lenovo Infrastructure Group. "Services such as Lenovo ARS ensures responsible asset recovery and data disposal; technology is reused where possible. Any equipment that cannot be repaired or resold in secondary markets is considered for reuse of parts and components. When new products are manufactured, the raw materials from previous equipment are used, bringing the economy to a full circle."
HPE has Technology Renewal Centers (TRC) in Erskine, Scotland, and Andover, Massachusetts, which opened around 1999. The 150,000 square foot Erskine facility was previously a PC production site for Compaq during the 1990s until HP acquired the company in 2002; the renewal center there opened in 2011.
Controlled by the company's Financial Services division, the centers are tasked with maximizing the value of HPE IT assets – whether owned by the company or customer – through re-use, refurbishment, resale, or recycling.
It claims its TRCs are the largest IT manufacturer refurbishing facilities in the world – Andover measures some 250,000 sq ft (23,200 sq m) – and deals with some three million units per year; the company re-use or resale levels for enterprise equipment is up around the 90 percent mark. Almost all the rest is recycled.
In a story from 2018, HPE's Erskine facility helped NASA maintain mission-critical applications running on legacy systems, by supplying a 16-year old but good-as-new HP AlphaServer GS1280.
While the TRCs were originally set up by HPE for customers as an alternative to external ITAD (IT asset disposal) companies that can offer extra guarantees and warranties on equipment, the company's move to hardware-aaS means that HPE is now a major customer of its own TRCs.
"When you look at our pivot to an as a service company, there's a dynamic there that we now as the OEM own all of these assets," says Jim O'Grady, VP, global asset management, HPE. "We're looking at how do we get more return on those assets; how do we re-fleet assets; take assets from one service contract that may have expired or migrated to new technology, or customers that are over-provisioned and get it earning a return under a different as a service contract?"
"Our distributed assets, they could be at a colo, could be an on-prem customer site; we're looking at the whole thing as one asset base and trying to extract as much value out of that as possible. If you can create a company-wide program to deal with that risk it certainly helps our ability to be more effective with as-a-service."
"We look at returns as great; they are a source for us to do more business. If you're afraid of dealing with assets, you shouldn't be in this business."
Other appliance makers could follow suit.
Grant Caley, UK & Ireland chief technologist at NetApp, notes his company – which also offers its appliances as an option under a hardware-aaS model – offers customers the option of recycling their end-of-use NetApp equipment.
He says much of the equipment that is no longer sold or supported is recycled, but that its Keystone hardware-aaS option 'does support the circular economy thinking, to a degree': "If we remove the service we will re-use the hardware with other customers, with appropriate security wiping beforehand."
HPE's O'Grady agrees that in the future, as-a-service-based hardware providers could entirely focus on the workloads and compute performance requirements to the point where customers have very little say on what hardware they receive, enabling the providers to re-use more hardware.
"Clients eventually will probably not be able to dictate what assets are used under an as a service model," he says.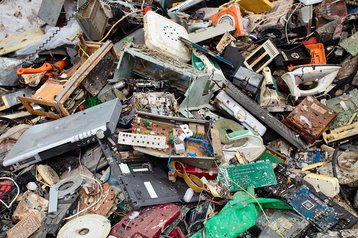 Can colos get circular with clients' kit?
While the move to the cloud means many enterprises have less in the way of IT assets to worry about – and therefore recycle, refurb, or re-use – it's important that all companies play their part. Which can be harder to drive in smaller companies that don't have the added scrutiny often put upon Amazon et al by the likes of Greenpeace or ESG-focused investors.
According to Uptime's 2021 Global data center survey, just 25 percent of companies measure eWaste or equipment life cycle metrics, which it said: "underscores the data center sector's overall immaturity in adopting comprehensive sustainability practices."
While IT asset disposal (ITAD) services do exist, enterprises utilizing those services are often more concerned with regulatory requirements than environmental morals, as poor disposal can be costly. Morgan Stanley was fined more than $60 million – on top of a $60 million class action settlement – for poor disposal practices during a 2016 decommissioning project, which left customer data on recycled hardware.
Colocation providers, while housing much of the world's IT hardware, can find it harder to drive circular economy thinking. They can ensure their facilities use energy from renewable sources, but they don't own the IT assets within those facilities, and refresh cycles are in the hands of customers.
"Most data center providers don't own the IT equipment they host, so we can only encourage this behavior. Ultimately, it is down to the customer to implement these kinds of initiatives," says David Watkins, solutions director for Virtus Data Centres. He notes the company has partnered with Technimove, amongst others, to provide recycling services. He also notes that hyperscalers view hardware differently to smaller organizations.
"The larger companies often have bespoke IT equipment, rather than buying products 'off the shelf,' he says. To this end, these large firms view IT equipment in a more granular way; a sum of component parts rather than a 'server.' This makes it is easier to identify opportunities to recycle/reuse."
Holland Barry, SVP and Field CTO at Cyxtera, notes that his company has a number of customers procuring and deploying this type of hardware, with much of the demand being driven by supply chain issues and increased focus on ESG initiatives.
"We've seen many customers initially select newer hardware for their projects only to reconsider based on timelines for the actual delivery of said hardware," he says.
Internally, colo providers that are becoming service providers are also increasingly thinking about circular practices as they too become hardware owners.
"Our Metal services up to Generation 2 are maintained so they are available for clients to use. We reprice older generation equipment to encourage clients to move relevant workloads onto these devices," Michael Winterson, managing director at Equinix Services, tells DCD. "With our Generation 3 servers, we use the latest Open19 design standards where much of the basic hardware is common and reusable, for instance chassis and fans. This allows us to plan for many years of service while being able to change out motherboards and expansion devices.
Barry says Cyxtera can deliver its own bare-metal solutions "leveraging refurb/refreshed hardware with the level of service and quality customers expect."
"We're deploying hardware from partners active in the circular economy to deliver our own proprietary solutions like our Enterprise Bare Metal offering. Cyxtera also has technology partners that have circular economy infrastructure as part of their platform, and we can include them in the solution, particularly customers looking for refurbished infrastructure based on ESG initiatives or as a response to supply chain challenges."
ITRenew – recently acquired by Iron Mountain – offers re-used and refurbished hardware based on OCP standards. One company using ITRenew hardware is Dutch startup Blockheating, which installs bare metal servers at greenhouses in order to warm crops with excess server heat. Circle B also offers bare metal IT service in Maincube's Amsterdam data center using recycled hyperscale hardware provided by ITRenew.
Money talks when ESG doesn't
While O'Grady says companies of all stripes can be interested in circular thinking, he notes those that have a chief sustainability officer are the most engaged with the company's work in this space.
The company provides full breakdowns of recovery efforts, outlining how much hardware has been refurbished and recycled, breakdowns of materials, and information including amounts CO2 saved and material which avoided landfill. He notes that some companies are now demanding re-used & refurbished assets in their contracts.
"Reuse now is like the new metric - X percent of my assets went back into the circular economy – customers want to know that. And clients are also saying they want to be a user of circular assets, and not a generator; they're asking us if I'm going to acquire X amount of infrastructure, I want Y percent of it to be used."
"That's a recent change that we've seen in certain RFPs from our clients; saying their assets can't just be pushed into a circular economy, they want to look at how they acquire them too so that they become active on both ends of that circular economy scale."
At companies where sustainability isn't a large driver, the business benefits of such circular thinking can be a selling point even if the ESG ones aren't. Amid Covid-19 and the current supply chain crunches, O'Grady notes there have been a lot of companies looking to extend their current hardware fleet with like-for-like hardware, driving more interest in re-used and refurbed equipment.
"When Covid hit, we saw an explosion where customers needed to scale out their existing infrastructure, versus trying to get to the next generation," he says." They had an immediate need for people working from home. They needed more workload capability and that really got customers interested in working with us."
"The ongoing chip shortages are likely to continue until the end of 2022, and we've seen a greater uptake of refurbished equipment as a result," adds Craig Campion, director of IT asset disposal services at Stone Group. "And despite common misconceptions, it can operate just as well as brand new kit and typically offers warranties that rival those offered on sales of new devices."
At the same time, customers are also looking to gain more lifetime value from their investments – what O'Grady describes as Return on Assets (ROA).
"We see a lot of our clients starting to look at return on assets through extended platform life or receiving assets back into their own environment under a different usage case, so they can get that asset value because it's highly depreciated at that time."
"Migrating everything to the next gen may not make sense from a budget standpoint. Targeting your mission critical infrastructure transformational needs first probably makes sense, And then let's figure out how used equipment can extend the life of existing platforms or reuse those platforms in another workload scenario."
HPE said it has given more than $400 million back to customers through its asset lifecycle initiatives in fiscal 2021. But the hyperscalers are also seeing the benefits of keeping hardware going for as long as possible. AWS recently said more efficient software meant it could add a year to the expected lifespan of servers and network equipment to five and six years respectively.
"We're prospectively updating the useful life of our servers and networking equipment, beginning in January," CFO Brian Olsavsky told investors on Amazon.com's earnings call for Q4 2021 and FY 2021. The company said the move could save it a billion dollars per year.
Google made a similar decision; in its earnings call for Q4 2021 the company said it made a decision to keep its cloud data center hardware running for an extra year and booked $2.6 billion of depreciation savings as a result.
In the future, such circular approaches could become even more important. Steven Carlini, vice president of innovation and data centers at Schneider Electric, notes that although smaller than traditional data centers, the scale and volume at which edge infrastructure will be deployed means that reducing the environmental impact will be essential.
"Building a sustainable Edge data center at scale requires that greater attention be paid when selecting components – second life servers, for example – during the design and deployment stages," he says.
A survey by Stone suggested of the 32 percent of organizations that said they only buy new equipment, 39 percent said this was because they were concerned that refurbished models would be inferior to new models; 34 percent said they were reluctant to purchase refurbished IT as they don't believe it will have a long useful life; and 36 percent were concerned about adequate guarantees. He says all of these worries are unfounded.
"Reputable sellers of refurbished equipment ensure models are sold in a like-new condition; many devices are former lease equipment retired after only a couple of years' use, equipment returned because a buyer changed their mind or found cosmetic damage/fault. Once wiped, reconditioned, and repaired if necessary, these machines can provide power, functionality, and reliability that equals new," says Campion.
"Not only is buying refurbished an eco-friendlier route, but it's also likely to cost substantially less than new, allowing you to stretch your IT budget further and possibly even deploy higher-spec equipment than your budget would afford if buying all new."