Online retail is a relatively new industry - companies operating in this space have to embrace emerging technologies to keep ahead of the competition, or perish. But some go further: instead of simply consuming technological products, they start inventing their own, creating new business models and revenue generation opportunities.
British retailer Ocado is one such organization. It started in 2000 as an online supermarket and gradually evolved into a technology company focused on logistics, with ambitions to sell its own software platform, and its own proprietary brand of robots.
Imagine a warehouse staffed by units the size of a washing machine, running on top of a rail-based grid system, constantly talking to each other and transporting boxes in the most efficient way possible. When their batteries are empty, the units automatically dock to recharge. This vision is a reality at Ocado, and it was created by the company from scratch.
"It's all very much 'just in time' processing. If you've ordered a pen, a box of pens will be brought out at just the right time to go past the picker, so they can pick a pen for a specific box with all of your groceries in it. It's a very efficient way of storing many products – we sell 50,000 different items," Anne Neatham, chief operating officer at Ocado, told DCD.
"And if they happen to break down, we have a special little bot that looks like a bumblebee; it goes out and collects them."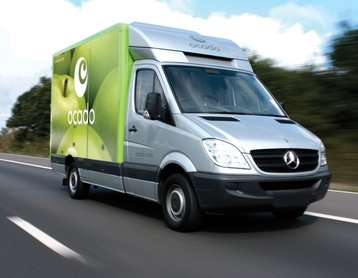 Digital native
Ocado has never owned a retail store - instead, it structured its business around deliveries, designing and running highly automated warehouses similar to those operated by Amazon, the world's third largest retailer. The company got into robotics as it was planning to build its own online grocery empire, but soon realized it could make more money by selling its proprietary software and hardware to less agile competitors - helping 'brick and mortar' retailers compete against the onslaught of e-commerce.
Today, major Ocado customers include Waitrose and Morrisons in the UK, Casino Group in France and Sobeys in Canada. In May 2018, Ocado announced a deal with US retail giant Kroger, causing its share price to jump 44 percent.
"We're an unusual organization in the UK – a lot of the Silicon Valley companies like us, because very similarly to them we are trying to push the envelope," Neatham said. "We started out, like lots of other people, trying to go online by buying software. And we realized, probably 15 years ago, that we are just going to have to do it ourselves, because nobody had actually done it and made money out of it before."
Like a true technology company, Ocado runs its own digital infrastructure, with two modular data centers per warehouse to control the robots. The servers are housed in repurposed shipping containers and equipped with all the necessary power and cooling equipment. Meanwhile, core enterprise systems and websites are hosted in the cloud.
"In our warehouses, we have small data centers because of the latency – if we are going to run robots, we can't afford the latency that the cloud would give us," Neatham explained.
Ocado's software is based on APIs and microservices, and the company has been running on a platform designed entirely in-house since 2014. It also wrote proprietary communications protocols for its robots. "A lot of that is our own specific IP that we sell to others," Neatham said. That doesn't mean the company is not well-versed in open source – it uses Kubernetes across its infrastructure stack, and has released some of its own code to the open source community, sharing Kubermesh - a tool designed to simplify data center architectures for smart factories.
At the moment, Ocado's robots can only deliver boxes – groceries still need to be 'picked' and packaged by human workers. But the company is developing 'soft hand' manipulation robots that will be able to identify and handle individual products, completely eliminating human labor from its warehouses. "We will become a large manufacturer of robots at some point – I think we already might be," Neatham said.
This content was produced in association with Vertiv, as part of a larger eBook and research paper analyzing the state of mission critical IT in retail environments. For more, be sure to read the eBook here.