Though essential, satellites are but a small part of the overall connectivity landscape.
EuroConsult estimates that total global satellite capacity will reach 50Tbps by 2026 (currently a little less than 25Tbps), while total subsea cable capacity for 2026 is predicted to reach 8,750Tbps.
Fiber will likely always rule the roost, but as satellite throughput capacity continues to increase, in-orbit connectivity is becoming an increasingly viable part of the real-time connectivity strategy for large companies and not just a limited fallback.
At a visit to SES' HQ in Betzdorf, Luxembourg, the satellite company put on several demonstrations to show DCD that modern constellations can offer viable competition to fiber for telcos and data center operators.
MEO – offering the best of GEO and LEO
Founded as Société Européenne des Satellites by the Luxembourgish government in 1985, for most of its history SES has been a GEO (geostationary orbit) satellite player.
The company was Europe's first private satellite operator, launching the Astra 1A satellite in 1988 to provide satellite TV for the likes of Sky. Today the company operates more than 50 GEO satellites providing TV and connectivity services.
It also became the first company to operate in multiple orbits after acquiring O3b Networks and taking over its Medium Earth Obit (MEO) fleet in 2016.
Founded by Greg Wyler in 2007, O3b Networks aimed to launch a new constellation of MEO communication satellites around 8,000km above Earth. O3b stood for "other three billion" - the three billion people that, at the time, did not have regular access to the Internet.
After originally planning to launch in 2010, the first O3b satellite was launched in 2013. The last batch went up in 2019 and today 20 of the 700kg Thales Alenia Space-made Ka-Band machines are in orbit.
SES took a 30 percent stake in O3b in 2009 for $75 million, joining the likes of Google as an investor. It subsequently raised its stake in the company to 49.1 percent before acquiring the remainder of the firm for $730m in 2016.
Traditionally, GEO's 36,000km orbit has offered reliably constant coverage – satellites follow the Earth from a fixed perspective – but at low bandwidths and high latency. Newer machines are now offering higher throughput into the terabits, but the latency is an unavoidable byproduct of the distance from Terra Firma.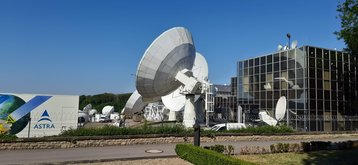 LEO, at much lower altitudes of under 1,000km, has generally offered much lower latency, albeit with lower coverage of the planet. While their reduced size results in lower costs and rapid development, they aren't built with the same redundancy and resiliency in mind while flying in a more crowded and dangerous orbit.
SES pitches MEO and its two O3b networks as offering high throughput with latency comparable to LEO, but combined with a field of view and level of resiliency and redundancy that has traditionally been associated with GEO orbits.
Existing connectivity customers for the first generation O3b fleet include AWS, Microsoft, BT, Orange, AT&T, Lumen, TIM, Vodacom, Telefonica, and Reliance Jio.
Deployed use cases include backhaul from remote cell sites in Brazil; equipping telecoms disaster recovery trucks with antennae to provide communications and connectivity coverage in the wake of a major event that's damaged existing permanent infrastructure.
"You show up with two antennas and two small racks on a van, and within three hours you have a 5G network live helping first responders," says Saba Wehbe VP, service engineering & delivery at SES, who joined the company as part of the O3b acquisition.
O3b has the power
As satellite technology has improved, the next batch of MEO satellites is set to offer more bandwidth to more customers. SES' second generation MEO fleet, O3b mPower, was first announced in 2017, with the first Boeing BSS-702X-built satellites launched by SpaceX in December 2022.
Each 1,700kg Ka-band satellite makes five orbits a day around the Earth. The main difference between the original O3b fleet and the mPower fleet, aside from increased throughput, is the number of beams each satellite can create and therefore thenumber of sites that can be connected at once.
Where the original O3b satellites featured just 12 steerable parabolic antennae offering 1.6Gbps per beam (800Mbps per direction), the mPower units are equipped with phased array antennas that can provide up to 5,000 beams per satellite, providing from 50Mbps up to 10Gbps. Despite some delays, global coverage is expected later this year.
Phased arrays are computer-controlled antennas that create a beam of radio waves that can be electronically steered without moving the antennas. According to the company, this means multiple companies can have real-time, uncontested high bandwidth, point-to-point connections between multiple sites.
"We can now cater the beam location, the beam configuration, and the amount of bandwidth in that beam to the actual requirements of the application and that specific customer," says Wehbe, "which is a significant level of flexibility when compared to [the first generation] O3b."
This means telecoms companies can backhaul multiple sites to a single aggregation point; enterprises can directly connect remote mining, manufacturing, or oil rig sites to the cloud; and data center operators can link multiple facilities as a backup to fiber routes.
"A telco could have 100 cell sites where they want to extend their 5G Network. They could connect all the various sites, land it at their own gateway at the central data center, service every single remote site out there," says Wehbe. "They would control a fully private satellite-based network end-to-end, no public Internet involved. And that kind of thing is a very powerful capability for cellular operators, large enterprises, and governments."
SES says MEOs high orbit provides a wide area of view which means data can be transferred in a single hop via satellite to any other point on the continent at lower latencies than GEO, and in some cases even LEO.
The company claims mPower's latency will be around 150 milliseconds, much lower than GEO's (700 milliseconds). SES claims that while LEO can in theory offer as little as 50 milliseconds of latency, each satellite's field of view means latency can build up quickly as signals are relayed over multiple satellites and terrestrial points to reach the final intended destination.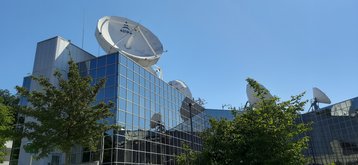 Point-to-point private 5G
So far, four of the 11 planned mPower satellites have launched. Four more are due to launch this year, with six satellites providing enough coverage to start global services in Q3 2023. Customers already signed up to mPower include Orange, Microsoft, and Reliance Jio.
During a demo at SES' Betzdorf labs, the company showed a number of live use cases.
One, involving NTT, saw the companies create a live 5G network connected via satellite to the cloud. An NTT private 5G 'network in a box' provides coverage to an area [oil rig, mining site, port, etc]; the network then communicates with an SES satellite, which can then connect that site either to another 5G site for a fully private connection that doesn't touch the public Internet, or directly to an on-premise or cloud data center.
Part of the demo saw a real-time digital twin of a simulated oil created with an on-premise Azure Stack deployment beamed directly from Betzdorf via satellite to an Azure cloud region.
Announced in 2022, NTT's network in a box is still currently in the proof of concept stage. The company has previously said the box can provide coverage across a 5,000-10,000 square foot area. Azure Stack is Microsoft's on-premise appliance, offering a limited number of cloud services at the Edge that connect back to the parent cloud region.
"MEO is close enough to the Earth and we can push and pull significant bandwidth," says Karl Horne, VP, telco/MNO data solutions at SES, "So it has a bandwidth symmetry capability that's important in cloud networking, Edge-to-core, and East-West networking."
MEO is still high up enough that it has a reasonable footprint of coverage. So it has an advantage there that it can actually bypass an awful lot of terrestrial networking
in a single hop.
Satellite terminal options vary, but even the smaller units can offer 500Mbps down and 200Mbps up, with either a built-in modem or a rack-based modem. Sites serving as an aggregation point for multiple satellite-connected locations might require larger gateways capable of gigabit-capacity throughput.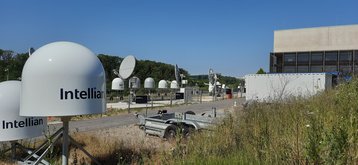 Satellites come for fiber to connect to the data center
While the company is clearly enthused by the possibilities of being a bridge between private 5G sites – Horne says there are maybe 1,000 such sites globally today but there could be 10,000 by 2026 – there's a significant opportunity in the data center space.
A number of cloud providers including Amazon and Microsoft have struck deals to place ground stations at data centers around the world. To date, these have been more focused on aggregating data collected from satellites – for example Earth observation information – and delivering it straight to the cloud for processing.
But Horne notes that the higher bandwidth of modern satellites offers a way for data centers to have point-to-point connectivity that doesn't rely on fiber.
"When we talk about data center networking, we can cover so much of the Earth, the true end-to-end performance is not that different from what you would do with a fiber connection because you're not having to traverse a bunch of router
networks."
"We've had some of the cloud solution engineers say, "I can't tell the difference when I'm running over your network versus fiber.' It is very much like fiber in the sky."
SES has deals in place with Microsoft and AWS offering services to their customers; the latter is offering containerized data centers to the US government that are equipped with terminals to link back to a primary cloud region via satellite. But SES is also offering services directly to data center firms as a resiliency play.
"Nothing will ever replace fiber as the thing that delivers that capacity," says Horne, "but fiber still can be vulnerable. We've done some projects with some of the cloud service providers on their own infrastructure and how we can harden that.
"As they start building out more regional or Edge data centers, it helps bring them online quicker, but be much more survivable, too.
Whereas the first wave of data center customers are the cloud providers focused on "survivability of cloud services,' Horne says the next wave of data center customers could be the colocation firms looking to ensure "more survivable networking services,' but the company isn't seeing the demand for that yet.
"The first actors are the full-service cloud service operators, because their underlying objective is continuity with the cloud services," he says. "It's very important for them to keep that highly available for their customers."
SES has previously said that the O3b orbit and Ka-band frequencies have room for more than 100 satellites if business prospects justified the expansion. In terms of gateways for data centers – especially at cloud facilities – Horne says he would like to see more colocation of satellite infrastructure in densely-populated developing markets such as India.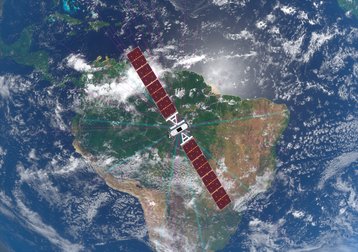 MEO a carrier-grade LEO
SES claims its MEO services offer "carrier-grade resiliency and five-9s level SLAs and bandwidth symmetry, compared to "best effort' services from LEO providers.
Some OneWeb resellers do actually offer SLAs to customers on the basis of GB delivery guarantee per day, up to 99 percent at measurements of five-minute intervals. Starlink does not offer SLAs at this point.
The likes of Starlink, OneWeb, AST SpaceMobile, and Lynk are beginning to offer satellite direct-to-cell services to telcos. But rather than consumer-serving offerings, SES is focused on serving telcos for backhaul, enterprises for large remote deployments, and cloud providers in need of resiliency.
"There is a place for everybody and LEO has a role to play, but LEO and MEO are different niches," says SES' Wehbe. "We are not really interested in the end customers because we are working with a B2B type of commercial model."
He says that while the 150Mbps down, 20Mbps up via LEO might be fine for consumers and some enterprise use cases, it isn't what the telcos, governments, and cloud providers of the world demand.
"Carrier-grade is very high throughput, symmetric capabilities, guaranteed services 99.99999 percent of the time. That's not what OneWeb's selling and that's not what Starlink is selling."
"We empower the Vodafone's and the Claro's of the world so, in turn, they can go and deploy connectivity.
"We allow our customers to have their own private virtual networks within their country. The traffic never leaves the country, and they have full control of the network and what they're doing with it, how they assign bandwidth. And this is the level of control you don't get from the LEOs."
When asked if SES might invest in LEO satellites in the future, Wehbe said the company "might," but reinforced they are "different fields of connectivity with different requirements."