A construction project that may be the largest data center built on British soil doesn't sneak in quietly. NTT's London 1 is emerging from a muddy torn-up stretch of land, which looked more like the battlefields of WWI than an industrial park, when we visited in November.
Traversing the swamp in a pair of rubber boots borrowed from an onsite portacabin, we found a building layered in a sequence of green shades, which is already far more attractive than the ugly, gray warehouses which surround it.
The building was painted in green at the behest of planning authorities. The site backs onto a marsh which is a frequent haunt for walkers, and local officials wanted the structure to blend in as much as possible.
This feature appeared in the March issue of DCD Magazine. Subscribe for free today.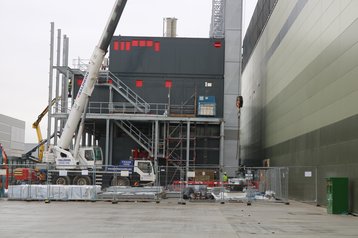 Rebranded
Before our tour of the 'Dagenham Somme,' we met John Eland, in a corner office tucked away in a cabin. He is head of global strategy at NTT Ltd's Global Data Centers business.
In July 2019, Nippon Telegraph and Telephone Corporation (NTT) spun up a service provider business NTT Ltd from its subsidiaries. In January 2020, NTT Ltd organized its data center properties, including RagingWire, NetMagic, and e-shelter, into NTT Global Data Centers, headquartered in London.
"As a Japanese company, we don't tend to talk about the costs," Eland said. "However, you can probably draw a number from the wattage of the data center."
The building will have more than 60MW of IT load and, according to local authorities, projected costs could accrue to about £1.5bn ($2bn) over its lifetime.
Pitching the project as part of the economic regeneration of Dagenham, Eland told local reporters the facility could be compared to the economic impact of a railway. However, data centers don't tend to employ many people at all. While there are around 200 people building the site, it will only have around 20 to 30 on-site staff when it is finished in May.
So why Dagenham? Well, the area has certain features that were deemed too good to miss. Essentially, it is closed to interconnection hubs in the center of London such as LINX (London Internet Exchange), but out beyond the central zone where there is little space left to build data centers.
"London has become saturated by colos," Eland said. "By moving out to the peripheral area of Dagenham we can take advantage of the regeneration projects in East London. Should the area grow richer and businesses relocate there, we could see more clients move in."
As well as taking part in East London's regeneration, NTT Ltd is aiming to stake out a canny location for the future.
"Our centers in Slough are 35km (22 miles) from LINX but this area is just 16km (10 miles), so this made a lot of sense," Eland told us. "Here there is power and land capacity. The new data center will be a cornerstone of our growing global data center platform."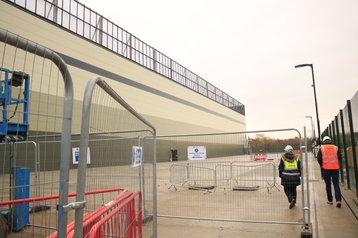 Inside the belly of the beast
When we visited, the basic structure had been finished, and the site was deserted except for cherry pickers and building equipment. Works on basic things like rooms, toilets, and office spaces were still to be completed, but some structures and rooms were identifiable.
"This is just the end of the first construction phase, and we have an exciting few months ahead as we fit out the core of the data center and our clients bring their workloads online," Eland said.
A space due to become a "cooling corridor" runs along the perimeter of rooms scheduled to become server halls. On our visit, it was marked by a small wall, easy enough to hop over. Air coolers and racks will gradually be moved in when systems go online.
Already, the UPS and generators had been installed, in a structure adjacent to the main building. But at our visit, simpler jobs seemed to be taking precedence.
"The data center is designed to run about 60MW of IT load," an onsite technician told us. "We can go slightly above that if we need to. So, if we have high-density land requirements coming in, then we can do them."
In May, London 1 is scheduled to open, joining a family of five other NTT Ltd data centers located in Slough and Hemel Hempstead. All together the capacity surpasses 110MW of IT load. When completed, London 1 will cover 54,000 sq m (580,000 sq ft).
Once it's fully built out, the new campus will offer 25,600 sq m (275,000 sq ft) of IT space.
Developed in phases, London 1 will ultimately have four halls which will be filled in over time. As for equipment and systems, those will be installed as demand grows.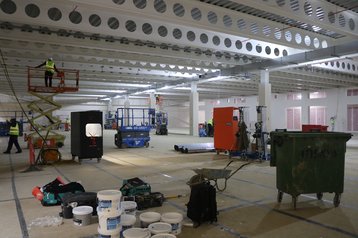 Innovation service
One feature at the Dagenham site that distinguishes it from most data centers is the 'Innovation Lab,' a facility where hardware and software can be designed, tested and deployed according to NTT's clients' requests (see box).
The innovation lab was a hallmark of e-shelter, the European data center provider that NTT rolled into its Global Data Centers division. It presents software improvements that can help streamline services and cloud performances.
All data centers promise reliability. Like many facilities, London 1 will measure itself against the de facto industry reliability standard, the Uptime Tier system, but with no formal plans at this stage to get certified.
"We normally build to Tier III specifications as standard," explained Eland. "Tiers are usually very difficult to get but it depends on how it's designed. If there's a client requirement to get certification we do it, if not, we just build to that standard anyway. [As this building] becomes more prevalent clients may want a 'comfort blanket' so we may get it certified."
Like all multi-tenant data centers (MRDCs), London 1 will have to meet a number of separate customer demands, but Eland believes that a new building, constructed in stages, will be able to do this more readily.
"The challenge of being a multi-tenant facility is that you have to be all things to everyone," he told us.
"This is the benefit of building in phases, we can fit it out for different customer requirements. For example, if we need to create 30kW within a specific suite, then that's a very different requirement for, say, a financial services company that may only need a 4-6kW rack.
"So, what we do is build flexibility into the design wherever possible."