In an event that was more earnings call than product brief, Intel painted a picture of a thriving company set to enter an even more prosperous phase, even as doubts swirl around its core CPU strategy, competition heats up, and it faces a myriad threats to its business.
Last week at the Data Centric Innovation Summit, the word on every Intel speaker's lips was "TAM," or total addressable market. But the word that journalists and analysts wanted to hear about was "10nm," and why Intel had missed its mark.
Its best years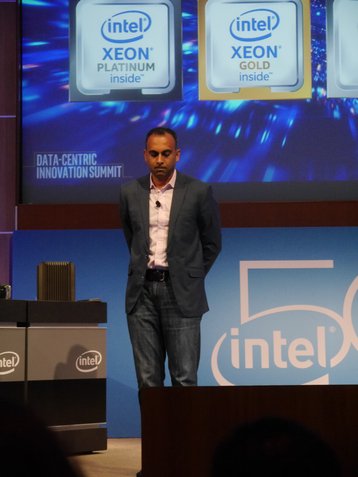 "We've seen this exponential growth in data come at the same time that we've seen dramatic reductions in the cost of computing, in the cost of storage, and the increase in compute performance," Data Center Group EVP and GM Navin Shenoy said in a keynote address.
"And when you combine these trends with the evolution in innovations and breakthroughs we've had in software and algorithmic development, it's not that hard to believe why we believe that we're entering this golden age of data. And we believe that Intel is uniquely positioned to enable this insatiable appetite the world will have to process, analyse, store and move data to drive business value."
It is this golden age that is the crux of Intel's argument to investors - that the market out there is growing, and Intel is ready to grow with it.
"Last year we announced a $160bn in silicon TAM that we were going after in 2021," Shenoy said. "Fast forward one year to today, and our views have become even more optimistic. Our updated view of the TAM that we're pursuing is $200bn in 2022, that is the data-centric view of the TAM, if you added the client view of the TAM and the mobile view of the TAM, that number would be north of $300bn."
He added: "It's not lost on me that after 50 years as a company, this represents the biggest opportunity in the company's history."
But, in this anniversary year - its 50th year as a company, and 20th since the launch of Xeon - Intel faces one of the biggest hurdles in its history.
Core to its difficulties is the company's struggle to produce a 10 nanometer chip with sufficient yields - with a product originally planned for 2015, and now set for 2020. Next year, AMD is expected to release its Epyc 'Rome' server processors, a 7nm product that SemiAccurate believes will outperform Intel's offerings, and come in at a lower price.
"We see Intel's struggles with 10nm process technology having ramifications in terms of its competitive position - across a broad set of products," Goldman Sachs analyst Toshiya Hari said in a note to clients on Friday.
"While the 10nm push is well-publicized at this point, we believe Intel's manufacturing issues could potentially be deeper-rooted than what most think and could have a sustained impact on market share and/or spending levels as Intel competes with a growing/stronger TSMC ecosystem."
With that comment, the multinational investment bank downgraded its rating of Intel from neutral to sell. Soon after, Barclays downgraded Intel from Overweight to Equal Weight, and Cowen & Co. analyst Matthew Ramsay lowered his price target.
When asked about this issue, Shenoy countered: "I don't talk to customers about nanometers, at the end of the day what they care about is performance on the workloads that matter to them. This breadth of need to optimize for workload after workload comes through a multitude of factors - microarchitectural innovation, software innovations and broadening - quite frankly - our portfolio beyond the microprocessor to new domains."
Jennifer Huffstetler, VP and GM of data center product management in the Data Center Group, added in an interview with DCD: "It just took a little longer than expected to achieve such an aggressive scaling target, and everything's on track - we laid out our plan in April, and we look at it every week, and the plan that we laid out is on track."
BK's shadow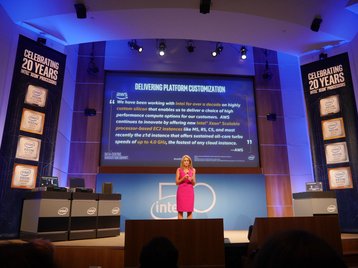 While Shenoy and Huffstetler remained adamant that their company's chips would provide "performance leadership," pointing towards additions like support for Optane Persistent Memory (originally slated for the Skylake Xeon family) as differentiators, comments by Intel's former CEO have been less positive.
After talking with Brian Krzanich at E3 this June, Instinet's Romit Shah noted that the executive "was very matter-of-fact in saying that Intel would lose server share to AMD in the second half of the year."
He added: "Mr. Krzanich did not draw a firm line in the sand as it relates to AMD's potential gains in servers; he only indicated that it was Intel's job to not let AMD capture 15-20 percent market share."
Krzanich was later fired by Intel, purportedly over an affair - but rumors abound that the company's woes were the real reason for the ousting.
Discussing the hunt for a new CEO, an Intel employee who requested anonymity told DCD that the company needed a strong leader to overcome the hurdle it now faced. The 10nm delay was a clear problem that needed to be carefully handled, he said, but not an existential threat.
At the summit, Intel was also quick to point out another trick it has up its sleeve to hold onto market share - long-term partnerships.
After dominating the server market for some time, Intel has a unique and deep relationship with many of its customers. Its largest single 'data centric' business is the cloud and, last year, roughly half of the CPUs the company shipped to cloud vendors were customized.
"It's something we've done for nearly a decade, to make sure that there's workload optimization, and everybody's getting the best performance for their workload," Huffstetler told DCD.
Raejeanne Skillern, GM of the Cloud Service Provider Group, added: "It takes years to prove that you can design, deliver, support this kind of infrastructure at scale.
"We did our first optimization work with Google in 2008. We've worked with Amazon for over a decade… we have taken this and built the capability to develop semi-custom products specifically for our customer base. It makes us unique - we develop custom ASICs, custom silicon when our customers demand."
The company said it has 200 engineers directly engaged with cloud providers, on-site, working on 150 projects this year alone. "Unlike others we have dedicated support… they know who Intel is," Skillern said.
Its 'cloud insider program' "makes us different," Skillern added, revealing that Intel is "going to invest $100m in co-marketing" of its chips being used to power cloud providers' services.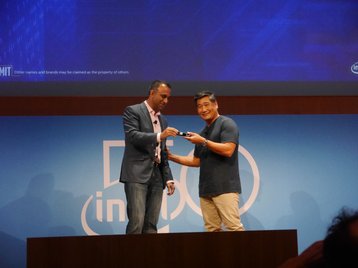 Don't forget the TAM
The other fact that Intel hoped to impart to attendees was that - even if its home front of the server market was under siege - there were many new lands to conquer. The TAM is growing, at least five speakers said, and that TAM shall be addressed.
Here, Intel has hope, and may indeed manage to sell more products. Its Optane Persistent Memory appears to offer a genuine improvement over DRAM, with Shenoy providing some impressive metrics.
"We're able to deliver an 8x performance gain in certain use cases like Spark SQL over DRAM-only systems," he said. "In other areas where there are limited system resources, we are able to deliver 9x read transactions and 11x number users per system over DRAM.
"It also delivers persistence - the ability to keep the data intact when you lose the power, and what that does for our data center customers is quite profound. In high availability systems, you now have the ability to go from minutes of reboot time to seconds. We're able to go from three nines of availability to five nines."
Optane Persistent Memory has already signed up a large customer - Google Cloud Platform.
Bart Sano, VP of Platforms at Google Cloud, jumped onstage to underline the fact that Google would be the first to get access to OPM, which began to ship last week.
"We see this as another big improvement, with the persistent memory - the D in DRAM is the problem, when you do software reboots or need to take down the server, it takes a lot of time to bring that up - that's a huge thing," Sano said. "We seeing a lot of interest, we're very excited."
Elsewhere, the company highlighted other products it hoped would increase its TAM - SmartNICs, products for 5G, Nervana chips for AI workloads and silicon photonics.
"We're not confused by competitive intensity. We're not scared by competitive intensity. Our roadmap and the products that we're putting forward give us confidence that we're going to continue to win," Shenoy said.
"I think the biggest difference in the way we see the world is the TAM we're going after is much larger. Five years ago, you could have said 'hey we're defined by the PC and server market as a microprocessor supplier.' That's not the way we see the opportunity we're going after now."